Australia, Asia and New Zealand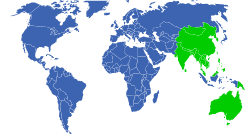 The Progressive Movement began in earnest in Australia more than 75 years ago with the formation of a synagogue in Melbourne which is now Temple Beth Israel. With the establishment of Temple Emanuel, and later the North Shore Temple Emanuel in Sydney, the Australian Union for Progressive Judaism was formed.
The UPJ supports and develops Progressive Judaism in Australia, New Zealand and Asia. It is a roof body promoting a pluralistic progressive outlook in today's Jewish world. We provide consultation, support, programs and educational opportunities to all of our affiliated bodies from a wide geographic area. The Moetzah, Progressive Rabbinical Council, an affiliate of the UPJ, is a viable support group for rabbis in our region. The rabbis are available to congregations where there is no rabbinic presence, particularly for life-cycle events and conversions. We serve as the link for 19 progressive congregations; 2 day schools, The King David School in Melbourne and The Emanuel School in Sydney; a progressive Zionist youth movement, Netzer; and a progressive Zionist organisation ARZA.

Find congregations in Australia , China, Hong Kong, India, Japan, New Zealand, Singapore.


Read articles about this region.
Regional Office