Special Issue #488
Special Issue #488 – 21 May 2014 / 21 Iyyar 5774
Reform Movement's Well-Being Challenged in Ukraine

Eye of the Storm: New NCSJ Representative Reports from Ukraine
Ukrainian Jews Celebrate Passover amid Crisis
The Sickening Sight of Swastikas
Internal Challenge to Ukraine's Reform Community
Odessa (southern Ukraine): Recovering from a Tragedy
Poltava (eastern Ukraine): A Study in Stability
Lutsk (western Ukraine): Remembering the Holocaust, Together
Belarus Bound: Netzer Summer Camp Program Forced to Relocate
Out of Adversity Comes Hope: A Summary
Reform Movement's Well-Being Challenged in Ukraine

Anti-Semitic graffiti painted on the synagogue wall in Simferopol.
Over the last six months, the Reform Movement in Ukraine as well as the local Reform congregations have had to contend with a number of challenges to their continued well-being.

A disturbing byproduct of the civil unrest in Ukraine has been an eruption of anti-Jewish violence across the country. Such incidents as the fire-bombing of a synagogue in the south-eastern city of Nikolayev and the vandalizing of the Holocaust memorial in Sevastopol have led many Jews to question their future in the country.
In response, we at the WUPJ mobilized our global reform family and used the organization's standing in various Jewish institutions to reach out to our communities as well as the general Jewish population. Jewish organizations responded enthusiastically to the WUPJ's initiative, offering partnership, support and hope.

Yet while each new threat has been addressed quickly, the current solutions are of a short-term nature.
As such, assistance from the World Union, the Jewish Agency, Dutch Jewish Humanitarian Fund, Jewish Federations, foundations, twinning communities and other Jewish organizations is crucial to keeping Jewish people safe, as well as developing Reform communities.
Eye of the Storm: New NCSJ Representative Reports from Ukraine
The National Conference Supporting Jews in Russia, Ukraine, the Baltic States & Eurasia (NCSJ) recently appointed journalist and blogger Ilya Bezruchko as its new Ukraine representative. Ilya, a long time member of the Union of Progressive Judaism in Ukraine, provided the following appraisal from the ground:
"While Jewish communities in the South generally feel safe, the eastern part of Ukraine is a trouble spot. Such sizeable communities as Donetsk, Lugansk and Kharkov have been living in a constant state of fear ever since pro-Russian militants took over local administrative buildings. About a month ago in Donetsk, a leaflet was handed out in the eastern Ukrainian city that ordered all Jews to "register" with the pro-Russian militants. The leaflet said that a registration fee of $50 was required and that Jews must provide IDs and passports. Furthermore, Jews were told to bring documentation that proved their religious affiliation – and that of family members. The consequences for non-compliance are the revocation of citizenship, confiscation of property and expulsion from Ukraine, the flyer concluded."
- Ilya Bezruchko, NCSJ Ukraine Representative
To date, there have been no accounts of individuals enforcing the flyer's demands. Likewise, no Jews have been reported as having registered. Indeed, the leaflet is generally acknowledged as a provocation initiated by a small group of pro-Russian extremists. However, the incident is an example of how the political crisis between Russia and Ukraine has unleashed a wave of anti-Jewish attacks in the region.
We must remain ever vigilant so as to ensure that today's hate-filled leaflet doesn't become tomorrow's official government policy.
Ukrainian Jews Celebrate Passover amid Crisis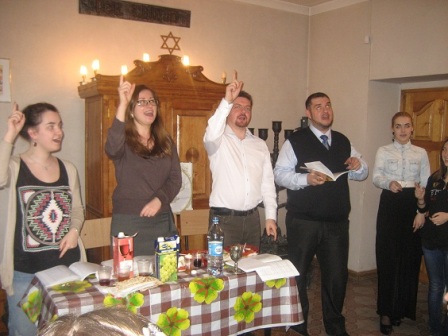 Despite a myriad of obstacles, the communities managed to gather, worship and celebrate during a tense holiday season. Prior to Passover, Ukrainian congregations sent 700 kgs. of matzot to Crimea. Meanwhile, Rabbi Leonid Bimbat and three Machon students traveled to the region to conduct Sedarim for nearly 600 people in Simferopol, Evpatoria, Feodosia, Kerch and Kirovograd. This endeavor benefited greatly from the assistance of the WUPJ Emergency Appeal and Russian Jewish Congress.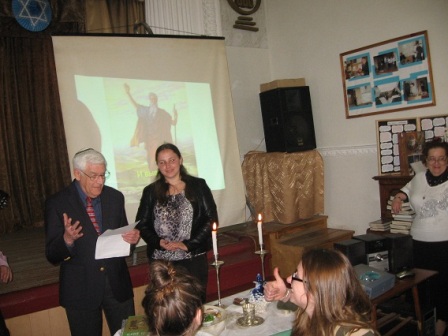 In Kerch, Alyth (North Western Reform Synagogue) members Lynne and Mike Levy participated in Passover celebrations, showing their solidarity and providing much needed reassurance to congregation members. Indeed, Alyth and Kerch have a long standing twinning relationship and remain in constant contact.
With the assistance of the WUPJ Emergency Appeal Fund, Dutch Humanitarian Fund and the North Western Reform Synagogue, security cameras were installed to protect the synagogue.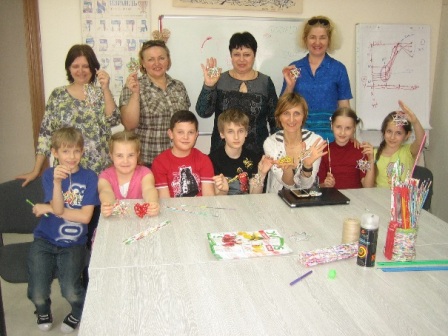 During these turbulent times, our Hatikvah Center in Kiev has been a pillar of strength and a source of support for our community. A spiritual haven and welcoming home, community members as well as the broader Kiev Jewish population have embraced Hatikvah.
The Kiev community was very active in April and May, with all festivals and prayer sessions being conducted as planned. Furthermore, congregants came together for Sedarim, Yom HaShoa commemorations, Yom Ha'atzmaut celebrations and Victory Day (marking the capitulation of Nazi Germany to the Soviet Union during World War II) parties.
As a show of support, we are pleased to report that many people from many countries are visiting Kiev's Hatikvah Center. Many of these visitors will also be acting as foreign observers for the upcoming Ukrainian presidential elections, scheduled to be held on May 25. Originally set to take place on March 29, 2015, the date was changed following the 2014 Ukrainian revolution. On May 20, a European Union delegation was sent to observe, monitor and report on the upcoming presidential race.
To improve security at Hatikvah, donations from the WUPJ Emergency Appeal Fund, Dutch Humanitarian Fund, Jewish Agency and Chicago Federation led to the installation of four security cameras that were set up at both entrances to the center.
The Sickening Sight of Swastikas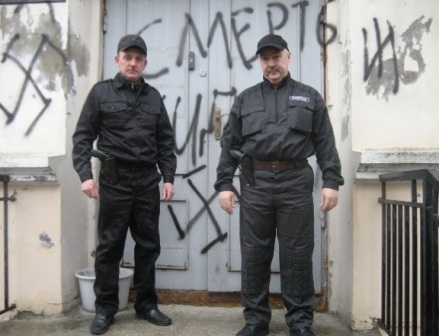 When an anti-Semitic smear was sprayed on the Synagogue in Simferopol, the WUPJ Emergency Appeal Fund, Jewish Agency and Dutch Humanitarian Fund assisted in the removal of the graffiti (pictured above). And we were delighted when students from the international Hillel organization came together to paint over the graffiti.
The security system was upgraded with the installation of video recording cameras and addition of security guards thanks to Temple Ohabai Sholom and Congregation Micah in Nashville. Furthermore, the continued support of the Chicago Federation will facilitate a much needed renovation of the synagogue.
Internal Challenge to Ukraine's Reform Community
Chabad, taking advantage of its relationship with Russian authorities, attempted to use the current political turmoil to try and gain control over our communities' facilities. In April and May, Chabad representatives visited all of the Reform congregations in Crimea.
In response, plans have been made to send a Machon graduate to work in a para rabbinic capacity. In the meantime, services are being conducted by Rabbi Leonid Bimbat from Moscow. His next visit has been scheduled for Shavuot at the beginning of June.
"While we have Reform synagogues in Simferopol, Kerch, Feodosia and Evpatoria, Chabad is determined to take over these communities. Therefore, in order to cope with this threat, we need to have a permanent rabbi in the region, as well as international political support."
- Alex Kagan, FSU (Former Soviet Union) Director
Odessa (southern Ukraine): Recovering from a Tragedy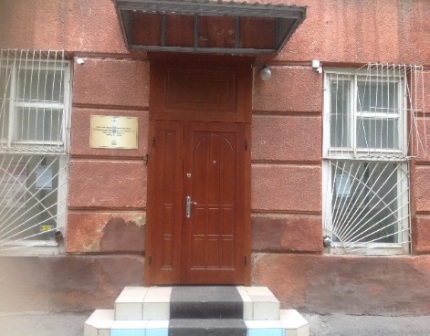 The riots that took place in Odessa on May 2 occurred very close to our community center.
While no one from the congregation was injured, the congregation board decided to freeze all activity until May 10. Presently, congregational activity has been restored.
"I am happy to be returning to my Reform Movement roots. Especially during these trying times, I look forward to supporting the community in any way I can."
- Julia Grishenko, Leo Baeck College student rabbi (soon to be ordained)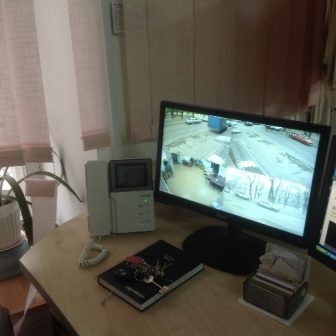 Assistance from the WUPJ Emergency Appeal Fund, Jewish Agency and the Edgware & District Reform Synagogue in London enabled the congregation to have an iron door, bars on the windows, security cameras, a computerized security system and an emergency button installed. Furthermore, the Associated of Baltimore's long time support has provided the community center's staff with many valuable tools.
Poltava (eastern Ukraine): A Study in Stability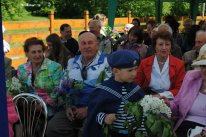 The situation in the city is stable. There have been no serious incidents to report. The congregation is running regularly. All prayers and activities are operating according to schedule as is Netzer and the weekly Sunday school. On Victory Day, May 9, a special event was held that included an inspirational speech by a World War II veteran.
Lutsk (western Ukraine): Remembering the Holocaust, Together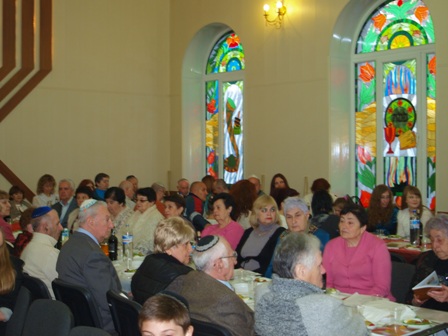 Our congregation is in close cooperation with the local government on issues related to Holocaust remembrance. As a result, two new memorials were erected in April and May. We are pleased that relations in the city between our community and other residents remain warm.
Belarus Bound: Netzer Summer Camp Program Forced to Relocate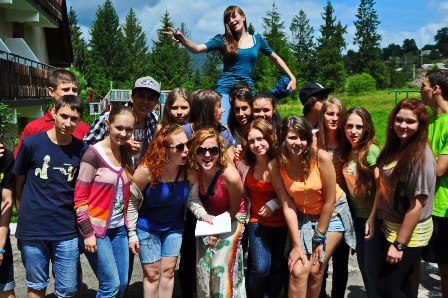 The current political climate and the concern of parents resulted in our moving the summer program from Ukraine to a facility in Belarus.In response to the deteriorating economic situation in Ukraine, we have reduced registration rates by over 50 percent. Furthermore, any family that requires additional assistance will be eligible to receive a scholarship that covers all camp participation costs.
We are guided by the belief that summer camps aren't just important, but crucial to the development of Jewish identity and the strengthening of bonds with Israel. For over 20 years these camps have paved the way for young men and women to embark on a journey of spiritual discovery and educational fulfillment. As such, we see it as a sacred duty to enable every young person who has the desire to attend and participate in a summer camp, regardless of financial circumstances or potential security issues.
Out of Adversity Comes Hope: A Summary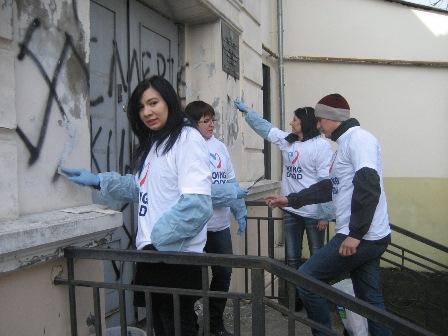 Hillel students helping clean up desecrated synagogue wall in Simferopol.
At this stage, people continue to hope that the situation in Ukraine normalizes. The deteriorating security situation along with the profound spiritual void created by the departure of Rabbi Michael Kapustin from Crimea have presented the Ukraine's Reform Movement with a number of difficult challenges to overcome.
While congregants gathered, worshiped and celebrated, it was under a looming threat to the community's welfare. And while security measures have been implemented across the region, much more needs to be done to ensure the local congregations' long-term well-being.
More than ever, the support of the World Union and the international community is essential for the protection and development of the Reform Movement in Ukraine.
"Liberation never ends. Liberation starts. And it goes and goes and goes. And this is what Jewish people learned during the centuries."
– Rabbi Alexander Duchovny

Make our communities' future your Mitzvah: a safer tomorrow starts now.