WUPJ News # 446
Issue 446, September 20 2012, 4 Tishri 5773
In this issue:
Registration now open for 2013 Beutel Leadership Seminar
Forgiveness and renewal in Jerusalem – Beit Shmuel's High Holiday events
Tamar Young Adult seminar
Netzer "Shnatties" complete second stage and prepare for third and last stage of program
Celebrating the 100th birthday of the Tyumen synagogue

President's reflections on … The power of Yom Kippur

News in Brief
• Stay at the Beit Shmuel hotel, sit in its special Sukkah, and join a walking tour – all at special Holiday prices!
• Keren Bekavod remembers those in need
• Beit Simcha – WUPJ Shabbaton in Brno, Czech Republic
• Sim Shalom Budapest member Peter Radvanszki ordained as rabbi
• Avital Ben-Chorin honored by Hometown in Germany

Upcoming events

* * * * * * * * * * * * * * * * * * * * * * * * * * * *

Registration Now Open for 2013 Beutel Leadership Seminar

Over the past ten years some 200 people from across the globe have participated in the Beutel Seminar for Progressive Jewish Leadership. Looking at Reform Jewish communities throughout the World Union for Progressive Judaism we see Beutel alumni giving back in meaningful ways.

The Beutel Seminar is a unique combination of the spiritual, intellectual and experiential enhanced by the tremendous diversity of the participants. The program includes prayer workshops, text study, site visits, and lectures. These are supplemented by mifgash encounters with scholars, activists, and leaders from a variety of organizations including the extended family of the Israel Movement for Progressive Judaism as well as others who share our values.

Certainly the caliber of presenters is a key to the tremendous impact and success of the Beutel Seminar. One of the highlights this past year was the multi-session morning prayer workshop overlooking the Old City of Jerusalem with Rabbi Levi Weiman-Kelman. This was supplemented by other prayer and spirituality experiences led by Rabbis Steve Burnstein, Benjie Gruber and David Wilfond. One participant comments "the spiritual and liturgical part of the seminar has been excellent… somehow touches our souls."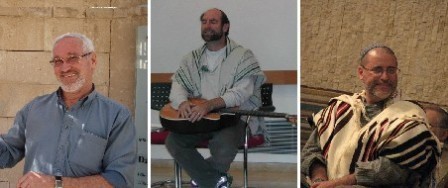 Beutel staff (L-R): Professor Paul Liptz, Rabbi Levi Weiman-Kelman, Rabbi Steve Burnstein

Professor Paul Lipz, Saltz Center Director of Education, was the scholar in residence with the group. He and Saltz Director, Rabbi Steve Burnstein, worked to pull the various components of the program together and appreciate the connection between what happens in Israel, the World Union, and their own communities. The Beutel Seminar is designed to empower participants and strengthen them as individuals as well as their communities and the WUPJ.

This year's Beutel Seminar will be held February 7–17, 2013 in Israel. The application form and sample schedule are on the Saltz Center website.



Back to "In This Issue"



Forgiveness and Renewal in Jerusalem – Beit Shmuel's High Holiday events

Over 1,000 people participated in this year's High Holidays events (educational walking tours and lectures) – "Hatanach shel HaChagim"(the Tanach of the Holidays) – run by Mercaz Shimshon-Beit Shmuel in Jerusalem. The program included walking tours aimed at adults and families with children, and offered a broad range of topics related to the High Holiday themes, reflecting history and traditions.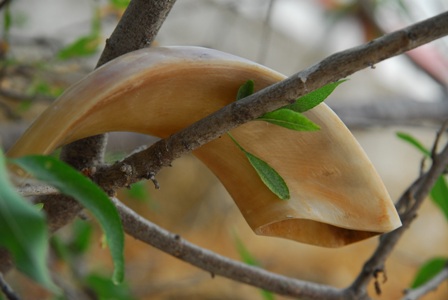 A recognized brand name in this field and a market leader in educational Reform content, these tours have gained much popularity over the past few years, as many Israelis and visitors seek to reconnect with Jerusalem's history and traditions, which they regard as a vital part of their cultural heritage.

The events started in the Hebrew month of Elul, which is known as the "month of forgiveness" in which thousands of Jews in synagogues around the world gather at night or in the early hours of the morning to dedicate an hour or two to special ritual prayers asking God to grant us a good year. Dozens of tours, led by leading tour guides, left Beit Shmuel late at night to visit the Kotel (Western Wall), the Old City, and religious neighborhoods throughout Jerusalem. Participants had the opportunity to see the hoards of people who quietly walk through the city on their way to the Kotel, and to experience up close this spiritual and emotional encounter.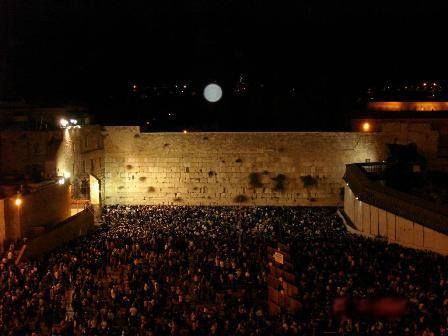 Slichot at the Kotel

One of the tours is led by author Dan Benaya Seri, who takes the group on a visit to his childhood neighborhood, flavored with funny and moving stories of growing up in the Bukharian neighborhood. Other tours brought the groups to synagogues during the worship service, complete with special singing and shofar blowing.



One of the old wells in the Nachlaot neighborhood that was open during Tashlich

On Rosh Hashana, participants had the opportunity to partake in a traditional "Tashlich" ceremony in which our bad deeds are "poured" into a river or ocean. As Jerusalem lacks rivers and oceans, Jerusalemites improvise by using wells and garden faucets in synagogues. In the Nachlaot neighborhood in Jerusalem, the traditional ceremony still takes place in the same way.



Checking and buying the Four Species

Mercaz Shimshon-Beit Shmuel is the home of Progressive Judaism in Israel. In addition to regular programming, custom tours in English, Spanish, Russian, and Hebrew, are all led by outstanding trained guides. For more information, please click here to email the tour department. See also seperate article on Holiday specials.



Back to "In This Issue"



Tamar Young Adult Seminar

A group of 18 Young Adults gathered recently in Brno, Czech Republic, for a TaMaR seminar on "Wine and Jewish Tradition." This seminar was the culmination of activities that take place over the year, focused mostly on holidays. Many of these events took place in Brno for Jewish students and university graduates of Brno, with the support of the local Jewish community.



Participants with the owner of the vineyards and wineries (2nd from left)

This seminar was organized by Olga Sapoznikov and Iva Kanarkova – two active TaMaR members who have participated in past TaMaR seminars (Olga in Israel and Iva in Berlin). The weekend seminar attracted participants from Brno –Czech Republic, Vienna–Austria, Budapest–Hungary, and Slovakia.



Jewish mortuary and several of the 4,500 tombstones at the Jewish cemetery in Mikalov

The seminar was held at an equine center in the area, surrounded by vineyards and wineries. The rich program combined Jewish and Israeli content together with socializing and fun. The program ran smoothly and was enjoyed by all. There is no doubt that this was a positive experience for each and every participant and they all expressed their wish to remain connected and attend future activities.



Participants by the grave of the Maharal of Prague

The program was supported financially by the local Jewish community of Brno and by TaMaR Olami, and was attended by Maoz Haviv, Executive Director of Netzer Olami-Tamar.



Back to "In This Issue"



Netzer "Shnatties" complete their second stage and prepare for the third and last stage of program

Netzer Olami – the worldwide youth movement of the World Union for Progressive Judaism – runs a unique gap-year program in Israel for Progressive youth from around the world: Shnat Netzer. This is a nine month leadership training program that develops the skills and knowledge to enable them to assume young leadership roles in their home communities. Participants describe the program as "one of the best years of their lives", helping them develop personal skills and lifelong friendships with other Progressive Jews from around the world.



Participants in a group activitiy

The program has three stages: leadership training in Jerusalem (the Jewish Agency for Israel's Machon Le'Madrihei Chul, or Netzer/WUPJ's Etgar program); volunteer work in Karmiel; and volunteering on one of the movement's Kibbutzim in the Arava. Our current Shnatties have been here for 7 months and are getting ready for their third and final stage at Kibbutz Lotan.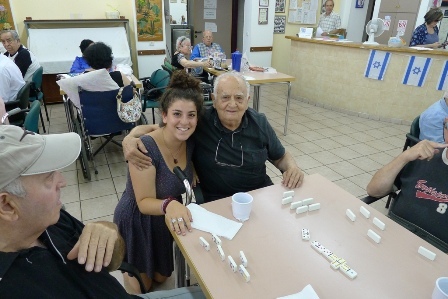 Volunteering with the elderly in Karmiel

In Karmiel, the helped organize the annual Karmiel Dance Festival as well as working with children and youth, volunteered with the elderly, and much more. Shnatties Jade and Kitty said about the festival that "the energy in the offices over the last three days has been quite crazy… there has been so much to organize and finalize before the opening performances." They also discussed finishing up their stint in Karmiel: "As this is our last week in Karmiel we are super busy and still have heaps to look forward to… We are also responsible for the entire service at Yedid Nefesh on Friday night, admittedly a challenge but we can't wait to teach them our tunes!"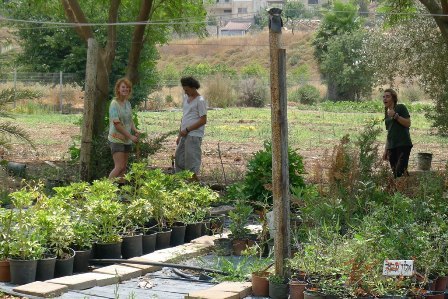 Tending to plants in the kibbutz nursery

Before starting stage three, Shnatties participated in the Jewish Identity Seminar at Kibbutz Hanaton, near Karmiel. This relatively new kibbutz created a religiously pluralistic community, with over one hundred members who range from secular to Reform, Conservative, Orthodox and "in between". The seminar focused on halacha (Jewish law), its history and how it relates to Reform Judaism, and included site visits to Beit Shearim and Tzippori. Participant Shoshana says, "Overall, it was both really educational and just such a nice place to spend time together… I thought we took a lot out of it and had fun… and we managed to sing the psalm 'Mi Chamocha' to the tune of 'Call Me Maybe', the hallmark of a successful Jewish seminar."



Back to "In This Issue"



Celebrating the 100th birthday of the Tyumen synagogue

During September and October 2012, the Tyumen Jewish Community celebrated the 100 year anniversary of the Tyumen Synagogue. To commemorate this milestone a series of events took place attended by city and government dignitaries, members of the Jewish community and many guests from abroad who came specifically for this occasion.

The Tyumen Synagogue (Russia) was established in 1911 at the initiative of Rabbi Eisenstad and with the support of the Jewish community. In 1912 it opened its doors to the community. In 1930 the building was confiscated by the Communist government and used as a library, music school and for storage. The building, through neglect, fell into total disrepair and required major restoration work to turn it into a useable structure. In 1999 the building was returned to the community and renovations began with the support of local businessmen and in 2001 the Synagogue was finally reopened with much fanfare. It is worth noting that this Reform Synagogue building is the only synagogue in the city of Tyumen.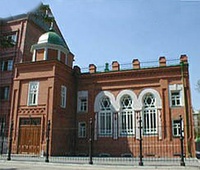 The Tyumen Synagogue

Over the weekend of September 7-8 a celebratory Shabbat took place in cooperation with members of the community and the founders of the Jewish Reform movement in the city. The service was led by Igor Varkin, the spiritual leader of the congregation, and was attended by Pavel Feldblum and Ilya Pestrikov, the founders of the Jewish community, Raphael Goldberg, Project Manager of the restoration, Mark Shpilsky, Chair of the Madregot Reform community, and Alexander Uffa, the Chairman of the Board of Trustees.



Celebrating 100 years with a celebratory Shabbat lunch

Rabbi Alex Lyskovoy from Moscow and Alex Kagan, Director FSU, specially traveled to Tyumen to participate in the festivities, and presented a beautiful Sefer Torah to the community on behalf of the World Union for Progressive Judaism.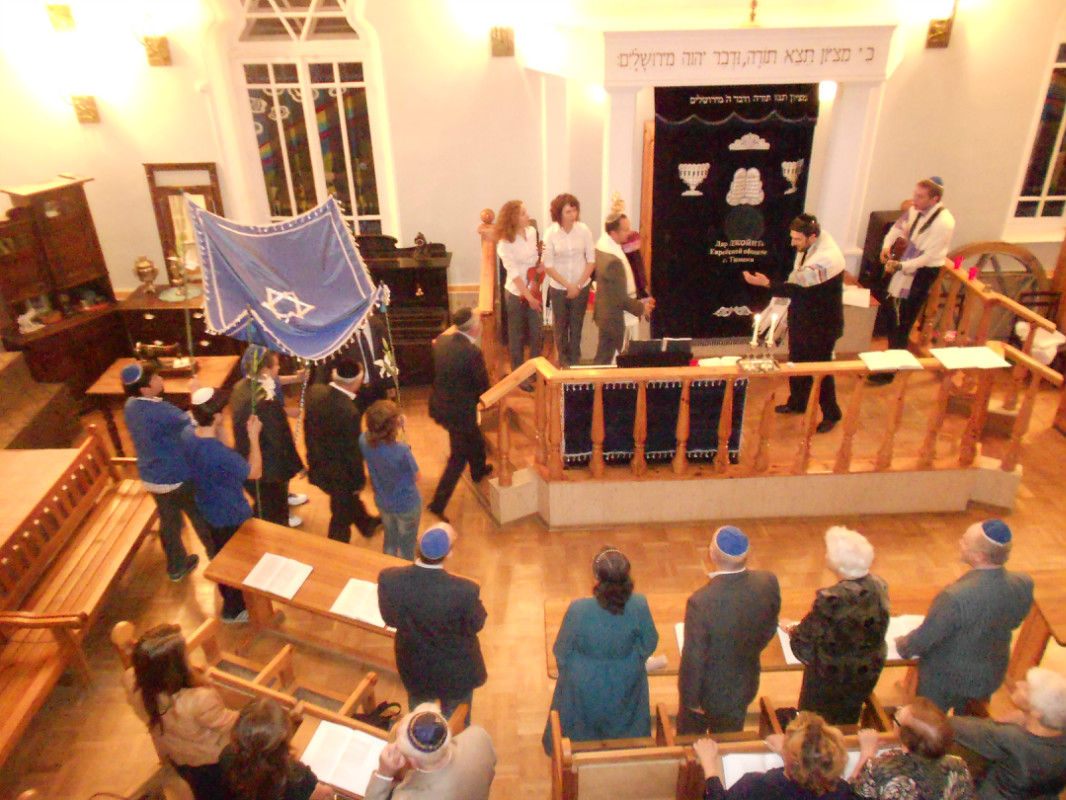 Alex Kagen, FSU Director, carrying the sefer Torah given to the community on behalf of WUPJ

On Saturday, a special event was held in the town theatre in the presence of representatives of the Municipality, the Federal Government, Interfaith representatives, Jewish organizations and the Jewish population of the city. One of the highlights was the participation of the well-known Jewish Theatre Company "Shalom" who came from Moscow for the celebrations.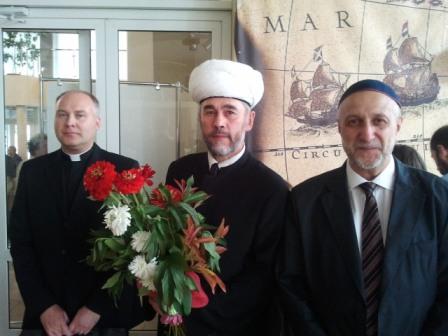 Rabbi Alex Lyskovoy (right), with representatives of other religions

During September, various events will take place relating to Jewish culture and traditions, in conjunction with, and the support of, the Federal and Municipal governments and the local business community. One of the highlights will be an exhibition of the works of Marc Chagall.

Preparations and arrangements for the celebrations have been ongoing for over a year, involving intensive, almost daily, planning particularly by Igor Varkin and his wife Elena Mozgovaya, who have been amazing and deserving of all credit in the orchestration and ultimate presentation of these special events.



Igor Varkin, the spiritual leader of the congregation; Rabbi Alex Lyskovoy and Elena Mozgovaya



Back to "In This Issue"



President's reflections on… The power of Yom Kippur
By Rabbi Stephen Lewis Fuchs




Many years ago my ulpan teacher in Israel, Sarah Rothbard of blessed memory, taught our class: "It is not just a credit to the Jews that we invented a day like Yom Kippur. It is a credit to all humanity!"

Yom Kippur has the power to change our lives! If we spend the day forsaking even the pleasure of food, focusing on our own wrongdoings, asking forgiveness for them and thinking about how we want to correct them, would we not all return home after the blowing of the shofar at Ne'ilah (the closing service that ends Yom Kippur) as better people?

"But Rabbi," some protest, "I don't believe in God the way you do. I really don't see God judging me for the things I do the way you describe."

It is not the goal of Yom Kippur to change the way we believe. It is the goal of Yom Kippur to help us change the way we act.

How, though, might we unlock the door that stands – for many of us – between the words of our liturgy and the purpose of this day? How can Yom Kippur be meaningful if we do not believe in a personal God?

The key is a single Hebrew word, K'eeloo, (כאילו) and it means, "as if." Whatever our beliefs, if we can act – K'eeloo –"as if" we stand on Yom Kippur under God's scrutiny, we shall make a giant leap forward.

The word "Yisrael" means, "One who struggles with God." It does not mean "One who believes in God" and it does not mean "one who is always comfortable with God."

The Jerusalem Talmud ascribes the following thought to the Eternal One: "Would that they forsake Me, but keep my commandments!" In other words God cares more about how we act than about what we believe.

On Yom Kippur many Progressive Jews replace the traditional Torah portion (Leviticus 16) with the passage from Deuteronomy that speaks of the whole community standing before the Eternal One facing a choice between life and death, good and evil. The passage affirms the cardinal principle of Progressive Judaism that we have the obligation not to simply follow accepted custom but to make meaningful informed religious choices. The reading climaxes with the stirring exhortation, "Therefore choose life!" (Deuteronomy 30:19).

No matter what we believe, if we can act, K'eeloo, as if we come under God's scrutiny on the holiest of days, we can choose life and blessing – for ourselves and for others – and that is the choice that really matters!



Back to "In This Issue"



News in Brief

Stay at the Beit Shmuel hotel, sit in its special Sukkah, and join a walking tour – all at special Holiday prices!

The beautiful Mercaz Shimshon-Beit Shmuel complex – the international headquarters of the Union World for Progressive Judaism – is located in the center of Jerusalem and overlooks the Old City walls.




We are delighted to offer a special Holiday deal – a 20% discount on hotel accommodation, and a 10% discount on our special walking tours (siyyurim). We still have a few rooms available for the Sukkot holiday but hurry up and reserve – these rooms are going fast! For more details and reservations, please send an email to reservations@wupj.org.il.

The Mercaz Shimshon / Beit Shmuel walks are a brand name in this field and a market leader in educational Reform content. They focus mainly on the array of cultures, religions and lifestyles in Jerusalem, and are enlightening and fun. We offer pre-set tours in Hebrew, as well as tailor made programs on these and other topics in other languages as well. Please contact our tours department at tours@wupj.org.il.



Keren Bekavod remembers those in need

The Keren B'Kavod (Dignity Fund), the humanitarian aid program of the Israel Religious Action Center (IRAC), continues to assist needy families from all walks of life in Israel. This year, their help was needed more than ever as many Israeli families are facing serious prices rises in basic food items. They fund Jewish families celebrating the High Holidays and Muslim families celebrating 'Id el Fitr.

Two additional projects that are run by this fund are the Coexistence Project for Arab, Gypsy, Jewish and Druze youth. This project brings the youngsters together for dialogue and social action, and general interaction. They work together on packing food parcels for needy families, and teach each other about their cultures and customs.

The other project is the Back to School project – this year some 80 school children from Ethiopian-Israeli families, Gypsy families from East Jerusalem, and other needy children.

Keren B'Kavod needs your help! To get more information and find out how you can help, with these worthy projects, please click here.



Beit Simcha – WUPJ Shabbaton in Brno, Czech Republic

A few weeks ago, some 80 members from the Progressive Jewish communities of Prague, Bruno and Vienna, gathered in Brno, Czech Republic for a weekend seminar. The weekend was led by Steven Beck, IRAC (Israel Religious Action Center) Director of Israel-Diaspora Relations, Sari Ganulin, Resource Development Coordinator at the African Refugee Center in Tel Aviv, and local Progressive leaders. The program covered issues that are relevant to our members, such as Social Justice in Israel and Around the World, The Progressive Movement, Synagogue Music, and the Future of Central European Progressive Judaism.

Please read below an account of this event written by Steven Beck:

It was difficult to know what to expect as we boarded the bus taking us from Prague to Brno. Our new companions had greeted us with the kind of courteous reservation one can expect in much of Central Europe. They had heard we were coming, but who were these two Americans that had flown in all the way from Israel?

The weekend started with services in Brno's beautiful synagogue. The group filed into the pews and looked on with curious anticipation. I think for most of them they had never seen a women standing in front of them to lead services, and certainly not with a guitar in hand. We did not know how they would react but, to our pleasant surprise, they began singing along with us almost immediately.

The Kabbalat Shabbat service mixed familiar songs with a few new melodies we taught them. The sermon had a simple theme that I hoped would continue throughout the weekend: there is more than one way to be a Jew. After services, we returned to the Jewish Community Center for dinner.




The next morning, services began with nearly full attendance by the weekend's participants. Once again they impressed me with their knowledge of the melodies and their willingness to participate. In addition to the seven honorees called up to the Torah for aliyot, I wanted to give more people an opportunity to lead parts of the service. We identified a few sections that attendees could read out loud in Czech. I was afraid that I would be met with silence when I called out in the middle of the services for someone to read a passage in Czech, but a number of people jumped at the opportunity to join in and help.

Before lunch at the Jewish community center the weekend's participants split into two groups. The first group went with me for a study session on the week's Torah portion and the second group went with Sari for a session on synagogue music. Her group chose some of their favorite melodies from Friday and practiced singing them, while my group had an interesting discussion on debt forgiveness inspired by parshat Re'eh.

The rest of the day was filled with speakers and different lectures and a panel discussion on the progressive movement in the Czech Republic and Vienna, Austria. There was a talk on the history of the Reform Movement, and another on the deep roots the Reform Movement has in social justice around the world. Participants had two open question-and-answer sessions on any topic of their choosing.

We ended the day with Havdala and singing. This was a special moment because we surprised one of the group's youngest members, who happened to be celebrating her fifteenth birthday, with a song. As we sang happy birthday to her in Hebrew she began to cry tears of joy. We gave her the honor of holding the Havdala candle. Afterwards, she addressed the entire group with poise beyond her years, saying that the kahal had given her the most special birthday greetings she'd ever received.

I have been to many weekends similar to this one, as both a presenter and a participant, and I have never seen a group so engaged. From my point of view, the participants did not view this as a vacation. They came with questions and a real desire to take something home from the experience.

One of the most satisfying parts of the weekend was seeing how sincere the group was about building their community in a way that represents who they are today, and not what other people think central European Jewry should look like. They understand the challenges of being a small minority inside a small minority and, in spite of everything, they want a Jewish identity that represents who they are as Czechs and as Jews. With the kind of commitment I saw in Brno, I think the progressive movement in the Czech Republic could soon be a model for developing communities around the world.

Thanks to Steven Beck, Director of Israel Diaspora Relations at the Israel Religious Action Center and former HUC rabbinical school student, and Sari Ganulin, Resource Development Coordinator at the African Refugee Center in Tel Aviv ( on leave from the Cantorial school at HUC, New York).



Sim Shalom Budapest member Peter Radvanszki ordained as rabbi

Last month, the Sim Shalom congregation in Budapest rejoiced in the celebration of two adult Bar Mitzvahs. This month they are delighted to celebrate with congregation member Peter Radvanski, whose parents and grandparents were founding members, as he was ordained as a Progressive Rabbi.

On July 1, Peter Radvanszki, having completed the rabbinical course of study at Leo Baeck College, was one of three new rabbis ordained in the West London synagogue. The others were Lea Mühlstein (Germany) and Andrea Zanardo (Italy).



Rabbi Peter Radvanszki

During his studies at Leo Baeck , he often led services at various synagogues in London. And then during the past year, Peter served as the rabbi of the Progressive congregation in Toulouse, France, gaining further experience.

Sim Shalom is very proud to be contributing in this way to the revival of Jewish religion, culture and life in Europe.



Avital Ben-Chorin Honored by Hometown in Germany

Avital Ben-Chorin, a co-founder of Jerusalem's progressive synagogue Har El in 1958, received honorary citizenship of her hometown Eisenach by Mayor Katja Wolf on August 11.

Wolf expressed the city council's gratitude to Avital Ben-Chorin (née Erika Fackenheim) for her role in strengthening the ties between Israel and Germany and between people of different faiths and said: "Thank you for reaching out to us". Born in 1923, Avital Ben-Chorin had escaped Nazi Germany in 1936 on her own, while her parents and her beloved grandfather perished in the Shoa. In 1986, she and her late husband Schalom Ben-Chorin returned to Eisenach, then part of East Germany, for the first time. Since then, she has visited her birthplace and other cities in the State of Thuringia several times, sharing her experience as an eyewitness with school students and helping to foster interfaith dialogue.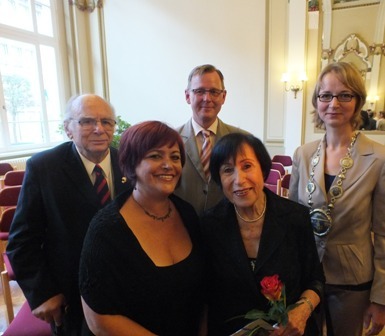 Avital Ben-Chorin with her daughter Ariela Kimchi and (from left to right) Wolfgang Nossen, president of the Jewish community of Thuringia, MP Bodo Ramelow and Mayor Katja Wolf (Photo credits: Stadt Eisenach)
It was largely due to the efforts of Bodo Ramelow, chair of the socialist faction of the state parliament of Thuringia, that Avital Ben-Chorin was presented with this city's highest honor. The MP made her acquaintance in 2008 when he met the WUPJ leadership and members of Har El; two years ago, he welcomed her in Erfurt, the capital of Thuringia. The last time that any honorary citizenship was conferred was in 1966.
"All the Eisenach Jews stand with me to receive this honor", said Avital Ben-Chorin. "Those who were stripped of their citizenship by the Nazis, who were deprived of their dignity, persecuted, and killed. As a survivor, I'm thankful to be able to teach the young and to contribute to reconciliation."



Back to "In This Issue"



Upcoming events

October 25-28, 2012 – UPJ Biennial Conference, Sydney, Australia

November 17, 2012 - WUPJ 2012 International Humanitarian Awards Dinner, New York, USA

December 27, 2012 - January 3, 2013 - The Roswell Seminar for Social Justice

February 7-17, 2013 - The Buetel Seminar for Progressive Jewish Leadership, Jerusalem, Israel

April 28-30, 2013 – WUPJ Executive Board Seminar and International Assembly Meeting, Jerusalem, Israel

May 1-5, 2013 – WUPJ Connections 2013 - Being the Difference, Jerusalem, Israel




Back to "In This Issue"