WUPJ News # 443
Issue 443, 9 August 2012, 21 Av 5772
In This Issue:
World Union unites with victims of shooting at Sikh temple
Exciting 18th annual conference marks 15th anniversary for the Union for Progressive Judaism (UPJ Germany)
Launch of ARZA New Zealand
The Sidney and Freda Davidson Educational and Cultural Center opens, marking another milestone achievement for Israel Movement
Hundreds experience new Jewish culture in Poland through the Beit Krakow Progressive Community

President's reflections on… Jack Twyman Z"L

News in Brief

• Join our communities "down under" at their biennial conference in October
• Israel Movement's Havaya camp enjoys another fun filled summer
• Using today's technology to advance Progressive learning
Upcoming events
* * * * * * * * * * * * * * * * * * * * * * * * * * * * * *
World Union unites with victims of shooting at Sikh temple

We of the World Union for Progreessive Judaism representing 1.8 million Jews in 1200 communities and 45 countries around the world unite as one in mourning the tragic shooting at the Sikh temple in Milwaukee, Wisconsin.
We pray for the day when, in the words of the prophet Isaiah, "
the cry of violence will no longer be heard in your land
" (60:18) and that the God whom we all worship will bring comfort to the bereaved families.
Rabbi Stephen Lewis Fuchs, President
Michael Grabiner, Chair
Dr. Philip Bliss, Chair of Advocacy Committee
Back to In This Issue
Exciting 18th annual conference marks 15th anniversary for the Union for Progressive Judaism (UPJ Germany)


The annual conference of the
Union for Progressive Judaism
(UPJ Germany) was an exciting celebration of past achievements, current programs, and a glimpse to the future of Progressive Judaism in Germany. This tri-lingual conference (in German, Russian, and English) was held from July 19–22 in Berlin/Spandau, with close to 230 people gathering to celebrate the 18th annual conference marking 15 years of Progressive Judaism in Germany. Over 30 workshops were offered to conference participants, as well as inspiring worship services, truly "something for everyone".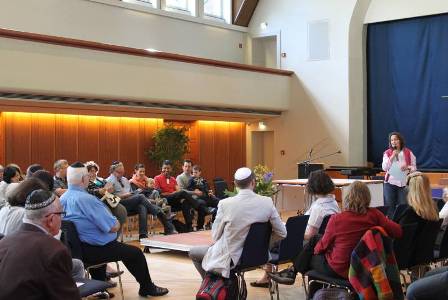 Sonja Guentner, Chair of UPJ Germany, addresses conference at the opening session


One of the highlights was the opening session on Thursday evening when Dr. Jan Muehlstein, a long-time president of UPJ Germany, and Dr. Leo Hepner, a long-time supporter of the Progressive Jewish Communities in Germany and a former Chair of the
European Union for Progressive Judaism
(EUPJ), received the Israel Jacobson Award for their influential work on Progressive Judaism in Germany.

The Israel Jacobson Award event, from left to right: Dr. Verena Muehlstein, Dr. Jan Muehlstein, Dr. Leo Hepner, Regina Neupert-Hepner


The World Union was represented by Rabbi Joel Oseran, VP-International Development, who led several workshops and also spoke at the opening event. Miriam Kramer, Chairman of the European Union for Progressive Judaism (EUPJ) and State Secretary of Saxony, Mr. Erhard Weiman also addressed the participants at the opening event.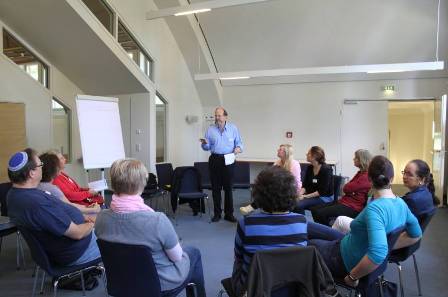 Rabbi Joel Oseran, World Union VP-International Development, leading one of the workshops


Rabbi Joel Oseran, World Union VP-International Development, brought greetings to the gathering on behalf of the World Union's lay and professional leadership, and praised the two honorees for their life-long service to Progressive Judaism in Germany, Europe, and throughout the world. "It has been my honor to work with both Jan and Leo for over 15 years", commented Rabbi Oseran, "two more dedicated, committed and modest role models for future generations to emulate could not be found. The EUPJ and the WUPJ have been truly blessed by their presence in our movement."
There were over 30 workshops to choose from, in German, Russian and English, with local speakers and presenters as well as from abroad. Among the topics offered were:
"Who was
Avraham Avinu
?", "
Mode / Moda Ani Lefanecha
", "The impact of mixed marriage and conversion on the Jewish identity of European Jewry", "Dina, the neglected daughter of Jacob", and "The current issues in Israel regarding religious state matters". According to Irith Michelsohn, UPJ's executive director, "the conference was a huge success, not only in the interesting and inspiring workshops, but also during the breaks between the workshops the participants had a lot of possibilities to discuss issues, walking around in the green area or having a coffee break." The daily worship services, including Shabbat services and Havdalla were well-attended, and – as is customary in Progressive Jewish conferences – lively and spirited. Participants noted the significance of attending services together as a special facet of the annual conference.
The next annual conference is scheduled for July 11–14, 2013, also in Spandau/Berlin.
Back to In This Issue
Launch of ARZA New Zealand


On 22 July, New Zealand was welcomed into
ARZENU
, adding a new voice to the international Zionist stage.
The launch was opened by the Chair, Roger Reynolds, who thanked the Zionist Federation team, and
shaliach
Udi Dvorkin, whose work and commitment led to the founding of ARZA NZ (Australasian Reform Zionist Association – New Zealand). Referring to the Diaspora, Roger observed, "We need Israel as much as Israel needs us".
Dalya Levy, ARZENU's executive director, offered a welcome message by video. Guest speakers from Australia included Steve Denenberg, executive director of the
Union for Progressive Judaism in Australia, Asia and New Zealand
(UPJ) and Barbara Ford, president of ARZA (AU). Steve said that it is the responsibility of the Diaspora Jews to ensure that Israel will accept us as we are and we need to work towards that. Barbara brought a Talit, used by
Women of the Wall
, that was auctioned as a fundraiser.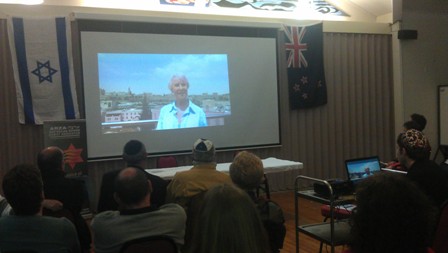 Dalya Levy, ARZENU executive director, addressing the meeting from Jerusalem


Rachel Korpus, president of the Zionist Federation of New Zealand, hailed this "a historical moment of maturity for this community". Sharing the stage with Vice President Alison Dyson, they pointed out that for the New Zealand voice to be heard, it needs to "claim its place and be in the discussion".
Back to In This Issue
The Sidney and Freda Davidson Educational and Cultural Center opens, marking another milestone achievement for Israel Movement


On a beautiful Jerusalem evening in August,
Kehillat Mevakshei Derech
, opened the Sidney and Freda Davidson Educational and Cultural Center, in a moving and inspiring ceremony. Many guests and dignitaries came to celebrate together with the community, including John Goldwyn and Jonathan Davidson and his family. The ceremony included songs by the children of the kindergarden, greetings by the community Chairpeople Haim Brandes and Adina Sadeh, blessings, speeches by the dignitaries, a special
video presentation
of how the building was built, spiritual music and remarks by Hazzanit Iris Beth Weiner, Mevakshei Derech Executive-Director, and above all the tremendous excitement of a long awaited dream come true. The event was broadcast live to the USA, where Vicki Goldwyn joined in.
The
World Union
was represented by Shai Pinto, Vice President and Chief Operating Officer, who addressed the audience and also brought greetings on behalf of WUPJ chair Mike Grabiner, previous chair Steve Bauman, and president Rabbi Stephen Lewis Fuchs. In speaking to the participants, Shai noted that "today is
Tu Beav
– a celebration of love. What could be more appropriate than to dedicate a center which is all about learning to love, than on a day like this?" He discussed the long journey that the community went through, together with the Israel Reform Movement and the World Union, and donors and visionaries Vicki and John Goldwyn. "We have walked with you hand in hand from the very first day, journeying through trials and tribulations to this milestone we mark together today. I say a collective WE to all present, but it's really you, Vicki and John – your belief, conviction, drive, desire and inspiration are what fuelled this project, what breathed life into it, and what will make it a shining light of hope for us all." He went on to say that this center will serve as a testimony to Sidney and Freda Davidson's ideals, values and beliefs, helping to spread "values of egalitarianism, equality, morality, open mindness, acceptance, embracing change, and on a day of love –
AHAVA
– values of
Ahavat torah, adam, ve'am
(love of Torah, of Humankind, of Nation). And the children that will grow up here – will be bearers of light to us all."
Ceremony at Mevakshei Derech


Rabbi Gilad Kariv, Executive Director of the
IMPJ
spoke eloquently on "tearing down the barriers on Tisha Be'av", and of the importance of the center to the future of the movement. He also thanked the municipality officials who were present for their support.
John Goldwyn, speaking on behalf of Vicki as well, shared with the audience how Sidney and Freda's love for Israel, spanning decades of involvement, inspired them to undertake in this project in their memory.
John and Jonathan placed the Mezuzah to rousing prayers and hopes.
(L-R): Rabbi Gilad Kariv, John Goldwyn, Shai Pinto


The Sidney and Freda Davidson Educational and Cultural Center is a state-of-the-art educational and cultural center that will include pre-schools and after-care programs for school children, informal Jewish educational programs for all ages, multi-purpose space that can be used for classes and community events, playground and garden. In line with the Reform Movement's tikkun olam and inclusion concepts, the building is handicapped accessible and environmentally friendly.
Davidson Center at Mevakshei Derech




Back to In This Issue
Hundreds experience new Jewish culture in Poland through the Beit Krakow Progressive Community


The 22nd festival of Jewish Culture – the largest European Jewish Culture Festival – took place in July in Krakow, Poland. This was not the first time that Beit Kraków participated in this festival, but it was the first time that progressive services were officially included and advertised in the Festival program along with Orthodox services. The two Shabbatot of the Festival drew over 800 people who celebrated Progressive Shabbatot in Krakow, and helped inaugurate Beit Krakow's new project – the Musical Shabbat, which was joined by visiting NFTY groups. The Musical Shabbat project aims to create spiritual musical reflections deeply rooted in chazanut, texts and contemporary music.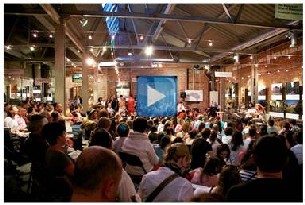 Musical Shabbat live led by Rabbi Tanya Segal and the Mojse band in the Galicia Museum

(click anywhere on photo to view YouTube clip)
During the Festival, Beit Krakow (with the support of the L.A. Pincus Fund for Jewish Education in the Diaspora) presented Midrash Lab, which comprised five modern art midrashim (interpretations) conceived by young Jewish Beit Krakow artists through creative review of the ancient text, throught a variety of art disciplines (drama, photography, film, music and graphic arts) and corresponding to one of the Five Megilot. The installation was shown in the unique space of the Galicia Jewish Museum, with each midrash set in its own niche and also forming a dialogue with the other installations. The audience experienced the text of the Eikha through music, the Book of Ruth through a film about a personal journey of a young Polish woman returning to her Jewish identity, an exhibition of paintings entitled "The Words of Kohelet in Images", a series of photographs relating to the Song of Songs, and an actress improvising live on the themes of Megilat Esther.

"Song of Songs" by Anna Zakrzewska (right); "Words of Kohelet in Images" by Agata Nowak (left)
. Photos: Piotr Zachara
The Beit Krakow program would not be complete without the Midrash Theatre segment, which this year included two performances: "To dance with Chopin in Galicia" by Israeli dance legend Rina Schenfeld in which the famous 73-year-old Israeli dancer and choreographer of Polish roots, brought unmatched energy and artistic skill that transformed the space of the Galicia Museum into a world of dance and poetry; and "The Mysteries of My Grandma" – a collaboration of Beit Krakow artists, based on true stories of Beit Krakow members and friends dealing with the complexity of the Polish-Jewish reality and Jewish identity in today's Poland.

In addition to Rina Schenfeld's peformance, the audience also had the opportunity to experience this unique artist during two lectures and a dance workshop. Beit Krakow's initiative to invite Rina to Poland in celebration of her 70 years on the stage was possible thanks to the support of the Israeli Embassy.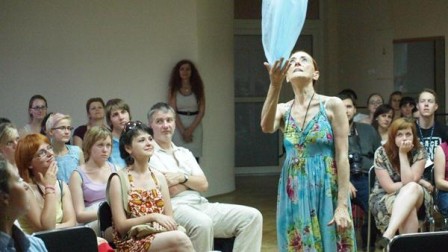 Rina Shenfeld with captivated audience in Krakow. Photo by Elzbieta Schonfeld
Beit Krakow's participation in the Festival was very successful in terms of the recognition for the community by the organizers and partners, and interest from the Polish and international audience in the rich program we were able to put together.

Encouraged by these successes Beit Krakow is increasing efforts to secure the future and long-term sustainability of the Jewish progressive community in Krakow and will focus its energies on raising funds to renovate the Beit Midrash and turn it into a home for Community Life, Living Judaism, Modern Jewish Art, and Creative Study. To join us in our efforts please contact us at office@beitkrakow.pl and become part of the Jewish renewal in Krakow! Any support makes a great difference here.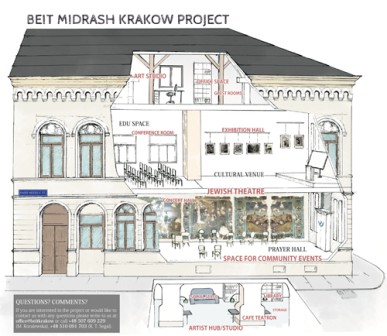 Future look for the Beit Midrash


Back to In This Issue



President's reflections on… Jack Twyman Z"L
Rabbi Stephen Lewis Fuchs



Jack Twyman, who was a Hall of Fame professional basketball player during the 1950s, died not long ago. Most of you who read this have not, I would guess, heard of him, but he is a great hero to me. Yes, he led the National Basketball Association's scoring and was among its all time leaders in field goal percentage, but that is not the reason I admire this righteous gentile so much.

In 1958, when Twyman was already a star, his rookie Cincinnati Royals teammate, Maurice Stokes, a budding superstar, suffered a severe injury after a fall during a game. His injuries were more than career-ending. Maurice Stokes remained a quadriplegic, needing round the clock care until his death in 1970.

Mr. Twyman became Mr. Stokes legal guardian and assumed responsibility for all of his expenses until the day Mr. Stokes died and beyond – until every penny was paid. Mr. Twyman organized an annual Maurice Stokes benefit game played during the summer at Kutsher's, a noted Catskill Mountain resort at the time. The game was a must on the schedule of every NBA star of the day.

Jack Twyman was White and Maurice Stokes was Black. That might not seem like such a big deal in 2012, but in the 1950s before the Civil Rights Movement and the work of Dr. Martin Luther King altered prevailing American attitudes about race, it was huge.

When I studied at the Hebrew Union College in Cincinnati in the summer of 1968, I visited Mr. Stokes several times. He was a patient at the Good Samaritan hospital, the building next door to the College-Institute. There I had the privilege of meeting Mr. Twyman and telling him that more than any figure in sports, he was my hero.

Jewish tradition has always affirmed a belief in afterlife, although – unlike classical Christianity – we are very non-specific about the details. I personally believe – at the very least I fervently hope – that goodness is rewarded and true evildoers receive deserved punishment. Yes, that is what I believe and hope. At the same time I know that we all live on – for better or worse – in the way our deeds affect those who live after us.

Finally our tradition strongly affirms that, "the righteous among the gentiles receive the same reward in the world beyond this one as the righteous Jew." (B Sanhedrin 105A)

Based on these ideas, I envision Mr. Twyman, a devout Roman Catholic, winging his way toward the highest place of reward that the heavens can offer. There I see a whole and healthy Mr. Stokes waiting with that huge smile on his face that was his trademark both before and after his devastating injuries to engage his good friend in a vigorous game of one on one. Yes that is what I hope is happening, but what I know for sure is that the selfless example of Jack Twyman continues to influence and inspire this American rabbi as he does his best to represent the ideals of Progressive Judaism to Jews and non-Jews around the world.



Back to In This Issue



News in Brief

Join our communities "down under" at their biennial conference in October

The Union for Progressive Judaism in Australia, Asia and New Zealand (UPJ) is getting ready for their biennial conference which is scheduled for October 25–28 in Sydney, Australia. The theme is Sh'ma Koleinu - Hear Our Voices / Share Our Stories, and the UPJ is delighted to invite you to join them at this conference.

Many exciting speakers are lined up for this conference, including scholar-in-residence Dr. Ron Wolfson, a professor at the American Jewish University in Los Angeles, and author of numerous books. Some of the issues that will be discussed at the conference include: marriage equality, bioethics, virtual Judaism, the future of Judaism and the soul of Israel, "7 rabbis/7minutes/27 opinions". You also won't want to miss the star-studded gala celebration on Saturday night, A Night with the Stars.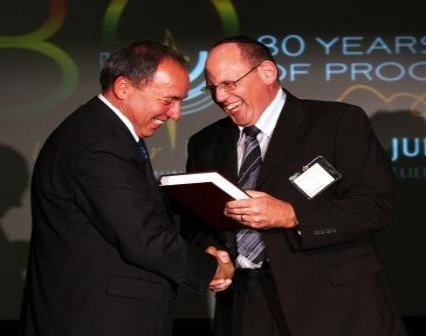 UPJ president David Robinson (right) presents Ambassador Yuval Rotem with a copy of Mishkan T'filah – World Union Edition, at the opening gala at the UPJ biennial in 2010. (Photo: Dean Ginsburg)

Click here for more details, here for easy registration or contact the UPJ at upj@upj.org.au.



Israel Movement's Havaya camp enjoys another fun filled summer

The Israel Movement's summer camps – Havaya (acronym of "Freedom and Judaism" that forms the Hebrew word that means "experience") – have been operating for some 20 years in Israel and are considered the peak activity of the youth movement Telem. This year, the camp was held in a youth village in the center of the country in three cycles for the different age groups. Close to 500 youth and young counselors participated in the camps this year, including a pilot program for special needs children ages 13–15. Approximately 40% of the campers this year were first-time campers.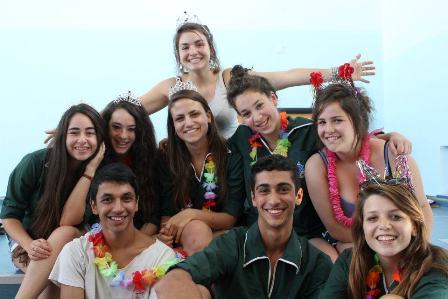 Summer fun at Havaya camp

The movement also used this opportunity to use their new uniforms which were based on a global Netzer uniform with a different logo on the back.

The overall theme was Biblical Heroes, and focused on figures such as Moses, Miriam, King David, learning about leadership, bravery, success and failure. Using the biblical stories, children discussed bravery and leadership skills that exists in each of us, experiencing this through music, games, hikes, camping and "survivor" skills, dancing and a special "Jewish Rock" concert. The older campers also had leadership development sessions and some of them gained hands-on experience as counselors-in-training. The ninth graders met with NFTY groups and discussed the connection between groups of Jewish people around the world. As with all the Movement's events, worship services and Shabbat played a central role in the camp, as well as studying Jewish texts.

For more photos, please visit the Facebook page.



Using today's technology to advance Progressive learning

Established in 2004, the Anita Saltz International Education Center provides a global forum for Reform Jews to engage in serious, intensive Jewish study in Israel and around the world.

Thousands of Progressive Jews from around the world have participated in our innovative study modules led by some of Israel's finest teachers, offering an extraordinary opportunity for intellectual exploration.

The Saltz Center's seminars have generated enthusiastic responses from rabbis, educators and laypeople. Participants in the seminars have returned to their home communities energized, and with a greater understanding of the major concepts of Judaism and the centrality of Israel in Jewish life. Communities around the world praise our alumni for increasing involvement in their synagogue and taking on leadership roles.

In order to maintain contact with its alumni and engage them in high-level Jewish learning on an ongoing basis the Saltz Center is putting new efforts into strengthening its distance learning program. By taking advantage of the opportunities offered by today's information technologies, the Center hopes to bridge distances to bring together Reform/Progressive Jews around the world into a community of learners.

One piece of this effort is the establishment of a Facebook page. The new social media is an effective tool to communicate with Saltz alumni and provide current information about upcoming programs. It is also a platform for us to share important news and events in the Reform/Liberal/Progressive Jewish world.

Another part of our distance learning program includes webinar broadcasts. Following the historic decision in Israel to fund the salaries of Reform and Conservative Rabbis who are employed by regional councils, the Saltz Center offered a webinar. This live conversation with Rabbi Miri Gold, the "poster child" of this prolonged legal battle in Israel's Supreme Court, was an opportunity to learn about her court case and the amazing work of the Israel Religious Action Center (IRAC), the legal and public arm of the Israel Movement for Reform and Progressive Judaism (IMPJ).

To keep up-to-date with upcoming Saltz programs please "like" our Facebook page.


Back to In This Issue



Upcoming events

August 8-12, 2012 – World Union for Progressive Judaism-Latin America (WUPJ-LA)'s 4th Conference of Jewish Communities, Buenos Aires

October 25-28, 2012 – UPJ Biennial Conference, Sydney, Australia

December 27, 2012 - January 3, 2013 - The Roswell Seminar for Social Justice

February 7-17, 2013 - The Buetel Seminar for Progressive Jewish Leadership, Jerusalem, Israel

April 28-30, 2013 – WUPJ Executive Board Seminar and International Assembly Meeting, Jerusalem, Israel

May 1-5, 2013 – WUPJ Connections 2013 - Being the Difference, Jerusalem, Israel



Back to In This Issue