WUPJ News # 442
Issue 442, 26 July 2012, 7 Av 5772
In This Issue:
Another Bergman Seminar for Jewish Educators comes to a successful end
Summer fun for youth in Belarus
Kehilat Ra'anan celebrates the Tenth Anniversary of Beit Samueli
Making Tikun Olam a reality at the IMPJ's Mechina program

President's reflections on… A Progressive perspective on Tisha B'Av

Condolences

News in Brief
• World Union calls upon the International Olympic Committee to remember Victims of Terror in Munich 1972
• Beit Shmuel hosts group of Moroccan students
• WUPJ President visits congregation in London
• WUPJ President to visit Latin America congregations, participate in Conference
• Jerusalem's Kehillat Mevakshei Derech dedicating The Sidney and Freda Davidson Educational and Cultural Center


Upcoming events

* * * * * * * * * * * * * * * * * * * * * * * * * * * * * *

Another Bergman seminar for Jewish Educators comes to a successful end

What a gift to be able to spend 10 days with a group of exceptional Jewish educators from Israel, Australia, France and the United States. These amazing professionals traveled throughout Israel grappling with critical issues facing Israel and the Jewish People with the Bergman seminar for Jewish Educators run by the Anita Saltz International Education Center. Developed by Saltz Educational Director Paul Liptz and Director Rabbi Steve Burnstein, this extraordinary seminar uses the sites of Israel to delve into issues vital to Jewish education, incorporating Jewish texts to include the voice of our tradition. Throughout, the program included encounters with some of the top leaders in Jewish education.



Exploring the art of graffiti in Tel Aviv

The program opened with a creative tfila on the Haas Promenade with Rabbi Burnstein. This was followed with sessions by master educator Alexandra Benjamin who discussed exile and Diaspora. We later visited the Zippori (Sepphoris) archaeological site with Rabbi Marc Rosenstein, Dean of HUC-Israel Rabbinic School, who addressed the evolution of Judaism and its dialogue with other cultures.

From the bustling market of Machane Yehuda, as they felt Shabbat approaching, they joined Rabbi Miri Gold at Kehilat Birkat Shalom, Kibbutz Gezer, learning about her 7-year battle to win recognition from the State of Israel. Joined by members of the local IMPJ congregation, as well as Rabbi Judith Schindler and members of Temple Beth El from Charlotte NC, they had a lively service followed by dinner and singing. On Shabbat afternoon educator Mark Lazar demonstrated the use of drama and games providing participants with meaningful pedagogic techniques.

Exploring Israel's museums with social historian and Saltz Education Director, Paul Liptz, provided unique insight. Participants visited Beit Hatfutsot (Museum of the Jewish People), Yad Vashem and the Israel Museum, gaining an understanding of the relevance of the exhibits to their own communities and teaching.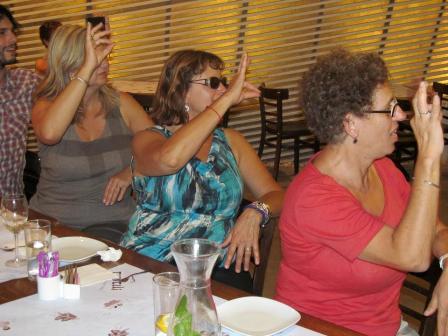 Signing at the Na Lagaat Center

"All participants were extremely enthusiastic about being in Israel and saw the program as having direct importance in their various school environments," said Paul Liptz. "Their teaching roles cover a wide range of ages from pre-school teachers to those involved in high schools and adult education. As they came from many different countries, they constantly compared their own pedagogic challenges and discussed how they could learn from each other."

With Guy Sharett (recently written up in the New York Times) the group explored the graffiti of the Florentine neighborhood of Tel Aviv, gaining insight into some of the current social issues in Israel while learning an unusual technique for reinforcing the teaching of Hebrew language. They had a lesson in sign language at the Na Lagaat Center over dinner served by deaf waiters, and experienced a powerful theatre production by the deaf and blind acting ensemble.

Educator Robbie Gringras introduced participants to the MAKOM Matrix as a tool to assist educators to engage with Israel in an effective and nuanced manner, and provided insight into using Israeli film in education.

Sally Klein-Katz welcomed the Bergman group to her home for an interactive session on Israel engagement through the lens of ethical and ethnic dilemmas and introduced the group to the work of some of the leading thinkers in the field of Israel education today.



Synagogue tour in Safed

At the Kibbutz Ein Shemer Greenhouse participants encountered an innovative and inspiring educational project which successfully engages the diverse population of Israeli society: secular, religious, Arab, Jewish, children, adults, people with special needs, The Jewish-Arab Youth Circus, a project of the Galilee Foundation for Value Education, one of the highlights of the seminar, taught participants that "In a world – and a region – where fear and distrust between peoples lead to insecurity and violence daily, it just might be that a circus can make a difference!" They explored the evolution of the 16th century Safed community with senior educator Steve Israel, and discussed the continuing changes with the chalutzim (pioneers) of the early 20th century.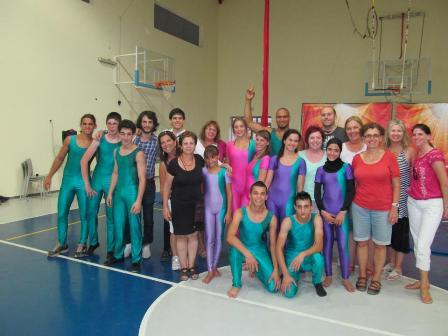 Jewish-Arab circus in Biene

World Union President Rabbi Steven Fuchs, and Vice President – International Development Rabbi Joel Oseran focused on our movement and discussed some of the challenges facing the regions of the WUPJ. The group also participated in a "Freedom Ride" with IRAC and met with Dalya Levy, executive director of ARZENU.

The Bergman Seminar was also a gastronomic adventure allowing participants to partake of a variety of local delights from Old Jaffe's Dr. Shakshuka to the Tishbi Winery in Zichron Yaakov.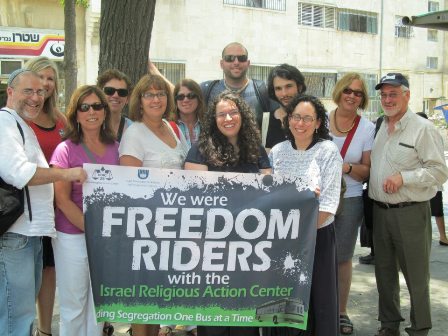 Being a Freedom Rider with IRAC

Rabbi Burnstein remarked: "One of the most memorable aspects of the seminar is that it empowered the participants to deal with Jewish and Israeli topics in a much more serious manner… It enabled them to appreciate just how important their role is in enabling their communities to understand the significance and centrality of Israel in Jewish life. I'm inspired to know that these people are involved with securing the Jewish future."

Our participants commented that "it was a thoughtful and insightful program. It aimed to make meaningful connections and it did – with Israel Progressive Judaism and I now have colleagues around the world to keep connecting with". And "Our Seminar schedule was superbly crafted… encourages me to seek to create novel ways to bring these lessons to my students… rewarding to share this experience with my international colleagues... I will surely spread the message of the World Union of Progressive Judaism…I am still feeling the buzz and energy from my trip and know it was an experience I will always carry with me."

The Bergman Seminar for Progressive Jewish Educators is sponsored by the Bergman brothers, Stanley, a long time supporter of Progressive Jewish causes, and Leslie, President of the European Union for Progressive Judaism (EUPJ).

Please visit our Facebook page for more information and photos.



Back to In This Issue



Summer fun for youth in Belarus

Summer has just started and we are already proud to report that our youth camp in Belarus was a great success. The camp took place in Mogilev, Belarus, from June 30 to July 9 for 100 campers ages 14–17. This year's theme was Maccabiada Netzer 2012, focusing on the principles and ideology of Netzer and Reform Judaism as well as historic and modern Israel using sport, games, learning and cultural activities based on the Maccabiah Games which are held every four years in Israel. The program helps to build and strengthen their Jewish heritage and identity and connect with the Jewish nation.

Each day had a different theme, culminating in the Maccabiada Games where participants competed for the privilege to pass the 'Maccabiada Flame' to the Ukraine Netzer movement (madrichim from the Ukraine participated in this camp).



Painting a colorful world

The "Eretz Israel – Fulfilling our Dream" museum was created as a means of studying Judaism, Zionism and Israel with the focus on the historical perspective of land: why it's so important, and why we continue to fight for the Land of Israel. The exhibitions helped illustrate the historical perspective of Israel with maps from different historical periods (Biblical times, First and Second Temples, British Mandate, and Modern Israel) showing how the map of Israel has changed and why. The role that Zionism has played in the Reform movement and the fact that Netzer is a Zionist youth movement were studied through the lives of several influential Zionist leaders such as Herzl, Jabotinsky, and Ben-Gurion. The State of Israel was portrayed, through video clips, as a modern, innovative country which boasts many Nobel Prize winners, medical and scientific inventions, and ground breaking agricultural techniques.



Shabbat services

The third day was devoted to Reform Judaism and Ivrit (Hebrew language). Participants – madrichim, campers and guests – shared their own personal stories, raising questions, and had interactive discussions. One person spoke about her Reform Chuppa (wedding ceremony) and how it differed from the Orthodox one; another told about her process of conversion; and a third discussed equal rights for female rabbis, and for bar/bat mitzvah celebrations. This was followed by a session on the development of the Hebrew language, including the use of Yiddish over the years, through a video and research written by one of our Masa students. The campers were taught how to write their names in Hebrew and learned the meanings of their names.

On the fourth day campers learned about the connection and importance between Israel and Jewish communities in the Diaspora, understanding that while living in the Diaspora, their connection to Judaism and Israel has to be made through participation in their local communities and Netzer youth movement.



"Hands-on" fun

Tikkun Olam (social action) – both as individuals and as a community – was also discussed. Campers were told to think about 3 personal values important to them and 3 values that they can obtain from their communities such as celebrating the holidays, searching for their roots, Jewish activism and awareness. This helped them understand how they could uphold a Jewish way of life in the Diaspora while maintaining a connection with Israel.



Adding new "branches" of Tikkun Olam to the Netzer tree

A unique element of our summer camps, in addition to the sports and games, are the Jewish traditions and ceremonies which were an integral part of the program. In Belarus it has become a tradition for each child to read from the Torah, the siddur, or something they have prepared themselves. Special care is taken to ensure equality between boys and girls, allowing everyone to wear a tallit and to pray together. In this way ties are built between the child and Jewish traditions.

The result of the cooperation of madrichim and administrative staff was reflected in the successful final ceremony which was devoted to Jewish values and traditions through dramatic presentations. The plays demonstrated the depth of thought, positive energy and knowledge that was gained. They spoke about the values they had learned, about their belief in good deeds and tzdakah, and the central part that Israel will play in their lives.



Back to In This Issue



Kehilat Ra'anan celebrates the Tenth Anniversary of Beit Samueli

One of the many successes of the World Uninon for Progressive Judaism (WUPJ) and the Israel Movement for Progressive Judaism (IMPJ) is its ability to establish centers throughout the country. Thanks to the generosity and ongoing support of Henry and Susan Samueli and the Samueli Foundation, the beautiful center in Ra'anana, (Beit Samueli) was able to celebrate its tenth anniversary on the weekend of June 29–30. The double celebration, a Kaballat Shabbat service in the Ra'anana Park and a dinner honoring Henry and Susan Samueli, was attended by the many local members of Kehilat Ra'anan and many guests representing the support of worldwide Reform Jewish philanthropy and other Jewish organizations.

Prominent among the guests were Henry and Susan Samueli and their daughter Erin; Ra'anana City Mayor, Mr. Nahum Hofri; Rabbi Rick Jacobs, President of the Union of Reform Judaism (URJ); Rabbi Gilad Kariv, Executive Director of the Israel Movement for Progressive Judaism (IMPJ); Rabbi Dr. Michael Marmur Vice President for Academic Affairs, Hebrew Union College (Jerusalem); Rabbi Peter Levi of Temple Beth El of South Orange County (a twin congregation with Kehilat Ra'anan); Mr. Gerald Solomon, CEO of the Samueli Foundation; Mr. Shalom Elcott, President and CEO of Orange County Federation (California); Mr. Amir Shacham, Associate Executive Vice President, Israel and Overseas, Jewish Federation of Greater Metrowest New Jersey; Mr. Shai Pinto, Vice President and Chief Operating Officer, Rabbi Richard Hirsch, Honorary Life President and Rabbi Joel Oseran, Vice President - International Development, World Union for Progressive Judaism (WUPJ); Harvey and Ruth Cohen (former Chair of the WUPJ and members of Kehilat Ra'anan); Orly and Ophir Paz-Pines (former Cabinet Minister and Knesset member and members of Kehilat Ra'anan); Ms. Emily Shochat, Chairperson of the Masorti movement in Israel and many others.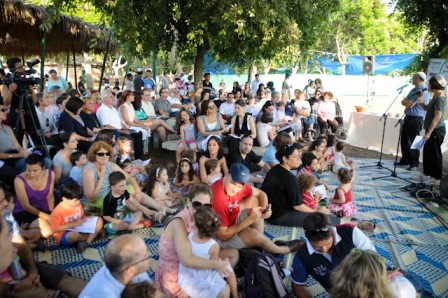 Shabbat evening service in the park

The message resounding throughout both evenings was one of optimism and belief in the ability of the Liberal communities of Jews to face the many challenges presented by the 21st century by being creative and dynamic, open to absorbing changes, and aiming to develop patterns of cooperation and integrated planning amongst the many organizations. Rabbi Tamar Kolberg, Rabbi and director of Beit Samueli and Kehilat Ra'anan, spoke of the keen interest and search both for community and for a meaningful Judaism amongst young families within her community and of the need to cultivate new leadership; Keynote speaker, Rabbi Marmur, spoke of Jewish tradition as an ongoing endeavor of the many voices within Am Yisrael and of the beauty of weaving the many voices together.



(standing on left) Rabbi Tamar Kolberg, director and Rabbi; Rabbi Danny Meyer, assistant Rabbi
(by the table) Emily Levi Shochat, President of the Masorti Movement in Israel; Rabbi Danny Allen, ARZA; Rabbi Amy Joy Small, Beth Tikvah congregation in New Jersey

Shai Pinto brought the World Union message to Beit Samueli. Speaking of the beautiful building he said that "what makes this place so beautiful is not the building itself…this building, this center, are beautiful because of what is inside them, and what they symbolize and bring to the neighborhood, the community, the city, the society and all of us: Egalitarianism, equality, morality, open mindness, acceptance, embracing change, Ahavat torah, adam ve'am (the love of Torah, humankind, nation". Shai talked about the role that World Union played – and continues to play – in the establishment and strengthening of this congregation. He reminded the congregants that it wasn't that long ago that people tried to shatter "our belief by shattering some windows" but asserted that "…the more windows they shatter, the easier it will be for everyone to gaze inside, to connect, to rediscover the Jew within."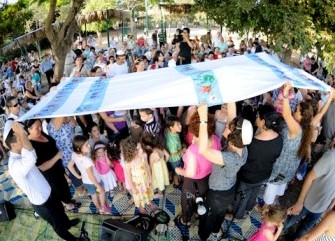 Blessing the children under a Talit created by members of Kehilat Ra'anan

May Beit Samueli and the Israel Reform Movement go from strength to strength and may the outstanding generosity of Henry and Susan Samueli be a model for others as they stand firm in their support of making this world a better one for our children and generations to come.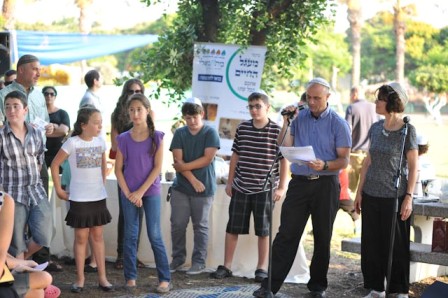 Blessing Bnei Mitzvah
(L-R) Rabbi Peter Levi of Temple Beth El, Orange County, California, Israeli and American teens, Rabbi Danny Meyer, Rabbi Tamar Kolberg



Back to In This Issue



Making Tikun Olam a reality at the IMPJ's Mechina program

The Israel Movement for Progressive Judaism (IMPJ) has been running its Mechina program since 2003. This is a gap-year program for Israelis that helps prepare them for the challenges of their army service through learning, leadership development, and volunteering. The Mechina received official recognition from the Ministry of Defense, and in 2009 was recognized by the City of Tel Aviv for excellence in volunteering.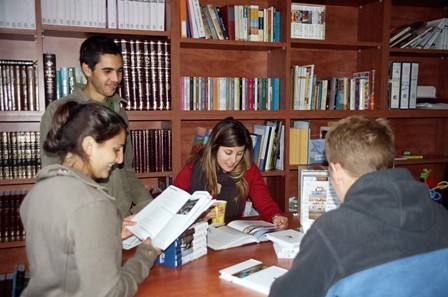 Learning…

Participants come from cities, towns, and Kibbutzim around the country. They live in Jaffa, where residents come from diverse religious and ethnic backgrounds: Jews, Muslim and Christian Arabs, and migrant laborers from around the world. Together they create a community, learn about the ethnic and cultural groups that coexist in Israel, and discuss religion and Judaism, Israeli society, identity, and much more, in an open and pluralistic environment. They not only talk about social justice and Tikun Olam, but actually experience it by living in Jaffa and participating in social projects throughout the city.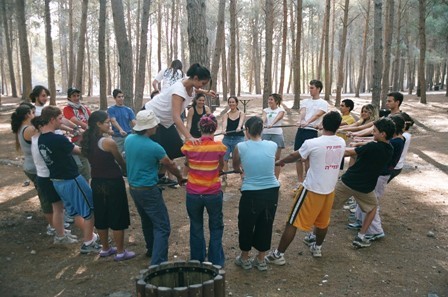 Leadership training…

In the past four years, the Mechina has also welcomed post-high school youth from abroad who have a basic level of Hebrew (there is also an Ulpan option in the first few months of the program).

Maya Wahrman, a participant from Bloomington, Indiana, says that "coming to the Mechina in Yaffo was the best decision I have ever made". She goes on to say that "maybe the most meaningful facet of this year though, at least for me, has been the many hours of volunteer work we do every week… Sometimes I think the kids are actually doing volunteer work with me instead of me with them – I've learned so much about life through my work there… The volunteer work mostly helps populations who truly need it in Yaffo and Tel Aviv, but also teaches those in the Mechina responsibility and the hard issues of our world and of Israeli society." (To read more about Maya's experiences, click here).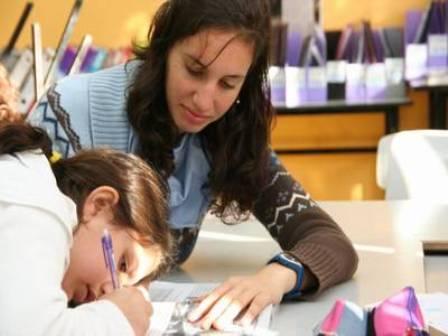 Volunteering – all through the Mechina program!

For more information about the program, please contact director Rabbi Aharon (Arale) Fox at hamechina@reform.org.il.



Back to In This Issue



President's Reflections on… A Progressive perspective on Tisha B'Av
Rabbi Stephen Lewis Fuchs



The Ninth day of the Hebrew month of Av, Tisha B'Av, is a day when traditional Jews fast in memory of the magnificent Temples of Jerusalem which were destroyed: the first Temple by the Babylonians in 586 BCE and the second Temple by the Romans in 70 CE. It is also a solemn day in memory of other historical tragedies associated with that date. For example, it is said that the first Crusade in 1095 – a time of persecution and slaughter of the Jews of Europe – began on Tisha B'Av; and in 1290 the expulsion of Jews from England took place on that date. Tisha B'Av also coincides with the expulsion of Jews from Spain in 1492 and the outbreak of World War I in 1914.

I wasn't aware of the significance of the date and the mourning it entailed until I was 12 and away at summer camp. The meaning of this day of tragedies does not rank high in the consciousness of most Jews and that raises the question of what might Progressive Jews make of Tisha B'Av today? Being in Jerusalem now makes me even more aware of these questions and I've developed some thoughts about this date on the Jewish calendar.

The destruction of the two Temples and the exile of Jews from our sacred land that followed, were occasions of death and suffering – and the feeling of sorrow is appropriate. Certainly all the other historical tragedies associated with that date are important to remember too.

On the other hand, the centrality of the Temples in Jewish life ended abruptly with their destruction and there seems to be little merit in reviving many of their old traditions anew. Much of the Temple's centrality revolved around its role as a place for animal sacrifice. This act was a sign of repentance, thanksgiving or celebration, but after the destruction and dispersion, the Jewish people found other ways of worship, and built them around their synagogues and homes. Rabbis rose up from the community instead of priests and much of this has served us well as we wandered through the world. Judaism as we know it exists for us today and I know of no Progressive Jews who are enamored with the idea of a reconstructed Temple and a reinstitution of animal sacrifice.

While a tragedy of the time, the destruction of the Temple liberated Judaism to become what we treasure today, a religion based on the study of Torah, of prayer and of acts of kindness and compassion: a religion and a way of life that reaches deeply into everything we do. The very vibrancy and strength of the Jewish people over the centuries attests to the wisdom of what we have become and not what we once were. It may sound odd, but in that sense Tisha B'Av, in the age of a renewed Jewish Nation in Israel, can be seen as both an occasion of hope and happiness as well as one of remembrance.

It is left to us to reconcile the remembrance of genuine tragedy with the possibilities for the growth and development of the Judaism that has been passed down to us. Within the context of the Judaism I was brought up with, I observe a fast on Tisha B'Av until mid day. During that time I study the traditional text for the day, the biblical book of Lamentations, but then I partake of a mid day meal, grateful for the Judaism that has been bequeathed to us over the years, a Judaism that no longer slaughters animals and sprinkles their blood as a sign of gratitude or as a petition to God. I celebrate the fact that a Judaism without the Temple and its hereditary priestly class has been replaced by a Judaism we can all access and immerse ourselves in while we absorb the lessons our people gleaned over the centuries of wandering and before our return: that each of us should use our individual talents in our own way to make the world a better place.

Tisha B'Av for me is also the day when I begin preparing for the period of introspection culminating in the rituals of Rosh Hashanah and Yom Kippur. Impetus for beginning the process of repentance comes from the middle of the book of Lamentations.

נחפשה דרכינו ונחקרה ונשובה עד ה
"Let us search and examine our ways and return to the Eternal One!" (Lamentations 3:40)

For Progressive Jews, then Tisha B'Av can be both a day of mourning and a day of joy. We mourn for the destruction of the temple, but we rejoice that we have developed a strong, resilient means of surviving as Jews. Mourning the tragedies of the past we begin to search and examine our way forward and face the future with hope and courage.



Back to In This Issue



Condolences

The leadership and staff of the World Union offer their sincerest condolences to Executive Board member Diane Marcus on the passing of her mother Caroline F. Libby.
May her memory be for a blessing.



Back to In This Issue



News in Brief

World Union calls upon the International Olympic Committee to remember Victims of Terror in Munich 1972

The World Union for Progressive Judaism, representing 1.8 million Jews in 45 countries in 7 regions around the globe, joined with many heads of countries and officials who appealed to the International Olympic Committee to observe a moment of silence in memory of the 11 Israelis murdered by terrorists at the Munich Games 40 years ago, in September 1972:

David Berger
Ze'ev Friedman
Yossef Gutfreund
Eliezer Halfin
Yossef Romano
Amitzur Shapira
Kehat Shorr
Mark Slavin
Andre Spitzer
Yakov Springer
Moshe Weinberg

We also recall with gratitude the sacrifice of German Police Officer Anton Fliegerbauer who gave his life fighting the terrorists.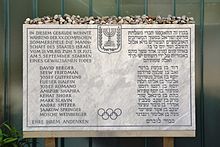 Memorial plaque in front of the Israeli athletes' quarters in Munich.
The inscription, in German and Hebrew, translates as:"The team of the State of Israel stayed in this building during the 20th Olympic Summer Games from 21 August to 5 September 1972. On 5 September, [list of victims] died a violent death. Honor to their memory.

Please click here to read the full statement and prayer.

May their memories remain with us for a blessing!



Beit Shmuel hosts group of Moroccan students

Beit Shmuel recently hosted the first student group from the Arab world ever to visit and learn about Israel. Kivunim, ("Directions"), a gap year program in Israel housed in Beit Shmuel, developed a relationship with Moadon Mimouna, a group of Moroccan Muslim students who study the history and culture of Moroccan Jews and Judaism in order to better understand their own culture and history. For example, they co-sponsored (with Kivunim) the first Holocaust Conference in the Arab world at the Al-Akhawayn University in Ifrane, Morocco this past September. This visit to Israel was different: Peter Geffen, Kivunim's founder and Executive Director, planned and led a two week experience that included a visit to Ramallah and meetings with high-ranking Palestinian officials and leaders of the Israeli-Arab world. The participants left Israel with a strong desire to return: one dreams of becoming Morocco's first Ambassador to Israel; others are reviewing scholarship opportunities for graduate studies at IDC, Herzliya. They report that their families are excited about visiting Israel and there is a growing appreciation for the accomplishments of the Jewish people in Israel. Kivunim's open approach reflected the positive that Israel offers, and contextualized the "negatives" as challenges to be confronted. We look forward to many more such visits in the years ahead.






WUPJ President visits congregation in London

While on a personal visit to England this month, WUPJ president Rabbi Stephen Lewis Fuchs was invited to visit Radlett and Bushey Reform Synagogue (RBRS). RBRS is a vibrant Reform Jewish community – the sixth largest synagogue of The Movement for Reform Judaism (MRJ). Founded in 1971 by 16 families, the community boasts over 700 families today, comprising approximately 1,900 adults and children. They are involved in the wider community of Radlett, and participate in cross-communal events, like the annual Remembrance Day service at the Radlett War Memorial, joint talks with church representatives and joint concerts with local church choirs.

Rabbi Fuchs' captivating sermon held the congregants spellbound. He mentioned the large number of children in the congregation commenting that RBRS "had its priorities right", and congratulated Bat Mistvah girl Rachel Redondo. Rabbi Paul Freedman commented: "Rabbi Fuchs is such a wonderful orator that we could have listened all day".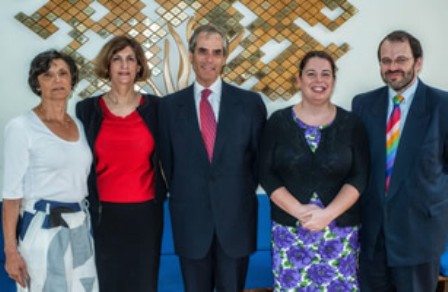 (L-R) Miriam Kramer, Chairman EUPJ; Vickie Fuchs; Rabbi Stephen Fuchs; Rabbi Celia Surget, Associate Rabbi, RBRS; Rabbi Paul Freedman, Principal Rabbi, RBRS

Rabbi Fuchs was accompanied by his wife Vickie, and Miriam Kramer, of Wimbledon and District Synagogue who is chairman of the European Union for Progressive Judaism (EUPJ). Also in the congregation was Ben Rich, Chief Executive of the Movement for Reform Judaism.



WUPJ President to visit Latin America congregations, participate in Conference

WUPJ president Rabbi Stephen Lewis Fuchs will be visiting our Latin American region in August. He will visit several congregations, among them Sociedade Israelita Brasileira (SIBRA), in Porto Alegre, prior to the 4th Conference of Jewish Communities in Latin America. The religious service will be broadcast live at 7 PM Brazil time on August 3. Rabbi Guershon Kwasniewski, SIBRA´s Religious Leader, is happy to invite all readers to join in "virtually" at www.livestream.com/SIBRARS.

Following his visit to Porto Alegre, Rabbi Fuchs will participate in the 4th Conference of Jewish Communities in Latin America in Buenos Aires, Argentina from August 9-12, 2012, where he will also be giving a keynote address. Over 200 participants from throughout the region, as well as guests from North America, Europe and Israel will join together to study, pray and deliberate on the many challenges facing Progressive Judaism in Latin America.

If you have not yet registered for the Conference but would like to attend, please contact the Conference office at contato@wupj-latinamerica.com.br or click here for more information. This will be a wonderful opportunity to meet the leaders of Progressive Judaism in Latin America and be a part of history in the making!



Jerusalem's Kehillat Mevakshei Derech dedicating The Sidney and Freda Davidson Educational and Cultural Center

Kehillat Mevakshei Derech, a Reform congregation in Jerusalem established in 1962, will hold the dedication ceremony for The Sidney and Freda Davidson Educational and Cultural Center on August 2. Shai Pinto, WUPJ Vice President and Chief Operating Officer, will represent the World Union at the ceremony, alongside Rabbi Gilad Kariv, IMPJ Executive Director.



The Sidney and Freda Davidson Educational and Cultural Center

The educational center will open in August and will include pre-schools, after-school programs, informal Jewish educational programs – all geared for developing and nurturing Jewish identity for all ages. In line with the Movement's mission to pursue social justice and Tikkun Olam, and their commitment to Jewish tradition and the concept of community as an extended family for all ages, the building will be both handicapped accessible and environmentally friendly. The building was made possible thanks to funds raised through American Friends of Mevakshei Derech. For further details about the dedication ceremony, please click here.



Back to In This Issue



Upcoming events

August 8-12, 2012 – World Union for Progressive Judaism-Latin America (WUPJ-LA)'s 4th Conference of Jewish Communities, Buenos Aires

October 25-28, 2012 – UPJ Biennial Conference, Sydney, Australia

December 27, 2012 - January 3, 2013 - The Roswell Seminar for Social Justice

February 7-17, 2013 - The Buetel Seminar for Progressive Jewish Leadership, Jerusalem, Israel

April 28-30, 2013 – WUPJ Executive Board Seminar and International Assembly Meeting, Jerusalem, Israel

May 1-5, 2013 – WUPJ Connections 2013 - Being the Difference, Jerusalem, Israel





Back to In This Issue