WUPJ News # 441
Issue 441, 12 July 2012, 22 Tammuz 5772
In This Issue:
Landmark changes for Holocaust victims achieved at recent Claims Conference
Chagigah 2012: the happiest Reform conference ever
The Beutel Seminar for Progressive Jewish Leadership
Spotlight on Latin America

President's reflections on... A new leader for North American Reform Jews

News in Brief
• New member for UPJ Germany
• Leo Baeck College Ordains Rabbis at West London Synagogue
• Shared Music, Shared Message - The Cantors Assembly Struck a Chord with Germany's Federal President

Upcoming events

* * * * * * * * * * * * * * * * * * * * * * * * * * * * * *

Landmark changes for Holocaust victims achieved at recent Claims Conference

In historic breakthroughs during negotiations with the German government on July 9, the Conference on Jewish Material Claims against Germany (Claims Conference) attained a number of landmark changes to compensation payments for Holocaust victims, announced Claims Conference Chairman Julius Berman.

Sixty years after West Germany agreed to the first compensation payments to Holocaust victims, 80,000 now-elderly Jewish victims of Nazism living in the Former Soviet Union will receive payments for the first time since World War II.

From November 1, 2012, these victims will become eligible to apply for a payment from the Hardship Fund for their suffering during the Holocaust, a long-sought goal of the Claims Conference. This primarily affects Jews who fled eastward into the USSR ahead of the advancing Nazi army and mobile killing squads known as Einsatzgruppen but who did not live directly under Nazi occupation.

The Fund will be open for applications from these newly eligible victims starting on November 1, 2012. Information is available in Russian, English, Hebrew and German at www.claimscon.org. The Hardship Fund makes one-time payments of €2,556.

The Conference on Jewish Material Claims Against Germany (Claims Conference) represents world Jewry in negotiating for compensation and restitution for victims of Nazi persecution and their heirs. The Claims Conference administers compensation funds, recovers unclaimed Jewish property, and allocates funds to institutions that provide social welfare services to Holocaust survivors and preserve the memory and lessons of the Shoah.

The World Union for Progressive Judaism, as the global Jewish organization representing more than 1.8 million Reform, Progressive, Liberal and Reconstructionist Jews around the world, is a board member organization of the Claims Conference. Shai Pinto, World Union's VP and COO, and Donald Day, former World Union Chair and Honorary Executive Board member, represent the World Union on the board.

Pinto, who participated in the recent conference in Washington DC says: "this is a historic achievement that will bring a very small measure of justice to thousands of victims from behind the "Iron curtain". We must do whatever we can to make sure as many eligible survivors apply for this compensation. Our staff throughout the FSU and in Israel will assist local organizations and Claims Conference staff in this holy task".



Back to In This Issue



Chagigah 2012: the happiest Reform conference ever

The UK Movement for Reform Judaism (MRJ)'s Chagigah 2012 saw over 270 people gather to celebrate Reform Judaism together. In the words of respected broadcaster and writer Rabbi Lionel Blue, it was "the happiest Reform conference ever" and a strong sense of warmth, pride, optimism and inclusion permeated the event which was also the biggest MRJ conference in a decade.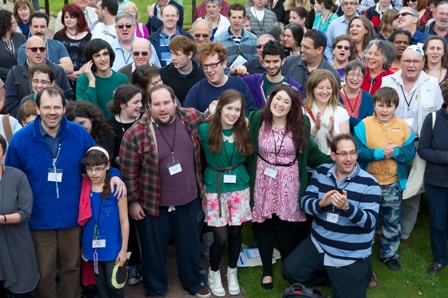 Chagigah participants

Representatives from three quarters of MRJ communities attended Chagigah, which featured wonderful, music-filled services and varied sessions with inspiring speakers and educators offering learning opportunities for all ages and levels. There were innovative and practical ideas and resources to take back to communities, with a strong focus on education and learning.

Movement Rabbi, Laura Janner-Klausner, gave a D'var Torah stressing that Reform Judaism is not just about making choices: "Reform Judaism is not Excuse Judaism... Our Judaism involves living a life of integrity by matching what we say with what we do... and aligning what we do with what we believe."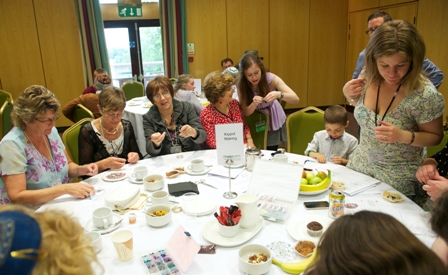 Making kippot

Rabbi Baroness Julia Neuberger of West London Synagogue delivered the keynote speech urging us to be brave, unapologetically ideological and determined activists for social justice. "We must up our game", she said, "to make the world a better place."

MRJ launched 'L'Chaim' over the weekend, a national adult education programme emphasizing how to live as Reform Jews, designed to convey the depth and importance of living a Reform Jewish life, enabling all to learn together in a series of guided conversations.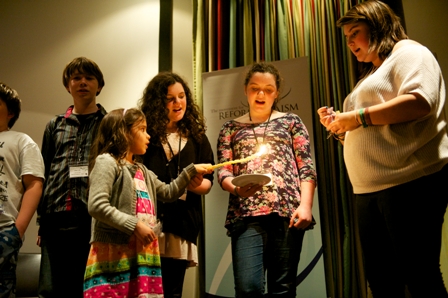 Havdalah

Chagigah was also an opportunity to present the Movement's Strategic Priorities for the coming years. In his closing address, MRJ Chief Executive Ben Rich said: "Progressive Judaism is not a branch of Judaism. It is Judaism. Judaism has always and should always be progress, to incorporate today's understanding and ensure its relevance to the modern world."

He summed up the spirit of the weekend saying: "We are one Movement together and we've never been stronger. This is our moment."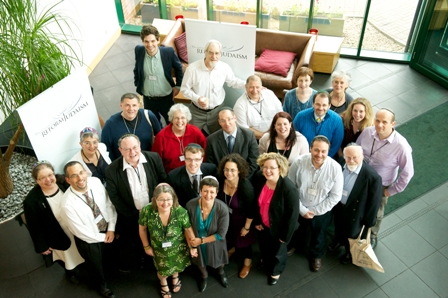 Looking forward to the next celebration

Click here to see more pictures from Chagigah (Select galleries and scroll down to Chagigah 2012).



Back to In This Issue



The Beutel Seminar for Progressive Jewish Leadership

Over the past ten years nearly 200 people from across the globe have participated in the Beutel Seminar for Progressive Jewish Leadership. Looking at the leadership of communities throughout the World Union for Progressive Judaism we see Beutel alumni giving back in meaningful ways.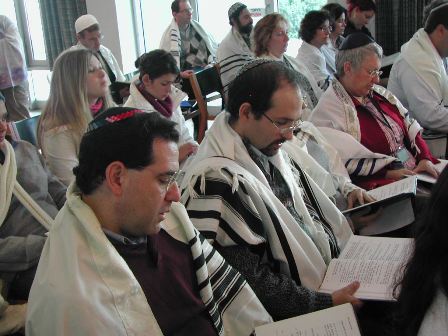 Shabbat Services, Beutel 2006

The Beutel Seminar is a unique combination of the spiritual, intellectual and experiential enhanced by the tremendous diversity of the participants. The program includes prayer workshops, text study, site visits, and lectures. These are supplemented by mifgash encounters with scholars, activists, and leaders from a variety of organizations including the extended family of the Israel Movement for Progressive Judaism as well as others who share our values.

Rabbi Steve Burnstein, Director of the Anita Saltz International Education Center says "The Beutel Seminar is so much more than a leadership program. It's a unique opportunity to truly experience Progressive Jewish Peoplehood learning with and from Reform Jews from around the world. This is in addition to the tremendous faculty and the inspirational backdrop of Israel."

Contact us today for more information!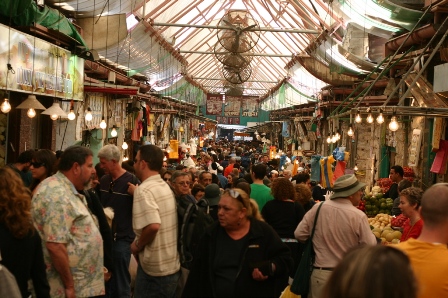 Friday afternoon in Machane Yehuda Market, Beutel 2007

The next Beutel seminar will take place from February 7 to 17, 2013. For more information please contact Rabbi Steve Burnstein or click here to download an application form.

Below you can read reflections by Jim Cherney, a participant in the 10th Beutel Seminar (Published in RJ Blog, March 8, 2012)

Last month, I had the great pleasure to participate in the Beutel Seminar in Israel for 10 days. For those of you who are unfamiliar with the program, it is an education/ enrichment seminar sponsored by the Saltz Education Center of the World Union for Progressive Judaism. Reform and Progressive Jews from throughout the world can apply to the program which is held in the first quarter every year in Israel. For participants, the cost is subsidized by a generous sustaining gift from Austin and Nani Beutel of Toronto; the program is only one example of their enormous philanthropic support of World Progressive Judaism.



Taking it easy in Sde Boker, Beutel 2009

I am a veteran of numerous earlier trips to Israel so I was not sure what to expect. Suffice it to say that the experience far exceeded any expectation I had beforehand. The group consisted of eighteen individuals from eleven different countries; in addition to the U.S. and Canada, there were participants from: Israel, Brazil, the UK, Germany, Poland, Australia, Singapore, India and South Africa. It was a very diverse group - what we all shared was an interest in Reform/Progressive Judaism, some congregational experience, and a love of and interest in Eretz Yisrael.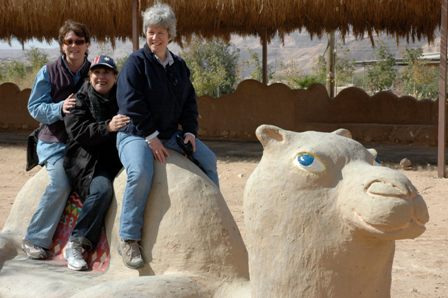 Visiting the Negev, Beutel 2010

It is not easy to characterize the content of the program. It included study, prayer, travel, some presentations, and much interactive engagement. Most mornings (in Jerusalem), we started with a combination of study and worship led by Rabbi Levi Weiman-Kelman of Congregation Kol Hanashamah in Jerusalem. We had one Shabbat in Jerusalem at Hebrew Union College (in a service led by North American HUC students) and another at Kibbutz Yahel in the Negev. We visited the City of David and had engaging presentations about the history of the Old City. We rode around Jerusalem to understand the contours of the security fence and the Jewish and Arab neighborhoods. Trips to Mt. Herzl and Yad Vashem as well. We explored religious/ ethnic conflict issues with a panel of young people, which included settlement Jews and young Muslims. In Tel Aviv, we visited the Museum of the Jewish People and Independence Hall and spent time hearing about the exciting growth and programming at Beit Daniel, the Reform community in Tel Aviv. And finally, we spent two days at Kibbutz Yahel in the Negev where we celebrated our second Shabbat and we visited the cutting edge environmentally attuned Kibbutz Lotan.




Visiting Yad Vashem and Mt. Herzl, Beutel 2005

But I do a grave disservice to this program if it sounds like a travelogue. Many of you readers have likely had wonderful travel experiences in Israel as have I. What I gained from this program was a more refined sense of K'lal Yirael Arevim Zeh l'Zeh - All Israel stands one for the other. A group of diverse individuals of different ages and prior life experience spent ten intensive days together in Israel and formed a community of Jews, whom I suspect will now be lifetime friends and colleagues. We became a true community. Those of us who focus so much time on building community in our synagogues would do well to study the Beutel model not to mention some of the innovative ways the Israel Reform Movement is reaching out to the secular population and growing so significantly.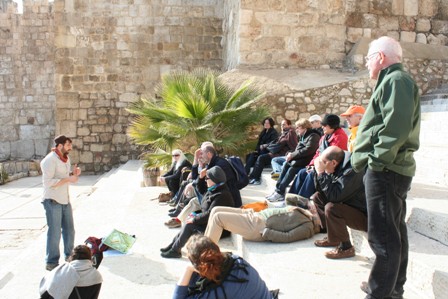 Jim Cherney and Beutel 2011 participants

Also, the mix of travel, education, dialogue, and study enabled us all to understand better the complex issues facing Israel as well as our developing progressive Movement in Israel. The Saltz Center hopes to build upon the success of the Beutel Seminar (this was the 10th Anniversary) to offer programs to congregations and other groups from North America or elsewhere. I certainly intend to encourage our North American Movement to consider additional opportunities to utilize the Saltz resources for study, meetings and programming on Israel and World Jewry issues. For those of you to whom the Beutel program sounds inviting, you should consider applying to the 2013 program. You will not regret it. Or you might wish to tailor a program for a congregational or community-wide trip to Israel; I am certain that the Saltz faculty would be pleased to brainstorm with you. Please let me know if I can introduce any of you to the director and others at Saltz. You can reach me at james.cherney@gmail.com.


Back to In This Issue



Spotlight on Latin America

Since Christopher Columbus' first trans-Atlantic journey that took place August 3, 1492, Jews have lived in the Americas, with Brazil being the first venue for this community. Most of these early Jews arrived during the Dutch rule in Brazil, in 1636, including many Sephardic Jews who settled in the country, especially in Recife, where they became prosperous merchants. With the expulsion of the Dutch, the majority of Jews in Brazil fled to the Netherlands, Antilles or to New York, where they founded the first Jewish community in the United States. Migrations from Europe in the 18th–19th centuries brought Jews to Argentina and Brazil in the hope of finding freedom and work. Sephardic Jews migrated to the north of Brazil during the "rubber fever" of the 1880s.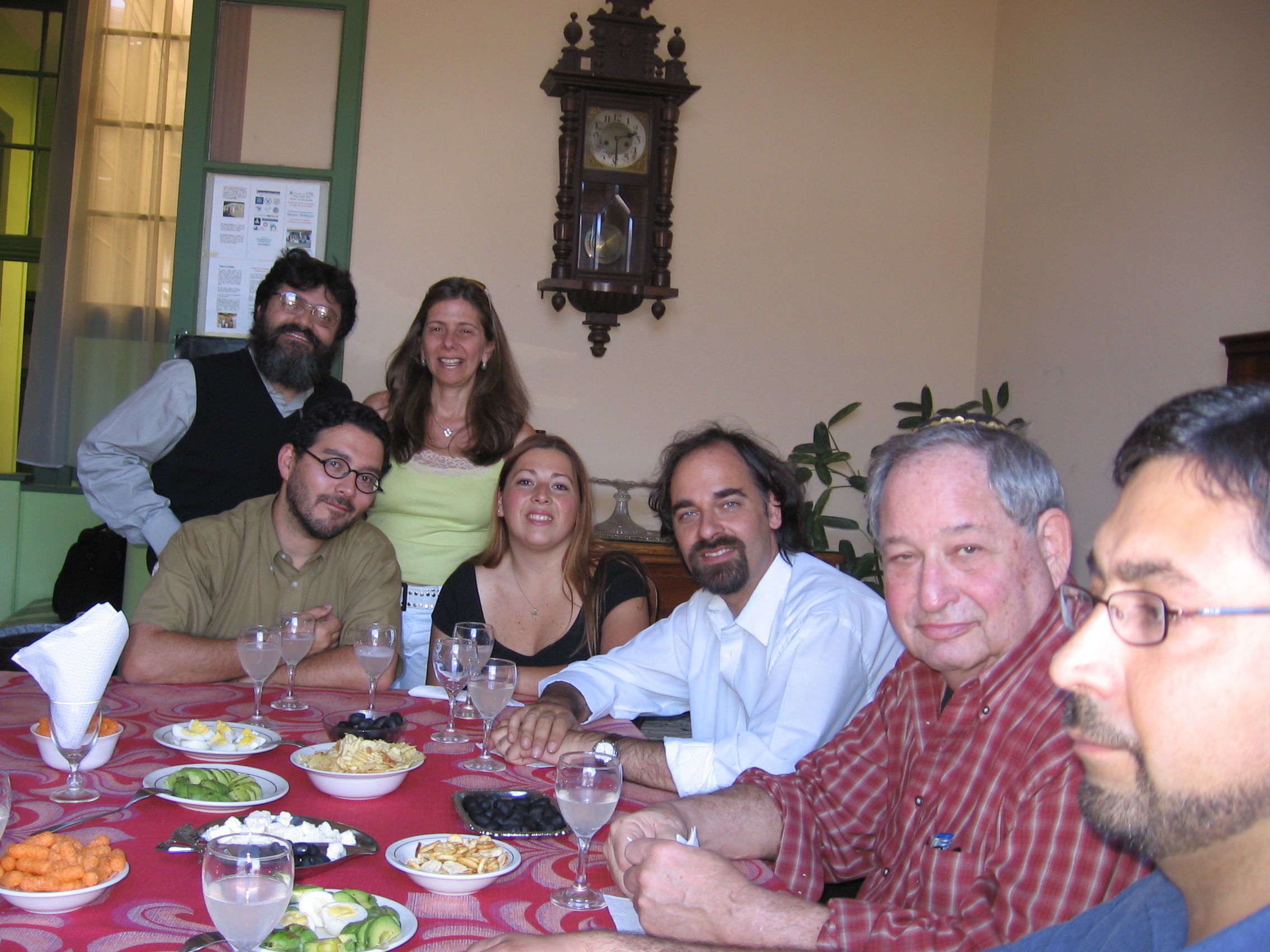 Community dinner in Valparaiso, Chile

Today, outside the mainstream established Jewish community, there is an increased interest in Judaism among real or putative descendants of Conversos (crypto-Jews) whose Jewish ancestors converted to Christianity under pressure of the Inquisition in Spain and Portugal during the 15th–16th centuries. Some of these Conversos communities have been trying to create a permanent framework for their Jewish identity, partly through formal conversion to Judaism and migration to Israel. Hopefully this will lead to some expansion in the Jewish communities, especially smaller ones located in the peripheral areas of Brazil, Peru, Colombia, and other countries.

Argentina has the largest Jewish community in Latin America – the Jewish population was assessed at 182,300 in 2010, the world's seventh largest Jewish community. Nearly 6,000 Jews emigrated from Argentina to Israel in 2002—the highest number ever in a single year from that country.

In Brazil, the Jewish population was assessed 95,600 in 2010—the world's tenth largest Jewish community with a total of 47,286 Jews (about one-half of Brazil's Jews) living in São Paulo and the rest spread in Rio Grande do Sul, Rio de Janeiro and Minas Gerais and in the northeast.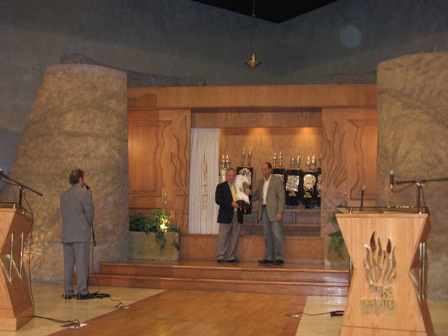 Jerry Tanenbaum, Chair of Yad B'Yad, holding a Torah donated through WUPJ's Shomrei Torah project, at the Temple Or Shalom, Santiago, Chile

World Union affiliated Congregations and Institutions in Latin America

IN BRAZIL
Associação Israelita Catarinense (AIC-SC), Florianópolis
Associação Religiosa Israelita (ARI), Rio De Janeiro
Centro Israelita Portoalegrense (CIP), Porto Alegre
Congregação Israelita Mineira (CIM), Belo Horizonte
Congregação Israelita Paulista (CIP), São Paulo
Sociedade Israelita Brasileira (SIBRA), Porto Alegre
Sociedade Israelita Do Ceará (SIC)

IN CHILE
Sociedad Israelita Max Nordau De Valparaíso
Comunidad Cultural y Religiosa Ruaj Ami, Santiago
Yakar Congregacion Renoval, Santiago

IN ARGENTINA
Asociación Israelita De Las Pampas (AIP), Buenos Aires
Asociación Israelita de Coronel Suarez, Buenos Aires (AIP congregation)
Sociedad Union Israelita de Avellaneda – Lehavat Jaim, Buenos Aires (AIP congregation)
Asociación Israelita de Paraná, Entre Rios (AIP congregation)
Comunidad Israelita de Misiones (AIP congregation)
Asociación Fraternal Israelita, R. S. Peña, Chaco (AIP congregation)
Asociación Israelita de Santa Rosa, La Pampa (AIP congregation)
Asociación Israelita de Villaguay, Entre Rios (AIP congregation)
Asociación Comunidad Israelita de Bernasconi, La Pampa (AIP congregation)
Comunidad Israelita de Rivera, Buenos Aires (AIP congregation)
Mishkán – Centro De Espiritualidade Judía, Buenos Aires
Fundación Judaica, Buenos Aires
Congregation NCI – Emanu-El , Buenos Aires
Libertad Synagogue – CIRA, Buenos Aires
Arlene Fern Community School, Buenos Aires
Kehila De Rosario, Rosario
Kehila De Santa Fe, Sante Fe

Sources:
http://www.jewishdatabank.org/Reports/World_Jewish_Population_2010.pdf

Os judeus na Amazônia (The Jews of the Amazon), Henrique Veltman, 2005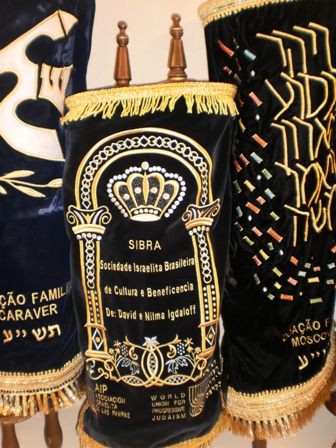 Donated Torah scroll to Latin America

Donation of Torah Scrolls in Latin America

The World Union for Progressive Judaism operates its Shomrei Torah program to ensure that our Jewish communities around the world will have a Torah scroll. As part of this project, and with support from WUPJ-LA and significant contributions from many donors, several affiliated congregations in Argentina, Brazil and Chile have received Torah scrolls. Many of these scrolls were donated through the assistance and generosity of David and Nilma Igdaloff. David, the leader of Asociación Israelita de Las Pampas (AIP)/Argentina – a network of small congregations in the interior of Argentina – has facilitated the donation of Torah scrolls to AIP congregations as well as several others in Brazil and Chile. As Guershon Kwasniewski, spiritual leader of SIBRA, Porto Alegre, Brazil, says, "Sometimes we are fortunate to meet special people during our life. This is the case of David and Nilma Igdaloff. We read in the Torah about special people who appear in our world, sometimes in the form of angels who come to strengthen our Jewish values…Thank you David and Nilma for your generosity in bringing the Torah scroll to our community. A new Sefer Torah. Etz Chaim!! It´s our new tree of life, our new beginning."



Bar Mitzvah using a Torah scroll donated through WUPJ's Shomrei Torah project

4th Conference of Jewish communities of Latin America in Buenos Aires, Argentina

Plans are in the final stages for the opening of the 4th Conference of Jewish Communities in Latin America which will take place in Buenos Aires, Argentina from August 9-12, 2012. Over 200 participants from throughout the region, as well as guests from North America, Europe and Israel will join together to study, pray and deliberate on the many challenges facing Progressive Judaism in Latin America.

The team of volunteer leaders planning the Conference is led by Miriam Vasserman and Raul Gottlieb, President and Vice President respectively of the Latin American region of the World Union. Our World Union partners in Buenos Aires, Congregation Mishkan and the Fundacion Judaica with congregations NCI-Emanuel and Libertad, will be hosting different events during the Conference which will be based in the beautiful Marriot Plaza hotel in Buenos Aires.

The Conference will hear keynote addresses from a number of leading Jewish scholars and activists including: Rabbi Steve Fuchs, President of the WUPJ, Rabbi Dr. Michael Marmur, Vice President for Academic Affairs, HUC-JIR, Professor Paul Liptz, Senior Educator of the WUPJ Saltz Education Center, Rabbi Sergio Bergman, founder of the Fundacion Judaica and prominent member of the Buenos Aires City Council, Rabbi Reuven Sternschein, co-Rabbi of CIP congregation in Sao Paulo, and Rabbi Richard Address, Congregation M'kor Shalom in Cherry Hill, NJ. In addition, Dr. David Breakstone, Vice Chair of the World Zionist Organization, will be addressing the Conference.

A special rabbinic kallah will take place on August 8-9, in Buenos Aires, to welcome the many rabbis in the region working in Progressive and Masorti congregations. Rabbi Dr. Michael Marmur will be the scholar for the kallah.

In addition, there will be a pre-Conference tour of the Entre Rios (Pampas) region of Argentina where historic Jewish colonies were established back in the 19th century.

If you have not yet registered for the Conference but would like to attend, please contact the Conference office at contato@wupj-latinamerica.com.br or click here for more information. This will be a wonderful opportunity to meet the leaders of Progressive Judaism in Latin America and be a part of history in the making! See you in Buenos Aires!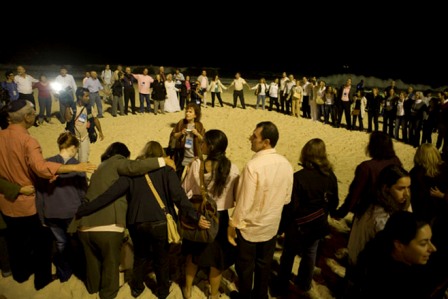 Havdalah service at the Copacabana Beach in Rio at a WUPJ-LA Conference



Back to In This Issue



Presidential Reflections on… A new leader for North American Reform Jews
by Rabbi Stephen Lewis Fuchs




On June 9 Rabbi Richard Jacobs was formally installed as the fourth President of the Union for Reform Judaism of North America. Were it not for the fact that Vickie and I were in South Africa at the time, we would surely have been present at that historic occasion.

The World Union was honored to have Rick speak at my installation in Washington in December, and at that time he noted that our personal connection goes way back. In fact, he recalled, when he was in seventh grade and I was a first year rabbinical student at Hebrew Union College in Los Angeles, I was one of his Religion School teachers.

I wish I could say that my teaching was so inspiring that it propelled him to a career in the rabbinate and Jewish leadership, but it would be closer to the truth to say that he has arrived at his position in spite – not because – of the class I taught back then.

Still, it has been a great joy over the years to observe Rick's career in Brooklyn and Scarsdale, NY, and now to see him assume his position at the helm of the URJ.

Several months ago I personally invited Rick to address our gathering in Jerusalem at Connections 2013 this coming May. I have every expectation that his schedule will allow him to participate. If you have not met or heard him yet, you will soon discover that he is an extraordinary speaker and a visionary leader. I could not imagine the future of Jewish life in North America to be in better hands.

My hope is that we can forge ever stronger ties between the URJ and the WUPJ. Our dreams and goals are identical: to strengthen the fabric of Reform Jewish life beginning with our youth and extending to every age group and every facet of Jewish life. There should be no barrier whatsoever to us working closely and cooperatively together.

During the past year, we have turned to the URJ for support in our struggle for equal status for Progressive Jews in Hungary and Austria. We will turn to them many times in the future. We also hope that they will turn to us as well to connect Jews around the world to Jews and Jewish communities in North America.

At the same time, we in the WUPJ must be realistic in our expectations. There are enormously complex issues facing North American Reform Jewish life in what is far and away the largest and most powerful Reform community in the world. I have already made clear to Rick that as an American Reform rabbi of long standing and experience, I am on call to him at any time he thinks I might be helpful.

Working separately and – at times, I hope – together, both the WUPJ and the URJ will strive unceasingly to spread the growth and the influence of our Progressive approach to Jewish life. I am confident that our critical, analytical approach to Jewish tradition will become ever more attractive under Rick's leadership to Jews in North America and around the world as well. Mazal Tov Rabbi Jacobs, and may your tenure as President of the URJ enjoy the Almighty's richest blessings!



Back to In This Issue



News in Brief

New member for UPJ Germany

The Union for Progressive Judaism in Germany (UPJ Germany), is the umbrella organization of the Progressive communities and affiliated organizations in Germany. In May our 23rd congregation joined as a member of UPJ Germany. The "Juedische Gemeinde zu Magdeburg", located in the state of Saxony-Anhalt became a member and is already recognized and supported by the state of Saxony-Anhalt. The liberal rabbinical conference in Germany also supported the community in the last months. Now the community is looking forward to finding better accommodation for their community.

In addition to the 23 congregations, the UPJ also includes 3 Jewish organizations – Arzenu Germany, Abraham Geiger College, and Young and Jewish Germany.

The youth department is offering this summer a first time joint Machane (summer camp) together with Beit Warszawa in Poland and will be supported by the Federal Ministry of Foreign Affairs.

In the beginning of August our new shlicha Hagar Levy-Kedmy will start to work for our movement. We look forward to welcoming her to Germany and working with her.

For more information about youth work – please contact our youth leader Adrian Michael Schell at jugend@liberale-juden.de

Join the UPJ for their annual conference

Please join the UPJ for their annual conference, in Spandau, Germany on 19-22 July, which will be held in German, Russian and English.

The conference will mark the UPJ achievements and relationships, as well as point out perspectives for the future. The conference will include working groups on various topics and presentations that will create a space for shared learning and experiences, as well as lively Shabbat services and festive meals. Some of the topics that will be presented by leading scholars and educators of the Progressive movement include "Who was Avraham Avinu?," "The impact of mixed marriage and conversion on the Jewish identity of European Jewry", and "Dina, the neglected daughter of Jacob" – all in all this promises to be an interesting and inspiring conference.



UPJ Conference, July 2011 in Germany

Click here for more details and the conference program or here to register. You can also check out the UPJ website or email the office at info@liberale-juden.de.



Leo Baeck College Ordains Rabbis at West London Synagogue

The Leo Baeck College held their ordination ceremony for three exceptional Rabbis at the West London Synagogue on 1 July. The three ordinands were Peter Radvanszki (Hungary), Lea Mühlstein (Germany) and Andrea Zanardo (Italy). Lea has now taken up a post at West London Synagogue.

Rabbi Julia Neuberger DBE, senior Rabbi at West London, began the service with Rabbi Dr Deborah Kahn-Harris, Principal of Leo Baeck College, giving an inspirational and heart-warming address. Remarking on the achievements of the three ordinands, Rabbi Dr Kahn-Harris, using the garden as a metaphor, said that the new rabbis were ready "to inspire others with love of Torah, to tend their congregations, to sink their roots deep into the Jewish community and in so doing sustain a healthy Jewish eco-system."



Ordinands with Principal Rabbi Deborah Kahn-Harris (photo: Zoë Norfolk)

The Leo Baeck College is a unique seminary that trains Rabbis and teachers to develop Progressive Jewish congregations throughout the UK and Europe for the 21st century. The College continues to play a significant role in the training of Rabbis from the Former Soviet Union and Eastern Europe – who are then able to return to lead their home communities.



Shared Music, Shared Message
The Cantors Assembly struck a chord with Germany's Federal President

Germany's efforts to move beyond its past have been recognized by the more than 300 participants of the Cantors Assembly's cultural mission, "A Musical Journey of Heritage to Germany," last week ."We think we can be ambassadors of goodwill, of acknowledgement and gratitude," said Natan Lam, cantor at the Stephen S. Wise Temple in Los Angeles. The Berlin program, which was scheduled in cooperation with Abraham Geiger College's cantorial school, included a masterclass for cantorial students taught by cantors Faith Steinsnyder and Jacob Mendelson, a number of concerts, and a festive Kabbalat Shabbat service at the historic "Konzerthaus" (concert hall). Its highlight was an interfaith concert in the city's grand cathedral, "Berliner Dom", which was attended by more than 1,000 visitors, foremost of all Germany's head of state, President Joachim Gauck.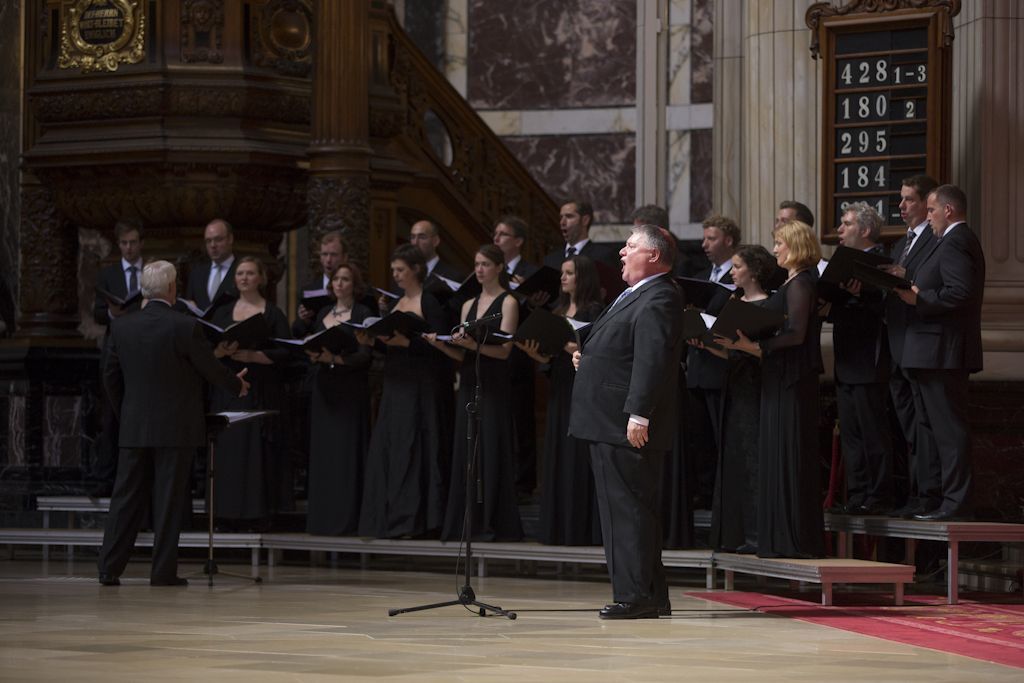 Cantor Jacob Ben-Zion Mendelson (Temple Israel Center, White Plains, NY) with members of Berlin's cathedral choir (Photo by Bundesregierung / Henning Schacht)

Soloists of the Cantors Assembly, with just under 600 members the largest body of Hazzanim in the world, performed together with the cathedral cantor and members of the renowned cathedral choir. They presented a concert of classical music written by Christian and Jewish composers, based on shared sacred texts of scripture. "The concert was a successful and meaningful musical and ecumenical affair", says Professor Eliyahu Schleifer, director of Abraham Geiger College's cantorial school. "Beyond that, the concert was an eloquent and powerful expression of faith in the future of Jewish life in Germany after the Shoah." In his greetings, Cantor Nate Lam referred to the emergence of the Abraham Geiger College as just one example of this astounding re-emergence when Jewish cantors and rabbis are trained again in Germany for the whole of Europe and beyond. "Who would have thought this was ever possible again? When we gather here at the Berliner Dom close to the former demarcation between East and West Germany we can think about separation and growing together again. Germans did it among each other and we Jews seem to consolidate new confidence in the German-Jewish existence. Here we are, Jewish cantors form North America and all over the world, singing with wonderful musicians from the Domkantorei and Domchor the tunes of our respective traditions, just round the corner where Israel Jacobson lived and Abraham Geiger worked towards renewing the Jewish tradition, Giacomo Meyerbeer and Louis Lewandowski wrote beautiful music and Rachel Varnhagen and Henriette Hertz collected art, fostered literature and brought together intellectuals from all walks of life in their salons."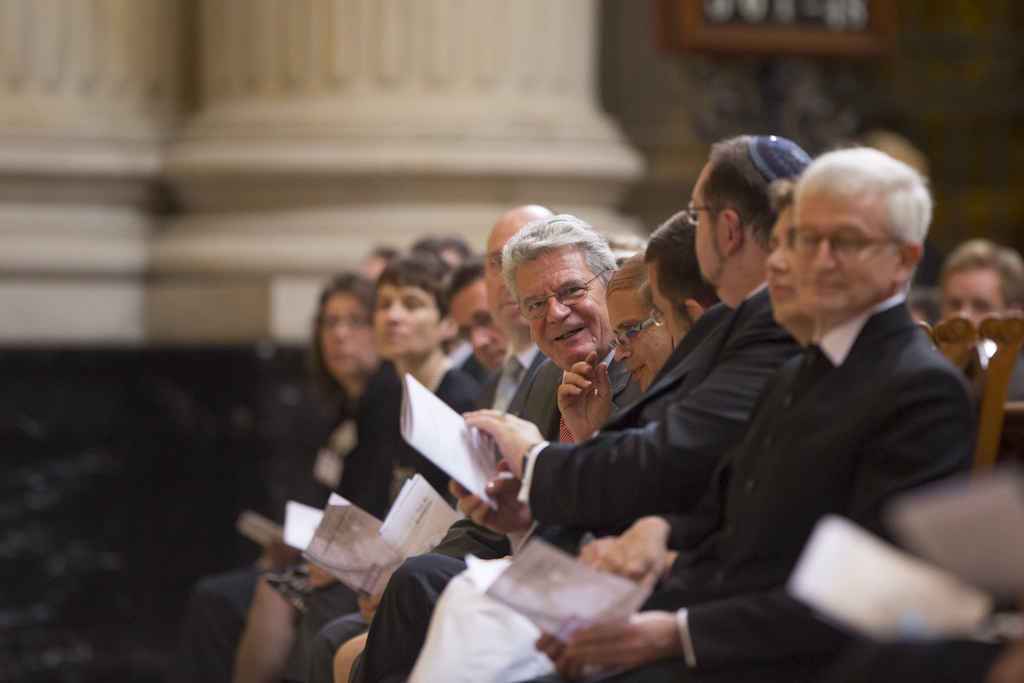 Germany's head of state with a group of dignitaries, including Israel's ambassador to Germany and the principal of Abraham Geiger College, Rabbi Walter Homolka (Photo by Bundesregierung / Henning Schacht)

Cantor Lam added: "My colleagues and I travel this country with feelings of great sadness, disbelief, surprise and immense joy. We share the grief about that which is no more and we share the joy that that there is glow between the ashes. Our shared moment today is a part of re-igniting what we thought had been lost forever. Your presence, Mr. President, is a particular sign for us that Germany is well aware of the past and enormously willing to contribute to the re-emergence of a strong Jewish voice here in Europe - with Germany at its center." The concert ended with Louis Lewandowski's setting of the 150th psalm, presented by 70 Jewish cantors and their Christian colleagues. "If only the world today would look like this concert!" was one of the comments from the deeply moved audience.



Back to In This Issue



Upcoming events

July 5-15, 2012 – The Bergman Seminar for Jewish Educators, Anita Saltz Educational Center, Jerusalem, Israel

July 19-22, 2012 – UPJ Annual Conference, Spandau, Germany

August 8-12, 2012 – World Union for Progressive Judaism-Latin America (WUPJ-LA)'s 4th Conference of Jewish Communities, Buenos Aires

October 25-28, 2012 – UPJ Biennial Conference, Sydney, Australia

December 27, 2012 - January 3, 2013 - The Roswell Seminar for Social Justice

February 7-17, 2013 - The Buetel Seminar for Progressive Jewish Leadership, Jerusalem, Israel

April 28-30, 2013 – WUPJ Executive Board Seminar and International Assembly Meeting, Jerusalem, Israel

May 1-5, 2013 – WUPJ Connections 2013 - Being the Difference, Jerusalem, Israel







Back to In This Issue