WUPJ News # 435
Issue 435 3 May 2012 / 11 Iyyar 5772
"Being the Difference" at Connections 2013 in Jerusalem
Reform Jewish Educators to Meet in Israel for Bergman Seminar
UK Liberal Jews were "Looking Backwards, Moving Forwards" at LJ's recent Biennial Conference
UPJ (Australasia) Israel Program with Saltz Center
Presidential Reflections on… "Rejoice with Jerusalem and be glad for her"
News in brief

• SACRED action for gender equality in South Africa
• "Singing with the Soul" – WUPJ-LA holds successful 6th
Lashir Benefesh

• Keren BeKavod's
Kimcha D'Pischa
Pesach campaign successful – but still in need
Congratulations
Upcoming events
***************************************************
"Being the Difference" at Connections 2013 in Jerusalem


Connections 2013, the
World Union
's 36th biennial, will take place in Jerusalem, at
Beit Shmuel-Mercaz Shimshon
, on May 1–5, 2013, with hundreds of leaders and members of Progressive and Reform congregations and organizations from Israel and worldwide. The conference theme is "Being the Difference", and will offer the opportunity to learn about the difference we can all make in our communities and worldwide.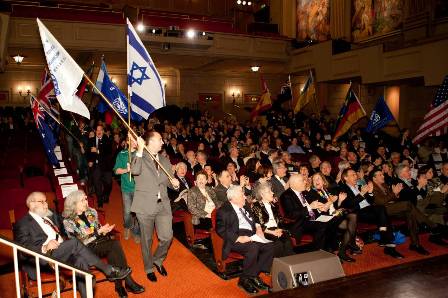 Traditional flag ceremony at Connections 2011, San Francisco
From the opening ceremony at the impressive YMCA theater, the program will be jam-packed with exciting and informative sessions, hands-on tikun olam projects, inspiring lectures and key notes, a celebration of our regions, and of course – the most uplifting Shabbat services ever.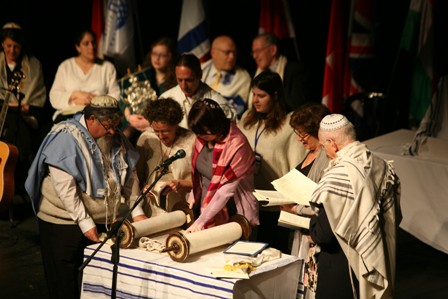 Multi-lingual Shabbat services at Connections 2009, Israel


Don't miss out on this unique opportunity to meet people, to learn and to share important work with your colleagues from around the world. Our dedicated web site will be launched soon and we hope you will keep in touch with us for further details.
If you want to know what a World Union conference is all about, or reminisce about Connections 2011, please click here to view
video-highlights
or our
photo gallery
.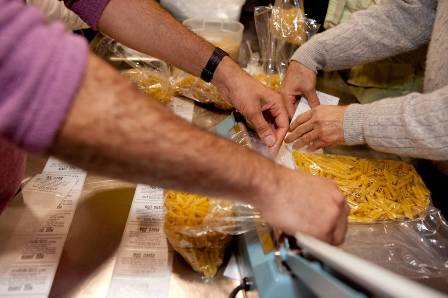 Connections 2011 participants experience hands-on tikun olam work at a food bank, San Francisco




Back to

In This Issue
Reform Jewish Educators to Meet in Israel for Bergman Seminar


The
Bergman Seminar for Progressive Jewish Educators
will take place on July 5-15, 2012 at Beit Shmuel-Mercaz Shimshon, the World Union's global headquarters in Jerusalem.
The
Anita Saltz International Education Center
of the World Union for Progressive Judaism created the Bergman Seminar to address the challenges that Progressive Jewish educators face today, and provide them with the advanced tools and knowledge required to meaningfully connect and educate today's younger generation.
Jewish Educators from across the globe will join together with some of the most accomplished scholars and educators in the world. Past participants represent communities including: Argentina, Australia, Belgium, Brazil, Canada, Chile, Costa Rica, Czech Republic, Denmark, England, France, Germany, Hungary, India, Israel, The Netherlands, New Zealand, Poland, Russia, South Africa, Spain, Sweden and the United States – adding perspective and insight to the seminar.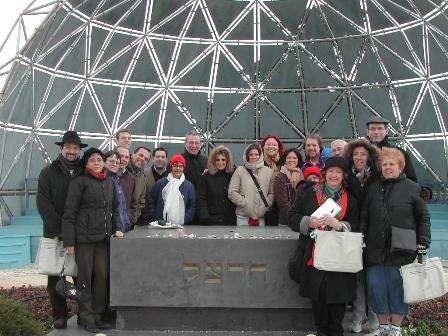 Saltz seminar participants at Mt. Herzl


This innovative program incorporates arts and culture, spirituality and liturgy, Hebrew language, history and memory, politics, text study, Jewish values, pedagogy and more. The seminar will focus on the multitude of Jewish narratives and play off the creative tension between Israel and Diaspora communities; will address the critical challenges facing the Jewish people and the State of Israel; encounter creative projects addressing these challenges; and dream up our own imaginative educational initiatives.
Site visits – both historic and contemporary – combined with Biblical, Talmudic, and other Jewish texts allow for in-depth study of issues vital to Jewish education and the acquisition of important educational tools. Participants will meet individuals and organizations working tirelessly on the ground to address these issues, making a difference and impacting our community in meaningful ways. Grassroots activists and leaders from across Israeli society – and the
Israel Movement for Progressive Judaism
– who are actively involved in the struggle to create a more just society in Israel will share their challenges and successes.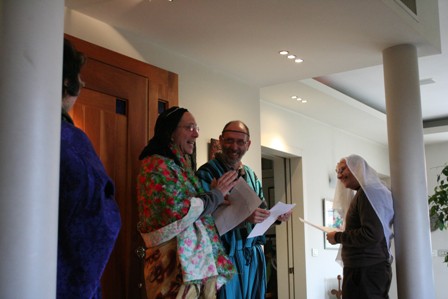 Participants acting out the part


The program has a meaningful impact on formal and informal Jewish educational work in the home communities, addressing also particular needs, such as early childhood, adult, teen, and general education.
The Bergman Seminar for Progressive Jewish Educators is sponsored by the Bergman brothers: Stanley, a long time supporter of Progressive Jewish causes, and Leslie, president of the
European Union for Progressive Judaism
(EUPJ).
There are only a few last places open on this exciting and unique program. If you are a Jewish educator, there is no place better to develop your knowledge, skills and Jewish connections.
For more information contact
Rabbi Steve Burnstein
.
Back to

In This Issue
UK Liberal Jews were "Looking Backwards, Moving Forwards" at LJ's recent Biennial Conference
Over 260 Liberal Jews gathered this weekend in rural Gloucestershire, UK, forming a temporary rural community at
Liberal Judaism
's Biennial Conference.
The conference featured sessions ranging from the Babylonian exile and Spinoza to hand-made
midrash
and full body prayer, with special programs for children and youth. Shabbat worship services were led by rabbis, cantors and youth movement
madrichim
. A highlight was Rabbi Pete Tobias'
Kabbalat Shabbat peula
(session) where rabbis, student rabbis and youth movement
bogrim
(graduates) portrayed (in full costume) characters from Judaism's millennia-long history, such as poet Solomon Ibn Gabirol, prophet Micah, a fictional converso Julietta da Costa, and Abraham Geiger, and campaigned to be voted by participants as the most influential figure in Judaism.
Tea and Torah with Liberal Judaism rabbis


In his closing speech, Rabbi Danny Rich said: "We have to stop being apologetic, we have to stop looking over our shoulders. We have to remember that we've got 200 years of Progressive Jewish practices behind us: we've got 110 years of Liberal Jewish ideology backing us up; we've got inspiring rabbis and teachers, we've got creative and hard-working lay leaders and volunteers. We need to promote the values and practices which we hold dear - first to our members, second to Jews who've not yet experienced our way of doing things and third to the opinion-formers and wider public. Most important of all, we need to bring our values to those men and women – Jew and non-Jew alike - who have yet to find a spiritual communal home which combines their concern for society with their desire for belonging."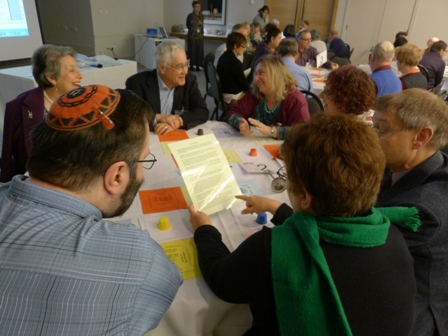 Fun and games


Zara Tobias, LJY-Netzer
bogeret
, student, and member of Bristol and West Progressive Jewish Congregation, said: "After the conference I now feel surer of myself as a Liberal Jew and more confident in talking to people about Liberal Judaism… made me want to see more of a connection between the young members and older members."
Phyllis Alden, Treasurer of Manchester Liberal Jewish Community, said: "The event helped me to recharge my Liberal Judaism batteries and feel part of a big group… even coming as I do from a small community that there are a lot of like-minded people out there: this helps build essential resilience and confidence…."
Back to In This Issue
UPJ (Australasia) Israel Program with Saltz Center


After spending a week in Poland, eighteen people from the
Union for Progressive Judaism
(UPJ) in Australia, Asia, and New Zealand came to Israel on a trip coordinated by the Anita Saltz International Education Center. Steve Denenberg, Executive Director of the UPJ, was looking for something quite different from the average Israel trip for the UPJ Mission. Many of the participants had already been to Israel - quite a few for extended periods. In fact, several had spent up to a year in Israel with
Netzer Olami
's
Shnat
program (many years ago).
Rabbi Steve Burnstein, Director, and Professor Paul Liptz, Educational Director, of the Saltz Center worked closely with Steve and the UPJ team to craft a meaningful program to meet their needs.
The group was able to join the ANZAC Day ceremony at the Commonwealth Cemetery on Mount Scopus in Jerusalem with Australian Ambassador to Israel, Andrea Faulkner. They also traveled to the ANZAC Memorial near Kibbutz Be'eri, dedicated to the memory of the Australian Light Horse regiment that charged at Beersheba and defeated the Turks in World War I.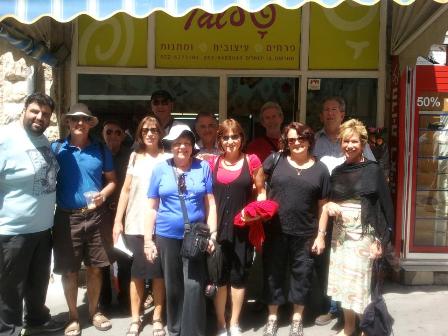 UPJ participants in Jerusalem


The trip was planned in order to also be able to observe
Yom Ha'zikaron
(Israel Memorial Day) and
Yom Ha'atzmaut
(Israel Independence Day) in Israel. For the somber evening ceremony opening
Yom Ha'zikaron
, the group joined Rabbi Steve Burnstein and Rabbi Miri Gold, of the Israel Movement for Progressive Judaism's
Kehilat Birkat Shalom
, at Kibbutz Gezer. Sue Denenberg and Di Engelander, two of the group participants, wrote of the experience "It was so moving and included all members and children, and after the chilling siren, a series of readings and songs made us realize how current and painful it is for them to recall loved ones killed in order to defend the Jewish State. The memories include recent deaths and those in the mass grave following the battle in 1948. This was a truly moving and beautiful tribute to those who died, not only for this kibbutz but, we felt, for almost every Jewish family across the country."
In addition to Birkat Shalom at Kibbutz Gezer, the group also visited several other IMPJ congregations including
Beit Daniel
in Tel Aviv,
Kehilat Yozma
in Modi'in and
Kol HaNeshama
in Jerusalem. They also had an opportunity to experience first hand the "Freedom Riders" with the
Israel Religious Action Center
.
Preparing for Shabbat services in Jerusalem


Another unique addition to the itinerary of the UPJ Mission was a visit with Joseph and Fadi Jaber in the Arab Israeli village of
Abu Ghosh
on
Yom Ha'atzmaut
. In addition to learning a bit of the history of this village, just outside of Jerusalem, known for its good relations with the State of Israel, the group enjoyed some of the best humus in Israel at the Jaber family restaurant. Fadi, who today works in the financial industry in Tel Aviv, attended the
Neve Shalom - Wahat al-Salam Arab-Jewish School for Peace
. As he showed the group around Abu Ghosh, Fadi spoke with them about the meaning and challenges of Independence Day for the more than 20% of the population of Israel who are not Jewish.
Toward the end of two weeks of travel, the group was able to slow down as they celebrated Shabbat together in Jerusalem. On a balcony of Beit Shmuel-Mercaz Shimshon, overlooking the ancient walls of the Old City of Jerusalem, the group welcomed Shabbat with prayer, song and stories led by Rabbi Steve Burnstein. They started their service as the "Shabbat Siren" sounded announcing the beginning of Shabbat in Jerusalem. Shortly after they began, the Muslim call to prayer could be heard announcing the beginning of their worship. And a few minutes later the bells of the Jerusalem churches began to ring. On the rooftop across from the group a lone security guard prayed along with them while yeshiva students sang Shabbat songs in the streets. It was an amazing Jerusalem moment.
If you are planning to bring a group to Israel please contact the
Saltz Center
for assistance with incorporating meaningful moments and educational programming into your itinerary.
Back to In This Issue
Presidential Reflections on… "Rejoice with Jerusalem and be glad for her"

"שישו את ירושלים גילו בה"
"
Rejoice with Jerusalem and be glad for her
", proclaims the prophet Isaiah (66:10), and indeed we do. Perhaps no other occasion brings mainstream Progressive, secular, Masorti and Orthodox Jews together in common mind as
Yom Ha'atzmaut
, Israel's Independence Day, which we celebrated last week.
It is a day of wonderful, noisy abandonment. Israel as a nation transitions from the solemnity of
Yom Ha'zikaron
, the day devoted to honoring those who fell in Israel's defense over the years to the joyous abandonment that marks Independence Day celebrations in the Jewish state.
However, when we read the many pro Palestinian statements that flood the internet and social media, we see that the day we celebrate with great joy as the anniversary of Israel's independence is a day that our Palestinian neighbors and their supporters call "The
Naqba
– The Catastrophe." From their perspective, we Jews descended in droves on land that had been theirs for centuries and rudely stole it away while wantonly displacing hundreds of thousands of Palestinians in the process.
As Progressive Jews, we obligate ourselves to be aware of and sensitive to the Palestinian story, while strongly affirming our own: that our physical and emotional connection to this land goes back – unbroken – to the very beginning of our people's history.
We don't claim to have the answers to all the political and security questions that face Israel but, just as we diminish our joy at Passover when recalling the suffering of Egypt, we must, regardless of political persuasion, be sensitive to the sufferings and inconvenience of our Palestinian neighbors. Treating the "stranger" with dignity and respect is the obligation of all Jews but is an especially important part of our mandate as Progressive Jews.
The efforts of the Israel Movement for Progressive Judaism in this regard are laudable! When I am in Israel I love visiting our Progressive communities because our rabbis and lay leaders bring enormous dedication, commitments, energy and skill to their tasks.
There are miracles taking place in progressive Jewish life all over the Jewish State. In these past ten months, I have visited three Jerusalem congregations, the Bet Daniel and Mishkenot Ruth Centers in Tel Aviv-Yaffo, and our congregational centers in Mevaseret Tzion, Modi'in, Haifa, Rosh Ha-Ayin, Carmiel, and Tivon. I look forward eagerly to more visits in the future.
Each of these communities has overcome so much just to survive! At the World Union, it is our sacred mission to connect Jews from around the world to our communities in the Jewish State.
When you visit Israel, I hope, of course, that you will rejoice in Jerusalem, but that you will make sure that you visit our communities around the country as well. Our Israeli religious leaders are a remarkably talented, dedicated and effective group. Each in his or her own way realizes that Progressive Judaism can win the souls of Israelis, and they are winning those souls, one by one.
Although most Israelis think of themselves as completely secular, our movement has perceived, quite correctly, that many of these are "Progressive Jews in waiting." I completely agree.
International Israeli tennis star Andy Ram is one example. He is not overtly religious, but a "bag check" (on the TV Tennis Channel) reveals that in addition to sneakers, socks, rackets and the usual paraphernalia, Andy's bag contains a mezuzah and the traditional Hebrew
T'filat Ha'derech
(Prayer for protection while traveling). You simply cannot convince me that one who takes these items onto the court each time he plays would not be open to a deeper understanding of the sources of these objects and the ideals and practices which underlie them.
So, as Israel celebrates another precious year of independence we, like the
Halutzim
of days gone by, roll up our sleeves and continue the redemptive work of cultivating more and more progressive Jews in the Jewish State. We do so because we believe our efforts help create an even better Israel. By promoting Progressive Jewish life we are building an Israel that puts its founding ideals front and center. By building Progressive Jewish life, we are helping to make Israel a place in which Jews, along with all others who choose to live there, can truly rejoice and take delight.
Back to In This Issue
News in brief

SACRED action for gender equality in South Africa


This week South Africa celebrated Freedom Day, which marks 18 years of democracy. In the new South Africa, the Constitution places a duty upon all to promote equality in all spheres of life. Gender equality is central. Nelson Mandela said, "freedom cannot be achieved unless the women have been emancipated from all forms of oppression". The last few years have seen actions around the world that restrict women's equality in the Jewish world: In Jerusalem, SACRED's sister organization, the
Israel Religious Action Center
(IRAC), brought a case to the Supreme Court against women being segregated to the back of buses. In Modí'in this month,
a woman was removed from the stage of a circus
after an ultra-Orthodox audience member complained. And in South Africa, women's voices have been slowly removed from singing at secular communal events.
The
South African Union for Progressive Judaism
(SAUPJ) celebrated Freedom Day by beginning a campaign for women's freedom. Through the
South African Centre for Religious Equality and Diversity
(SACRED), they have launched a video with 11 prominent female members of the Cape Town and Johannesburg communities explaining why they oppose the exclusion of women from singing in secular events (click
here
to view the video on YouTube). Steve Lurie, SAUPJ chair remarks: "Treating women with respect and dignity, while offering them constitutionally guaranteed equality, is in the best interest of a democratic South Africa. Some within the Jewish community are free to choose to interpret Jewish law to mean that they should not hear women sing. They do not, however, have the right to impose such restrictions on the broader community".
The South African Centre for Religious Equality and Diversity (SACRED) was established in September 2011 to provide a progressive Jewish voice on relevant social, moral, ethical and religious issues in South Africa, to counteract religious discrimination in all its forms; to advance freedom of religion and to promote fundamental rights and freedoms through advocacy, activism, scholarly contributions to public discourse and public interest litigation. Whilst motivated by our Jewish values, SACRED aims to work for civil rights and social justice throughout South African society. They model their work on that of the parent organization, the
Religious Action Center
(RAC), based in Washington, in whose office the Civil Rights Act was drafted, and the Israel Religious Action Center (IRAC), based in Jerusalem.
If you are interested in being a part of SACRED's campaigns, please visit the
Web site
or
Facebook page
.
"Singing with the Soul" – WUPJ-LA holds successful 6th Lashir Benefesh


Lay people involved in leading prayers at their congregations, Jewish music professionals and Cantors, from various parts of Brazil gathered at Congregação Israelita Mineira (CIM), in Belo Horizonte (Minas Gerais state), Brazil, on March 25–27 for the sixth edition of
Lashir Benefesh
(Singing with the Soul), a project of
WUPJ-Latin America
.
The event was attended by more than 30 people and included lectures and workshops that covered topics such as the history of
chazanut
, the role of the Cantor, Jewish and Israeli music, and practical training.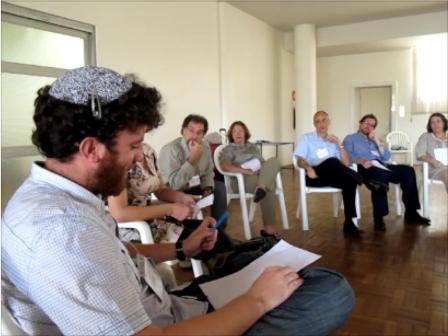 Participants in one of the sessions led by Sami Cytman

The idea for the liturgical and musical encounter came from Philipe Manuard, a
shaliach tzibur
, or lay cantor, from Congregação Israelita Mineira (CIM). The first conference was held in 2008 in Rio de Janeiro and it has been hosted by different congregations affiliated with the World Union in Latin America since then.
The program offers the wonderful opportunity of connection between experienced professional
chazanim
and
shlichei tzibur
, in a relaxed and cooperative environment.
Thanks to CIM Rabbi Leonardo Alanati, to Tilah Cohen, president of CIM, and to the whole board of the congregation, the 6th Edition of
Lashir Benefesh
was a big success. The participants pledged to attend the next edition, in 2013, in Rio de Janeiro.
Cantors and lay leaders pose in front of the Aron Hakodesh at CIM


Keren BeKavod's Kimcha D'Pischa Pesach campaign successful – but still in need


Keren B'Kavod, the humanitarian aid program of the Israel Religious Action Center (IRAC) led their annual food and clothing drive and have distributed parcels to some 750 individuals and families.
In addition to funds needed for this project, volunteers were also needed to pack and distribute the parcels. This year, members of the Israel Movement for Progressive Judaism (IMPJ)'s
Mechina
program (pre-army program for Israeli youth in Jaffa) gathered in Beit Shmuel-Mercaz Shimshon in Jerusalem, and together with pre-school and school-age children from Jerusalem spent a morning packing food parcels. Other volunteers included Arab, Druze and Jewish youth from Isfiya, Shfar'am, Haifa and Jerusalem who participate in a year-long program on life skills.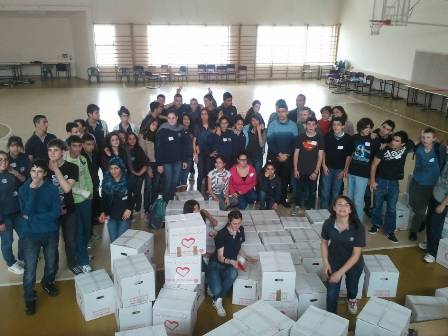 The parcels were distributed to needy families and individuals of all sectors, faiths and cultures in Israel. Unfortunately, the recent and ongoing security situation in the south, along with rising poverty levels, increased the number of people seeking help this year and Keren B'Kavod is finding it difficult to fulfill the demand. Please click
here
for more information on how you can help with this important project.
Back to In This Issue
Congratulations


Mazal tov
to our Executive Board member Ian Samuel, and his wife, Shayndel, on the birth of a granddaughter in Australia.
Upcoming events


June 1-2, 2012 – Biennial Conference of the
Israel Movement for Progressive Judaism
(IMPJ), Israel
June 8-10, 2012 – 80th Anniversary and Biennial conference of the
South African Union for Progressive Judaism
(SAUPJ), Johannesburg
June 22-24, 2012 –
Movement for Reform Judaism
(UK) Biennial Conference, Daventry, England
July 5-15, 2012 – The
Bergman Seminar for Jewish Educators
, Anita Saltz Educational Center, Jerusalem, Israel
July 19-22, 2012 –
UPJ
Annual Conference, Spandau, Germany
July 22 - August 1, 2012 – The
Roswell Seminar for Social Justice
, Anita Saltz Educational Center, Jerusalem, Israel
August 8-12, 2012 –
World Union for Progressive Judaism-Latin America
(WUPJ-LA)'s 4th Conference of Jewish Communities, Buenos Aires
October 25-28, 2012 –
UPJ
Biennial Conference, Sydney, Australia
April 28-30, 2013 –
WUPJ
Executive Board Seminar and International Assembly Meeting, Jerusalem, Israel
May 1-5, 2013 –
WUPJ
"Connections 2013", Jerusalem, Israel
Back to In This Issue