WUPJ News # 427
Issue 427 5 January 2012 / 10 Tevet 5772
In this issue:
IRAC and IMPJ lead campaign to eliminate gender segregation in public sphere
EUPJ preparing for Amsterdam Biennial
Claims Conference obtains additional payments for Holocaust victims
Seeing the light on Beit Shmuel Chanukah tours in Jerusalem
Presidential reflections on... January 1! A Time to Re-visit Rosh Hashanah

News in brief
Last signing up call for UJCL Biennial
EUPJ continues campaign to fully legitimize Hungarian congregations
Liberal Judaism launches Routes program

Upcoming events


IRAC and IMPJ lead campaign to eliminate gender discrimination in public sphere

IRAC (Israel Religious Action Committee), IMPJ's political action committee, has taken a leading role in combating the gender segregation and other forms of discrimination against women which extreme ultra-orthodox elements have been trying to impose on the Israeli public sphere.

Over the past several years the ultra-orthodox community, under increased pressure from its most extremist Jewish fundamentalist elements, has demanded the government allow it to impose these extremist values on the Israeli public sphere, by legalizing gender segregation on public transport which forces women to sit in the back of buses. IRAC, realizing the government and the public transport operators (Egged and Dan) were unwilling to stand up to the ultra-orthodox, petitioned the Supreme Court to order the government to prevent any attempts to segregate public transport.

Last year (January 2011), after a legal battle lasting over 4 years, the Supreme Court, acting as the High Court of Justice finally ruled on the petition, declaring any gender discrimination of public transport to be illegal, and ordering the government to take whatever steps necessary to prevent such segregation. The Court ruled that any segregation could only take place on a voluntary basis, and that signs be put up on buses stating clearly that no woman is obliged to sit in the back, and that any attempt to coerce a woman into moving to the back is a criminal offence.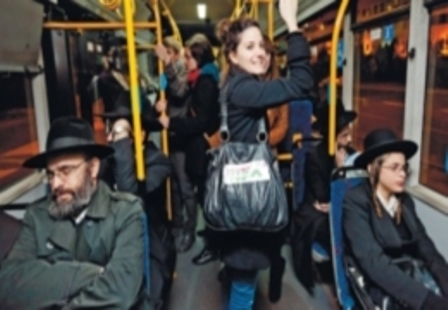 Freedom riders (shot with hidden camera)

Despite the ruling, women passengers on buses that go through ultra-orthodox neighborhoods are often subject to verbal and physical abuse if they refuse to sit in the back of the bus. The former includes being spat on, and called a"shiksa" and "pritze" (a Yiddish curse meaning slut or prostitute). Often the abuse is not limited to curses, and women have been physically assaulted.

As a result, IRAC has initiated a Freedom Rider program. Volunteers regularly ride buses on routes which have been subject to illegal segregation, to ensure that the ruling banning enforced segregation is being honored by the bus companies. According to IRAC Executive-Director, Anat Hoffman, over 1,000 volunteers will participate in the program. Many of them will have hidden cameras, so they can document cases on non-compliance, and release footage of assaults on women to the media.

IRAC has also been combating gender discrimination in the country's cemeteries. In recent years many cemeteries have adopted discriminatory policies, forcing women, even first degree relatives of the deceased such as siblings, children and parents to stand apart from the men during the funeral ceremony. Such actions prevent mourners from reading eulogies, saying Kaddish or otherwise participating in the funeral ceremony in any way.

IRAC has provided victims of such practices with PR and legal resources. Recently IRAC's PR and lobbying team successfully lobbied the Knesset to hold committee meetings on this matter, to which several victims were invited to appear and give evidence. In addition, IRAC's legal team provides legal assistance to victims wishing to sue the rabbis who, acting illegally caused them such heartbreak during their time of grief. One of the victims was recently interviewed by Keren Noybach, one of Israel's most popular radio hosts, who has a daily 2 hour morning program dedicated to social justice related issues. Millions of Israelis got to hear the voice the rabbi had silenced at the graveside, and share the eulogy to her father she had been prevented from reading at the funeral.

IRAC also helped organize a demonstration in Beit Shemesh, a Jerusalem suburb, in which non ultra-orthodox women and young girls have been verbally and physically assaulted by ultra-orthodox hooligans for not dressing modestly enough.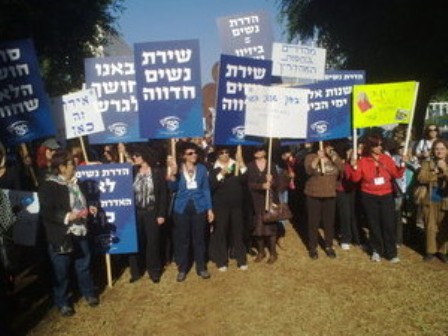 Demo against gender segregation



Back to In This Issue



EUPJ preparing for Amsterdam Biennial

Registration for the upcoming European Union for Progressive Judaism "Generations 2012" biennial convention which will take place in Amsterdam has opened. The four day convention will commence on March 15, immediately following an International Assembly (IA) meeting on March 15, and the WUPJ Executive Board meetings planned for March 13–15.

The convention will be co-hosted by the Dutch Union for Progressive Judaism, Nederlands Verbond voor Progressief Jodendom, and is shaping up to be an exciting and uplifting experience.

The main themes are "What is the Future for Faith in Europe?" and "What is the Outlook for Freedom of Religion and Tolerance?"

The conference will be opened by Jan Peter Balkenende, former Prime Minister of The Netherlands. Other inspiring speakers include Dominique Moisi from the French Institute for International Relations, Adjiedj Bakas, a well-known "trendwatcher" and author, Rabbi Stephen Lewis Fuchs, President of the World Union for Progressive Judaism, Rabbi Deborah Kahn-Harris, Principal of Leo Baeck College, Rabbi Laura Janner-Klausner from the UK Movement for Reform Judaism and Rabbi Menno ten Brink from our host, the Progressive Jewish Community in Amsterdam and many more. There will be 20 different working sessions, plus numerous social activities, including visits in Amsterdam, and of course Shabbat evening and morning services, which are always a highlight of our conferences.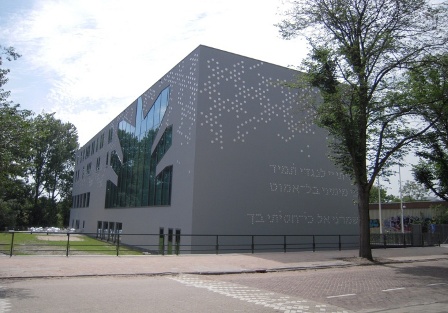 Amsterdam's LJG synagogue

In addition there will be several programs geared for youth, in order to encourage the participation of our next generation.

The conference will take place in the magnificent new synagogue of the Progressive Jewish Community in Amsterdam. The conference hotel, Novotel, is close by. There will also be a post-conference tour from March 18 - 20, staying at the hotel, but visiting other parts of The Netherlands, including the Nazi Detention Centre at Westerbork and other towns including Delft and The Hague.

Our conferences are always exciting occasions, and we very much hope that there will be delegates from every one of our member congregations. It will be a great opportunity to meet new and old friends, to learn more about our work, to share in a weekend of Jewish activities and hopefully to return home inspired by the experiences.

We hope to see you there!

For further information, please visit the EUPJ web site.



Back to In This Issue



Claims Conference obtains additional payments for Holocaust victims

In recent negotiations with the German government, the Claims Conference obtained numerous historic changes to its compensation programs that will enable many thousands of additional Holocaust victims to now receive payments. The Claims Conference negotiates with Germany on an ongoing basis, continually seeking to expand eligibility criteria for its compensation programs so that as many Holocaust victims as possible may receive payments. The WUPJ is represented on the Claims Conference Board.

Prior to the latest round of negotiations, certain survivors were only eligible for pensions from the Claims Conference Article 2 Fund and the Central and Eastern European Fund (CEEF) if they had been in a ghetto, in hiding, or living under false identity for at least 18 months during the Nazi era. This minimum time period of persecution was part of the eligibility criteria established by the German government, and which the Claims Conference has been working for years to change. As of January 1, 2012, the minimum time period for having lived under any of these conditions has been reduced to 12 months. These survivors will receive monthly payments of €300. In addition, CEEF will make monthly payments of €260 to certain Holocaust survivors who meet all eligibility criteria.

Further, as of January 1, 2012, those survivors age 75 and over who were in a ghetto for less than 12 months but a minimum of three months will be entitled to a special monthly pension of €240 if they live in the West or €200 if they live in the countries of the Former Soviet Union bloc, if they meet the other eligibility criteria of the programs. This liberalization will drastically change the compensation programs, especially for those who endured the Budapest Ghetto.

Together, the Article 2 Fund and CEEF have paid pensions to more than 109,000 Holocaust survivors since 1995. Both programs were created as a result of intensive Claims Conference negotiations with the German government.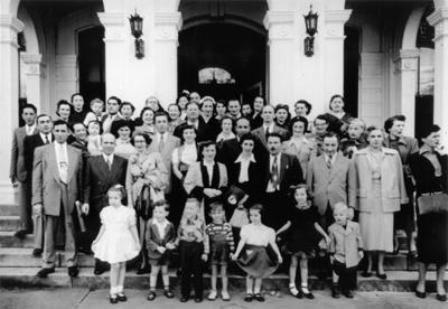 Holocaust survivors pose outside New Orleans Jewish Community Center
after formally becoming US citizens

During the latest round of negotiations the Claims Conference obtained three changes to the Hardship Fund, enabling thousands of Jewish Holocaust victims to receive one-time payments of €2,556, effective as of January 1, 2012. In addition, Hardship Fund payments will be made to certain Jews who fled ahead of the advancing Nazi army from some areas of the Soviet Union that were not subsequently occupied by the Nazis. This agreement marks the first time that the experiences of these Jews who fled for their lives has been recognized by Germany.

The German authorities agreed to remove the previous Dec. 31, 2011 application deadline for application to the Ghetto Work Fund, which provides a one-time payment of €2,000 to certain Jewish survivors of Nazi-era ghettos.

In addition, the German government recently agreed that eligible Jewish survivors of ghettos who worked "without force" are now entitled to receive both German Social Security payments and the Ghetto Fund one-time payment of €2,000. Previously, eligible survivors were not entitled to receive both, but Claims Conference negotiations have resulted in a change to German law on this issue.



SP, a partially disabled Israeli survivor who depends on Conference payments for homecare and health expenses

German government Social Security pensions, widely known as "Ghetto Pensions," have been available since 2002 to Holocaust survivors who were employed for some form of remuneration during their internment in Nazi ghettos annexed to the Third Reich. The law is formally known by its German acronym, ZRBG.

The German government is also in the process of reconsidering 56,000 previously rejected claims for the Ghetto Pension and will contact applicants if their claims are now accepted. The Ghetto Pension and Ghetto Work Fund are administered directly by the German government.

For more information on eligibility criteria and any other information on how to apply for a Claims Conference payment, and any other information regarding the Conference's activities, please go to www.claimscon.org.



Back to In This Issue




Seeing the light on Beit Shmuel Chanukah tours in Jerusalem

Over 60 groups comprising approximately 2,000 people participated this year in a program of Chanukah siyyurim (educational tours) held by Mercaz Shimshon-Beit Shmuel.

The program includes trips aimed at families, young adults and youth, covering a broad range of different Jerusalem neighborhoods, each with its own unique Chanukah atmosphere, reflecting their history, traditions and populations.

These tours have become increasingly popular over the past few years, as more and more mostly secular Israelis actively search ways to reconnect with Jerusalem's history and traditions which they regard as a vital part of their cultural heritage.

The tours include evening sightseeing trips through three Jerusalem neighborhoods, Nahlaot, The Old City's Jewish Quarter and Nevi'im St., strategically located between the Old City and the ultra-orthodox neighborhood of Mea She'arim.

The tours enable participants to stroll through these neighborhoods at dusk. This time of day, always spectacularly beautiful in Jerusalem, is even more special during Chanukah. As darkness descends, candlelight emerges from a myriad of windows as families light their chanukiyot.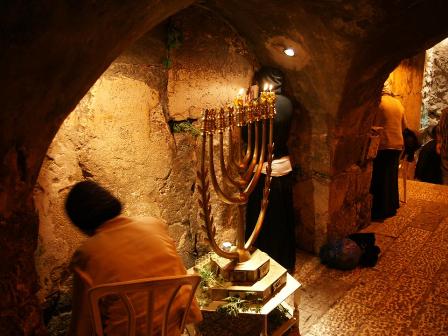 Chanukah under the Kotel (Western Wall)

Each neighborhood provides a unique experience. The Jewish Quarter provides a direct link to the city's ancient historical heritage, which includes sublime prophecy, clashes of ideas which, often provoked, have unfortunately generated clashes of armies as well.

Nahlaot, one of the very first Jewish neighborhoods to be built outside the city walls, was established towards the end of the nineteenth century. Despite having gone through a prolonged period of socio-economic decline, it never lost its sense of romance and history. Over the past several years it has undergone significant gentrification, and today is a unique and eclectic mix of Juppies (Jerusalem Yuppies) and old timers.

Nevi'im Street, due to its location provides a very different experience. It begins at the Green Line that divided the city, not far from the Damascus Gate (Sha'ar Schekhem) and ends at the edge of Mea She'arim. The main aspect of its experience is the mix of Jerusalem's international cosmopolitan flavor (The Italian Hospital, Russian Compound) with the highly insular ultra-orthodox community.

All the tours are led by top guides, who know their subjects intimately, and no less importantly, know how to impart their knowledge in a way that is both informative and entertaining.

All the groups are hosted by residents whom they join in the candle lighting ceremony. They also generously partake of sufganiyot (jelly or cream filled donuts), the traditional Israeli holiday delicacy. Fortunately the amount of walking during the trip means one can indulge without feeling too guilty.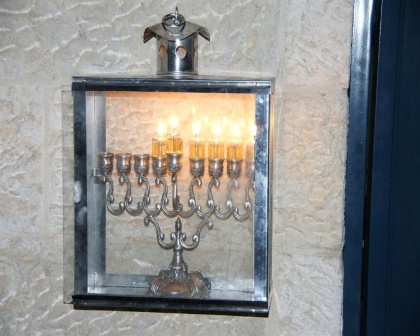 Chanukah in Nahlaot

In addition many tourists and new immigrants also participate in tours held in English, Spanish and Russian. Some of these tours also take participants to the Christian Quarter of the Old City, where they can imbibe a unique Christmas atmosphere very different from what they have ever experienced. These trips also explain the importance of Chanukah to Christianity, since without the Jewish renaissance made possible by the Hasmonean victory, the entire course of history would have been very different.

This special sense of history is most keenly felt in the Jewish Quarter trips, which end with candle lighting in the tunnels beneath the Kotel (Western Wall), an amazingly spectacular, atmosphere filled experience.

The Nahlaot trips end at the city's famous Mahane Yehuda market, which also provides a unique insight into Jerusalem, as a medley of different tunes and chants, reflecting Jewish traditions from America to India and Poland to Morocco can be heard as everyone lights their chanukiyot in their own traditional way.

For more information on Beit Shmuel trips in English, Spanish, Russian, Hebrew, please contact us at 02/6203461


Back to In This Issue


Presidential reflections on... January 1! A Time to Re-visit Rosh Hashanah
Rabbi Stephen Lewis Fuchs

Over the years I confess I have become a bit smug about the difference between Rosh Hashanah, and the celebration of the secular New Year which is such a big deal in the United States.

For us Jews, Rosh Hashanah is a time of serious introspection. It is a time to consider who we are and who we wish to be. It is a time to measure our actions and give serious thought to what we would like to change in the year ahead.

The arrival of the secular New Year, by contrast, is often a time that people tend to overindulge, drinking too much, partying too hard, not to mention the annual ritual of gathering in a usually frigid Times Square to watch a ball come down a pole and act generally somewhat foolishly.

Of course that is an over simplification because some elements of Rosh Hashanah's message have found their way, whether by coincidence or not, into American culture. People make "New Year' resolutions", listing things in their lives that they would like to change. It is an admirable idea.

For some Jews, on the other hand, Rosh Hashanah is merely a time to get together with family and friends and celebrate another year of life. Depending on how one observes the respective new years, the celebrations can be either very different or fairly similar.

For me, January 1 serves as a kind of Rosh Hashanah booster shot. Coming anywhere between three and four months (can it be that long ago that I spent such a wonderful and meaningful High Holy Day season in Cologne and Hannover, Germany?) the American New Year is a time to think about how my Rosh Hashanah - Yom Kippur period of self examination is really playing out in my life. It is a time that I like to think of the very meaningful words that our current (and soon to be replaced) American Reform Mahzor invites us to say at the beginning of the Kol Nidre service. "Last year's prayer came easily to the lips. Will this year's come from deeper than the skin?"

For me -- and perhaps for you as well -- January 1 can be a time to say, "I really hope so!" in response to the Mahzor's question. It can be a time to reaffirm our cardinal Jewish teaching that we can move to a higher level in our spiritual development.

In my installation remarks in Washington DC I referenced my favorite Psalm (61) which contains the line: בצור ירום ממני תנחני "Lead me to the rock that is higher than I!"

With God's help and our own efforts we can attain higher realms of spiritual development. The beginning of the secular year can urge us to continue the climb and come a bit closer to actualizing the Divine Image in which the Almighty created us!



Back to In This Issue



News in brief

Last signing up call for UJCL Biennial

On the 25th of January, in just under 3 weeks the UJCL's (Union of Jewish Congregations of Latin America and the Caribbean) Biennial will begin. The Biennial will be held in Guadalajara Mexico on January 25 - 29. Its central theme is: "Judaism for Adults: Complex Questions, Honest Answers."

This is the last sign up call for this exciting and interesting event. "This bilingual (Spanish, English) event, is by far the most important and exciting Jewish event in the northern part of Latin America", says Rabbi Joshua Kullock, UJCL Executive Director. "It will be attended by professionals and lay leaders from all over the region and from other parts of the world".

You can find more information about the Convention in our website: http://ujcl.org/ingles/guadalajara/guadalajara.htm


EUPJ continues campaign to fully legitimize Hungarian congregations

EUPJ President Leslie Bergman is continuing the EUPJ's and WUPJ's campaign to ensure that the Hungarian government grant full and unreserved recognition to our Progressive movement in Hungary.

In recent meetings with Hungarian authorities, a EUPJ delegation headed by President Leslie Bergman indicated in the strongest terms that nothing less than "full unreserved recognition and first class status would be acceptable."

Under recently passed legislation by the country's right-center government, religious institutions are subject to government grading, which impacts the degree of public funding they receive. While the Orthodox community has been granted first class status, Progressive Judaism was only granted second class status.

The delegation also met with the leaders of Mazsihisz, the state recognized Jewish organization which has effectively had a monopoly over recognition and major funding, and which refused Progressive Jewish membership some years ago.

Intensive meetings with the leaders of our two communities - Szim Shalom and Bet Orim - and their rabbis led to increased cooperation between them, creating a catalyst for the formation of an umbrella Hungarian Progressive Jewish Association.


Liberal Judaism launches Routes program

On Thursday December 22, Liberal Judaism launched Routes, a new program for Jews In their 20s and 30s. The program was conceived, and will be led by Rabbi Anna Gerrard, a member of the Montagu Centre's Rabbinic Team, in response to several recent studies into the so called 'lost' Jewish generation.

The program consists of a series of monthly events, offering a cultural, social, learning and spiritual space that connects to Judaism in a way that is relevant, thought-provoking and enjoyable. Routes participants will also have the opportunity to run their own one-off or regular events under the umbrella name Grass Routes.

The first event was a Balkan Beat Chanukah Party in London.



Back to In This Issue



Upcoming events

January 25-29, 2012 - Union of Jewish Congregations of Latin America and the Caribbean (UJCL) Biennial Convention, Guadalajara, Mexico

March 13-15, 2012 - WUPJ Executive Board Meetings, Netherlands

March 15, 2012 – WUPJ International Assembly Meetings, Netherlands

March 15-18, 2012 – Biennial Conference of the European Union for Progressive Judaism, Amsterdam

June 1-2, 2012 – Biennial Conference of the Israel Movement for Progressive Judaism (IMPJ), Israel

June 8-10, 2012 – 80th Anniversary and Biennial conference of the South African Union for Progressive Judaism (SAUPJ), Johannesburg

August 8-12, 2012 – World Union for Progressive Judaism-Latin America (WUPJ-LA)'s 4th Conference of Jewish Communities, Buenos Aires

October 25-28, 2012 - UPJ Biennial Conference, Sydney, Australia

April 28-30, 2013 – WUPJ Executive Board Seminar and International Assembly Meeting, Jerusalem, Israel

May 1-5, 2013 – WUPJ "Connections 2013", Jerusalem, Israel



Back to In This Issue