WUPJ News # 420
ISSUE #420 – 22 SEPTEMBER 2011 / 23 ELUL 5771
IN THIS ISSUE:

SAUPJ LAUNCHES SACRED

WUPJ GEARING UP FOR URJ and WRJ BIENNIAL

CZECH REFORM COMMUNITY HOLDS MULTI-GENERATIONALSHABBATON RETREAT

CROSS CHANNEL WEDDING

YOZMA INAUGURATES NANI AND AUSTIN BEUTEL EDUCATION CAMPUS

REFLECTIONS – WUPJ PRESIDENT

NEWS IN BRIEF

UPCOMING EVENTS

******************************

SAUPJ LAUNCHES SACRED

SAUPJ has inaugurated SACRED (South African Center for Religious Equality and Diversity), its civic and political action committee. The inaugural ceremony took place on September 1st at Johannesburg's Constitution Hill. The keynote speaker was Justice Able Sachs, a notable anti-apartheid activist appointed to the Constitutional Court by President Mandela. In his speech, that was both witty and profound, the avowedly secular Justice emphasized the importance of religion in his chosen life struggle to do what is morally right. "The core values on which my life's path has been based are from the sacred text".

The idea to form SACRED arose from IRAC Director Anat Hoffman's visit to SOUTH AFRICA in 2009, during which she spoke at length of her vision and commitment to preventing discrimination and legal inequalities. Following her visit, Rabbi Robert A Jacobs, of Sandton's Bet David Congregation proposed creating a parallel organization in SA, dedicated to providing a Progressive Jewish voice on relevant social, moral, ethical and religious issues in South Africa. SACRED's mission statement also includes combating religious discrimination in all its forms, promoting freedom of and from religion and other fundamental rights and freedoms through advocacy, activism, scholarly contributions to public discourse and public interest litigation.

The ceremony's venue, Constitution Hill, is one of the country's most symbolic historical sites. It was built on a hill overlooking Johannesburg in 1892 by the ZAR (Zuid Afrikaanse Republiek- the Boer Republic defeated by the British in the 1899-1902 Anglo-Boer War) government as a prison. During the Anglo-Boer War it served as a military fort. After the war it reverted to being a prison, notorious for ill treatment of and poor conditions for prisoners. Many well known political prisoners spent time there, including Mahatma Gandhi and Nelson and Winnie Mandela. Following liberation in 1994, the site was chosen as the campus for the country's newly established Constitutional Court, which also houses exhibitions regarding the struggle for Human rights in SA.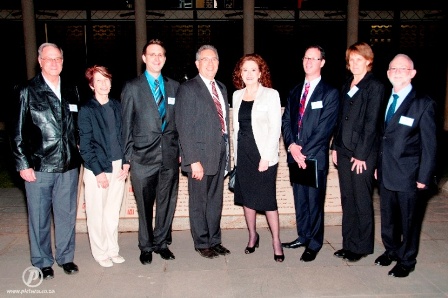 SACRED Board Members
l to r – Jacob Hurwitz, Monica Solomon, Prof David Bilchitz, Rabbi R.A Jacobs, Reeva Forman, Lynton Travis, Wendy Ovens, Steve Lurie



Back to In This Issue



WUPJ GEARING UP FOR URJ BIENNIAL

The World Union for Progressive Judaism is proud to participate in the Union for Reform Judaism's Biennial from December 14-18, 2011 at the Gaylord National Resort and Convention Center in National Harbor, MD just outside Washington, DC. This is a fantastic opportunity to mingle and meet with our North American brethren as well as share WUPJ's incredible work around the world.

WUPJ will have a large presence at the Biennial. Our leaders will conduct several workshops including: Connecting With Our Wider Family: Encouraging Travel and Twinning Projects Between Your Congregation and World Union Congregations Around the World; A World of Reform Jews: Getting to Know Our WUPJ Communities; and After the Iron Curtain – Russian Jewry Confronts a New Order and New Opportunities.

Our signature event is the celebratory luncheon on Thursday, December 15 where we will formally install our new President, Rabbi Stephen Lewis Fuchs. We are honored to have Rabbi Richard Hirsch as the installation speaker and we'll bestow the Micah Award (given to leaders of WUPJ affiliates upon retirement) to Rabbi Eric Yoffie, President of URJ for his years of service to the Jewish world.

WUPJ will also be represented at the WRJ Yes Fund luncheon on Friday afternoon, as part of our ongoing partnership with the Women of Reform Judaism. Rabbi Fuchs will also address the WRJ meetings.

Additionally, you may show your support for Rabbi Fuchs and WUPJ as a sponsor of this luncheon. Your name will be prominently noted on the Celebratory Luncheon Program and on the WUPJ website. Please complete this form and/or contact Allison Klein at aklein@wupj.org for more information.






Back to In This Issue



RECORD ATTENDANCE AT CZECH REFORM SHABBATON WEEKEND CONFERENCE

The northern Bohemian city of Liberec and its beautiful modern synagogue hosted the fifth annual weekend conference of Czech Progressive Jewish Communities. The conference, which took place July 15th-17th was the largest ever to be held by the Czech community, with 63 participants from all over the country.

Participation cut across generational lines, and included teenagers, students, young families and senior citizens. In addition it was a truly pluralistic encounter with a small number of Orthodox and Conservative movement participants joining the experience.

Participants appreciated a well-balanced program that included services, study sessions, workshops, cultural events and tours. The Conference principle teacher and leader,as in the past, was Rabbi Tom Kucera, a native Czech rabbi who is presently working for Beth Shalom congregation in Munich. Rabbi Kucera led the worship services and many of the study sessions and provided the spiritual leadership for all in attendance. Other parts of the program were implemented by local lay leaders and lecturers.

The prevailing opinion expressed by the participants during the closing feed-back session was extremely positive, with great appreciation being expressed for the warmfriendly atmosphere and sense of community. As one of the pillars of the community, who has atended every Czech conference said"it's like a good wine, it gets better every year".

The organizors and participants expressed their thanks to the World Union for Progressive Judaism (through the generosity of Jim and Liz Breslauer) whose help and support makes this unique and meaningful event possible.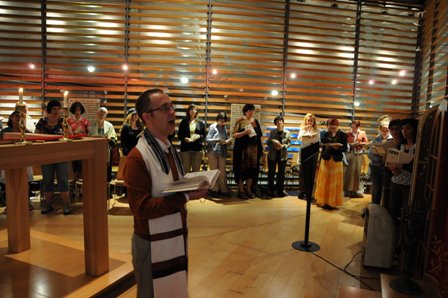 Rabbi Kucera leading Shabbat Service



Back to In This Issue



LIBERAL RABBI SAVES RUSSIAN WEDDING IN CROSS CHANNEL CEREMONY

An English Liberal Jewish Rabbi rushed to the rescue of a Russian couple hoping to marry in France, after the Orthodox Rabbi scheduled to marry them pulled out at the last minute. The Rabbi said it had been brought to his attention that there was doubt as to the groom's Halahic status as a Jew, despite the fact that he is a practicing Jew active in the Russian Jewish community.

Left hanging high and dry, the couple contacted Liberal Judaism's London head office in a panic, asking if there was anything they could do. After checking, the office put them in touch with Rabbi Anna Gerrard, who happened to be in France not too far from where the wedding was scheduled to take place.

Rabbi Gerrard agreed to come to the rescue. Due to perform an interfaith marriage ceremony in Limoges, she rescheduled her weekend and rushed on Friday to St Jean Cap Ferrat, to wed the distraught couple. "It was a slightly hectic schedule to do two weddings in two different parts of France in one weekend", she said with typical British understatement.

Fortunately the Limoges couple were most accommodating, and agreed to postpone their wedding by 24 hours to enable Rabbi Gerrard to squeeze in the last minute wedding. The woman said it infuriated her every time she reads about how the Orthodox treat people in such an unfeeling cavalier way, and so was more than willing to have to rearrange their weekend schedule in order to help the Russian couple, even though it added an additional stress to her own special weekend.

"The weddings were lovely and meaningful – and I'm so pleased that we were able to help both couples start their married lives in the Jewish tradition", said Rabbi Gerrard.






Back to In This Issue



NANI AND AUSTIN BEUTEL EDUCATION CAMPUS OPENED ON START OF NEW SCHOOL YEAR

The highlight event of the new school year at the Reform Movement's educational facilities was the inauguration of the new Nani and Austin Beutel Education Campus at Modi'in's Yozma Community, one of the movement's fastest growing communities. The campus houses four ultra-modern pre-school classrooms.

The campus is part of the Anna and Leslie Dan Family Jewish Community site. Upon completion, it will include, in addition to the community's permanent synagogue, an educational campus providing children from kindergarten through to middle school with a quality education based on Reform Judaism values.

Yossi Aud, Yozma's Executive-director said that the inauguration was a major milestone in the realizing of Yozma's vision. "We hope to have over a thousand children attending the community's educational institutions within 5-6 years."

Modi'in, founded approximately 30 years ago is Israel's most rapidly growing city, with a population of over 70,000. Half the city's population attend the city's school system (kindergarten through high school). Yozma is one of the fastest growing community's in Israel.

A record number of children started the school year at one of the dozens of kindergartens and schools affiliated to IMPJ (Israel Movement for Progressive Judaism). IMPJ's policy is to ensure every community has educational facilities, to ensure long term growth and sustainability.






Back to In This Issue



REFLECTIONS ON... THE DAYS OF AWE: ROSH HASHANA
by Rabbi Stephen Lewis Fuchs, President, WUPJ




Unlike in the secular world, where people often celebrate the New Year with an excess of frivolity, we Jews celebrate our New Year with a process of serious self examination. During the Days of Awe (the 10-day period from Rosh Hashanah, the Jewish New Year to Yom Kippur, the Day of Atonement) serious Jews strip away the veneer of our righteousness and prepare for God's scrutiny. We examine who we have been with an eye toward who we want to be. During the Days of Awe we humbly acknowledge our shortcomings and resolve to improve in the year ahead.
Although the language of the prayers clearly addresses our relationship to God, the significance of this period does not diminish for those Jews who find themselves unable to relate to God in a personal sense. The process of self examination, contrition and resolve can be as therapeutically valid for the atheist as for the Orthodox Jew, and everyone whose religious beliefs fall somewhere in between.
When Jews seek forgiveness we take full responsibility for our shortcomings and wrongful acts. The Hebrew word for "sin" "חטא" (Chet) connotes an action that we regret but which is within our power to correct. The Days of Awe provide us with a special opportunity – although certainly we should always be aware of the impact of our actions – to ponder, reconsider and adjust our behavior in a positive direction.
The most distinctive part of the Rosh Hashana ritual is the blowing of the shofar or ram's horn.
According to the thirteenth century philopher/physician/commentator, Moses Maimonides, the piercing sounds of the shofar cries out to us like a spiritual alarm clock with the message: "Awake from your slumber, you who are asleep, wake up …search your deeds and repent…amend your ways and deeds."
The sound of the Shofar, noted Saadia Gaon in the tenth century, reminds us of the way just and merciful monarchs operate: First they warn the people of their decrees, but if they do not heed the warning. Violators are held accountable. The shofar is a spiritual warning to remind us of the way God wishes us to live our lives.
May the sound of the shofar inspire us Jews to measure who we are against who we wish to be! And may our efforts yield a sweet new Year for the worldwide Jewish community and for all humanity.



Back to In This Issue



NEWS IN BRIEF

UK Liberal Judaism spreads High Holidays welcome mat for students
Liberal Judaism will allow all Jewish students in the UK and Ireland to attend the High Holy Days services at any Liberal community this year, irrespective of whether they are members of any congregation or not. This initiative is part of the movement's outreach program, aimed at enabling students at universities far from their homes to remain in contact with the Jewish community.
Those wishing to take up the offer of a free High Holy Day ticket will need to contact their chosen Liberal community in advance for security reasons, and present a NUS card, or other form of student photo ID.


WUJP President Visits Or Hadash
WUPJ President Stephen Fuchs, accompanied by WUPJ COO Shai Pinto visited Haifa's Or Hadash Congregation on the 1st of September. They met Or Hadash's Rabbi Edgar Nof, Community Director Ami Perlman and the staff, who briefed them on the congregation's various activities, and its contribution to the city. They toured the preschools, and went inside the shelter that had doubled as a synagogue during the 2nd Lebanon war.
Later that afternoon Rabbi Fuchs met with some of the Or Hadash board members: Shai Ivtsan, Dr. Marina Fierer, Dr. Roxana Reichman and Dr. Jesse Lachter.
During the visit to Haifa, Stephen and Shai also visited the Leo Baeck complex, meeting with School Director Danny Fesler to learn about the operations of the center and discuss WUPJ involvement with the congregation on one of the IMPJ's most important and exciting days, the 1st day of school.


UK Reform Movement holds major fundraiser
Last week the British Reform Movement held its biggest ever fundraising dinner at RIBA (Royal Institute of British Architects) in central London.
This is first major function to be held since Chief Executive Ben Rich, Director of Community Development Pam Goldsmith and other members of the movement's new leadership team took office.



ARZA hosts Anat Hoffman
IRAC Executive-Director Anat Hoffman recently visited Australia and New Zealand. In Australia she visited Sydney and Melbourne, speaking at several synagogues and meeting young leadership forums and other groups of movement activists in both cities. She also gave several media interviews.
She highlighted the challenges facing IRAC in effectively combating religious discrimination in Israel, emphasizing relevant women's issues such as Women of the Wall (Nashot Hakotel).



Back to In This Issue



UPCOMING EVENTS

December 14-18, 2011 – Union for Reform Judaism Biennial, Washington D.C

January 25-29, 2012 - Union of Jewish Congregations of Latin America and the Caribbean (UJCL) Biennial Convention, Guadalajara, Mexico

March 13-15, 2012 - WUPJ Executive Board Meetings, Netherlands

March 15, 2012 - International Assembly Meetings, Netherlands

March 15-18, 2012 – Biennial Conference of the European Union for Progressive Judaism, Amsterdam

June 1-2, 2012 – Biennial Conference of the Israel Movement for Progressive Judaism (IMPJ), Israel

June 8-10, 2012 – 80th Anniversary and Biennial conference of the South African Union for Progressive Judaism (SAUPJ), Johannesburg

August 8-12, 2012 – World Union for Progressive Judaism-Latin America (WUPJ-LA)'s 4th Conference of Jewish Communities, Buenos Aires

October 11-14, 2012 - UPJ Biennial Conference, Sydney, Australia

April 28-30, 2013 – WUPJ Executive Board Seminar and International Assembly Meeting, Jerusalem, Israel

May 1-5, 2013 – WUPJ "Connections 2013", Jerusalem, Israel







Back to In This Issue