WUPJ News #418
ISSUE #418 – 25 AUGUST 2011 / 25 AV 5771
BERGMAN SEMINAR FOR PROGRESSIVE JEWISH EDUCATORS
FIGHT FOR REFORM IN HUNGARY
PASSION FOR JUDAISM – MRJ PRESIDENT, RABBI DR TONY BAYFIELD, HONORED ON RETIREMENT
UK RABBI JACKIE TABICK HONORED WITH INTERFAITH AWARD
THE STORY OF GÖTTINGEN'S SYNAGOGUE
REFLECTIONS ON... GILAD AND US –

WUPJ PRESIDENT
NEWS IN BRIEF
• Kibbutz Lotan releases new video on Eco-Living and Study-Abroad programs
• Kabbalat Shabbat with tent protesters
• Claims Conference
Worldbook
2010 launched
UPCOMING EVENTS
**********************
BERGMAN SEMINAR FOR PROGRESSIVE JEWISH EDUCATORS

Last month, the
Anita Saltz International Education Center
of the
World Union
, ran a special seminar – the Bergman Seminar for Progressive Jewish Educators – for educators from six different countries in north and south America, including Argentina, Brazil, Canada, Germany, Panama and the United States.
Run by Paul Liptz, director of education at the Saltz Center, and Steve Israel, the seminar coordinator, the program included a few prayer sessions with Rabbi Levi Weiman-Kelman of Kol Haneshama in Jerusalem, Shabbat services at Kol Haneshema and Har El, also in Jerusalem, visits to the First Temple area and the Kotel, the Israel Museum; the Tower of David; Yad Vashem; Beit Hatfutsoth, the Diaspora Museum; the Roman city of Caesarea; the Holy city of Safed; Kibbutz Lavi; Rosh Pina and Har Herzl, among others.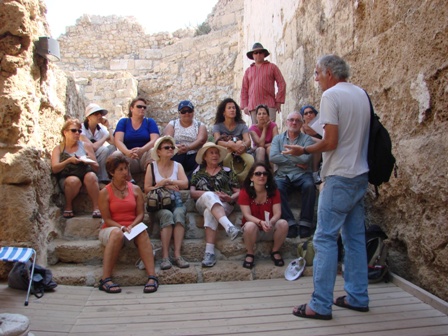 Steve Israel teaching the group in Caesarea

Discussions and workshops were varied and ranged from classroom discussions to walking tours and onsite seminars. Topics included: How to use a parasha in education; Why Teach Israel? What are My Challenges as a Teacher?; Second Temple Period and its Implications; Shoah for Educators; Israeli Popular Music – A Guide for Teachers; What Makes Effective Israel Education?; and the Museum as a Teaching Tool; among others.
"All participants were extremely enthusiastic about being in Israel and saw the program as having direct importance in their various school environments," said Liptz. "Their teaching roles cover a wide range of ages from pre-school teachers to those involved in high schools. As they came from many different countries, they constantly compared their own pedagogic challenges and discussed how they could learn from each other.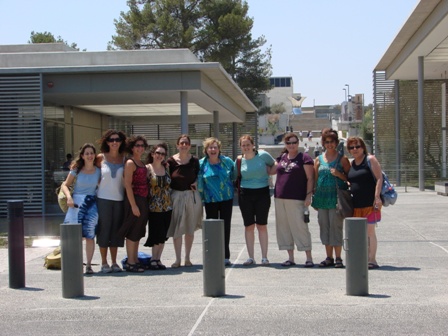 Participants of the Bergman group at the Israel Museum

"If anyone would ask me what the most memorable component of the seminar was, I would say that it empowered the participants to involve themselves in dealing with Jewish and Israeli topics in a much more serious manner," he said. "In addition, it enabled them to appreciate just how important their role is in enabling their pupils to appreciate the marvels of a 2000-year-long dramatic and complex story. Hopefully, they are not only better informed, but can also see themselves as pedagogic
shlichim
in the future."
The Bergman Seminar for Progressive Jewish Educators was sponsored by the Bergman brothers, Stanley, a long time supporter of Progressive Jewish causes, and Leslie, president of the
European Union for Progressive Judaism
(EUPJ).
"I am pleased that the seminar was such a success and received so enthusiastically by the recipients," said Leslie. "I am also hopeful that Progressive Jewish educators will do that which is so critical - give our children and grandchildren pride in being Progressive Jews.
"We should be unapologetic for why we are different and the path we choose, stressing that which we do rather than explaining that which we don't do, and emphasizing that carrying out the
mitzvot
of observances are choices which we should do from a base of knowledge, but that
mitzvot
relating to ethical Judaism in the way we live our lives is not a choice," he said.
Participants' comments varied in scope, but the feeling was the same. The Bergman Seminar for Jewish Educators was valuable, worthwhile, enjoyable and educational.
"Although I had been to Israel several times, this was the experience that allowed me to put all the puzzling pieces together. There was tremendous attention to depth, detail and knowledge. Israel's history and society is so complex. Previously, I felt like an outsider peeking over a Jerusalem stone wall into a mystical world. Now I feel a part of this country and can relate to its challenges and accomplishments as if it is part of my own identity."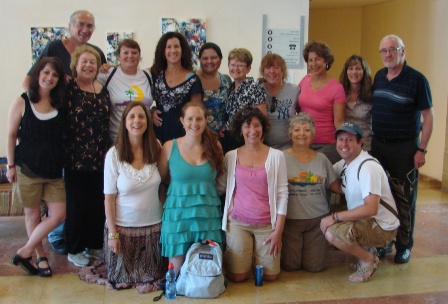 The group with Steve Israel (back) and Paul Liptz (far right) in the Beit Shmuel foyer

"It was wonderful to learn from excellent teachers about the things that matter most to me. I returned home to teach about Israel, my Jewish heritage and Israel's people with new, and renewed, understanding and clarity."
"I was thoroughly impressed and more than happy with the program. It was well-planned, well-presented and really covered a wide range of topics. I personally enjoyed the studies of Israel through literature and visiting actual sites."
The group visits Har Herzl

"This course was excellent. The level of scholarship, the wide range of topics, the
chevruta
study – all programmes were outstanding. As an educator, I really learned a great deal about Israel and how to teach about Israel. My first synagogue newsletter for this Fall focuses on this program. It is a most meaningful study opportunity and I sincerely hope it continues. To all who made this program happen,
Yasher Koach
and
Todah Rabah
."
"This being my first trip to Israel, I could not have asked for a more rewarding and enlightening experience. I arrived with a basic understanding of the significance of the Holy Land to the Jewish people. However, I left with a strong connection to Eretz Israel. The seminar provided me with the cultural, political and spiritual tools that will make me a better educator and a more knowledgeable participant in the Jewish faith."
Back to In This Issue
FIGHT FOR REFORM IN HUNGARY


Compiled by Rabbi Andrew Goldstein, chair, European Union for Progressive Judaism (EUPJ)
Members of WUPJ will soon be asked to join a fight against the de-legitimization of Reform Judaism in Hungary. The following facts are taken from papers prepared by Rabbi Ferenc Raj, Rabbi Emeritus of Congregation Beth El in Berkeley, CA, who, since retirement, has been responsible for developing
Bet Orim
, our second congregation in Budapest, the city of his birth and rabbinic training. Additional information has been provided by Jesse Weil, treasurer of the
Sim Shalom
community, the first Progressive community in Budapest. Sim Shalom was founded 20 years ago and is led by
Leo Baeck College
-trained Rabbi Katalin Kelemen. Up to now, the two communities enjoyed legal "Church" status that brings financial and other benefits.
In an unexpected move, Hungary's Parliament, which is controlled by the country's center-right party FIDESZ, passed a law in the Hungarian Parliament on July 11 that restricted the number of recognized churches to 14, leaving out well-known and established religious groups, such as the Methodists, the Buddhists, the Muslims and both of our WUPJ congregations, Bet Orim and Sim Shalom. Three Jewish streams were accepted among the privileged 14: the Neolog (a Hungarian version of Conservative) that has, since the end of Communism, dominated the Hungarian Jewish community and received the bulk of restitution money and political influence; the small Orthodox group; and Chabad, which cleverly claimed ownership of the defunct pre-World War II
Status quo-ante
movement.
Since the new "Church" law was hastily drafted, it is full of inconsistencies, and the final text is yet to be written. Right now, in the month of August, the Parliament is on summer break, but at the beginning of September the official, corrected text of the law will be published. At that time, "Churches" outside of the 14 will be able to apply for inclusion, but will need two-thirds parliamentary approval to be registered as a recognized "Church" or religious community.
The new law states that to regain registration, a "Church" must have a history of 20 years existence in Hungary (the Reform community dates back 19 years), and must present a list of the names and addresses of a minimum of 1,000 members. (Previous registration required only 100 members whose names went to an independent court judge who was bound by rules of confidentiality.) Due to anxieties still widespread in the Jewish community after the Holocaust and 40 years of religious repression by the Communists, the Jews (similar to members of other religions) would find it offensive to their privacy to submit member's or supporter's personal details to any governmental or political body. As a consequence, it seems unlikely that Reform Judaism could ever be recognized in Hungary under the recently passed law.
World Union leaders, rabbis, and leaders of our two Hungarian communities have already sent letters of protest to the Hungarian prime minister and Hungarian ambassadors. We have already heard of protests by Human Rights activists within Hungary protesting this proposed legislation. We are actively seeking clarification of the position so as to be able to advise all of our members as to the best way to put pressure on the Hungarian Government to reverse this proposal. As soon as we have this advice, we will circulate it to all of our members. At the moment, we are alerting you to the situation and hope, that as soon as we do contact you, you will be prepared to take swift action as we mount a concerted campaign to assert our rights.
There are said to be 100,000 Jews in Hungary and there is much scope for the growth of Hungarian Reform Judaism. However, if this proposed law is passed in September, the future of our movement there will be severely restricted.
Back to In This Issue
PASSION FOR JUDAISM – MRJ PRESIDENT, RABBI DR TONY BAYFIELD, HONORED ON RETIREMENT
Rabbi Dr. Tony Bayfield CBE, president of the
Movement for Reform Judaism
(MRJ), was presented with a book of essays written for him by 29 rabbinic colleagues to mark his retirement as head of the Movement.
The book,
A Passion for Judaism
, was edited by Rabbi Dr. Jonathan Romain and endorsed by the Archbishop of Canterbury, Dr. Rowan Williams, who praised Rabbi Bayfield's "profound influence on Jewish-Christian relationships".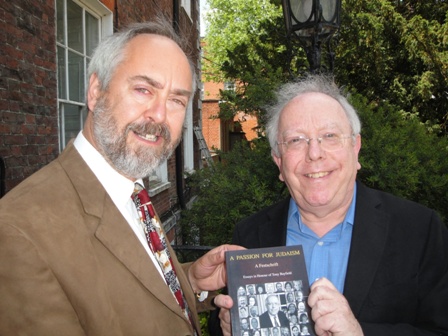 (L-R) Rabbi Dr Jonathan Romain and Rabbi Dr Tony Bayfield CBE with A Passion for Judaism

A Passion for Judaism
includes essays on such diverse subjects as women rabbis, the environment, conversion and the Holocaust. In the words of Rabbi Romain, it is "a wonderful mix of Jewish learning and insights that you can dip into from time to time or devour in its entirety".
This article courtesy: Movement for Reform Judaism. If you'd like to purchase the book, please click
here
.
Back to In This Issue
UK RABBI JACKIE TABICK HONORED WITH INTERFAITH AWARD

Rabbi Jackie Tabick of North West Surrey Synagogue in Weybridge has been honored for her interfaith work. Rabbi Tabick was presented with the Interfaith Gold Medallion on Sunday July 24, at a service held in St Martin's in the Fields, to mark the 75th anniversary of the founding of the
World Congress of Faiths
(WCF).
Rabbi Tabick, who chairs the organization, received the award from the Reverend Dr Marcus Braybrooke, president of the WCF, on behalf of Sir Sigmund Sternberg, who could not be present himself.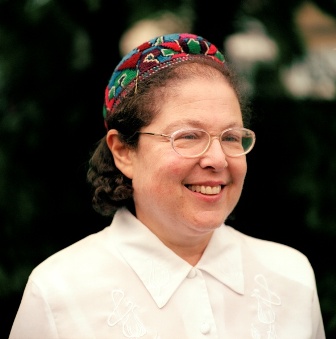 In her address to the congregation, Rabbi Tabick said the work of the Congress was to "bridge the almost unbridgeable, to make bonds of fellowship based on knowledge and understanding, to celebrate the differences between different religions and at the same time, affirm that there are differences of flavor, of culture, that we must affirm and support in each of the faith groups represented at our gatherings."
She added that "We seek to end the destructive enmity that has and does so tragically dog the relationships between people of faith and affirm the oneness of being that lies behind creation, seeking its presence through the different forms of worship that we see around us."
Article courtesy of the Movement for Reform Judaism
.
Read more about Rabbi Tabick
here
.
Back to In This Issue
THE STORY OF GÖTTINGEN'S SYNAGOGUE

For decades, a small, half-timbered building in the village of Bodenfelde was used by a farmer to store his equipment and was hardly recognizable for what it really was - a 175-year-old synagogue built in 1825. Today, about 160 Jews, members of the liberal Jüdische Gemeinde Göttingen, part the EUPJ and the Union Progressiver Juden in Deutschland, are using this small prayer house, which was moved piece-by-piece 25 miles to this city.
This amazing journey could not have happened without Brigitta Stammer, who was born in Hamburg in 1949 and moved to Göttingen 30 years ago. She oversaw the collection of hundreds of thousands of Euros in private donations and arranged for the synagogue to be taken apart wall-by-wall, stone-by-stone, and reassembled.
In 1937, the congregation's last president sold the synagogue to a farmer for 1,000 Reichsmarks, and took the Torah scroll to Israel, where it remains today. In 1938, on the night of the November 9 anti-Jewish pogrom, the farmer defended his new purchase against Nazi hooligans who wanted to torch it. Thus this small synagogue was spared the fate that befell hundreds of synagogues destroyed that night across Germany and Austria.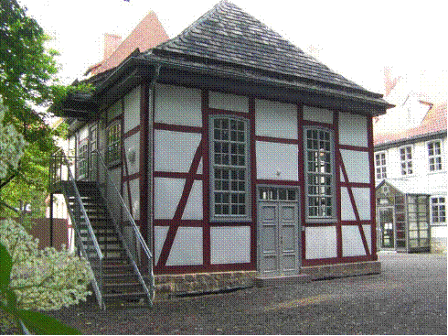 Jüdische Gemeinde Göttingen synagogue

In 1990, a few hundred Jews from the former Soviet Union settled in Göttingen. At that time, this city of 200,000 had a Jewish mayor, the late Artur Levi, who had survived the Holocaust in England. Levi and local educator, Detlev Herbst, an expert on local Jewish history, supported the idea of moving the historic Bodenfelde synagogue.
This small gem of a synagogue, with its painted decorations, was rededicated in November 2008, 70 years after the destruction of the large synagogue of Göttingen and 12 years after the project began.
This is a wonderful example of how Jewish life has returned to Germany.
Article courtesy of the EUPJ newsletter and condensed from an article submitted by Harald Jüttner, former president of Jüdische Gemeinde Göttingen
.
Back to In This Issue
REFLECTIONS ON… GILAD AND US

BY RABBI STEPHEN LEWIS FUCHS, PRESIDENT, WUPJ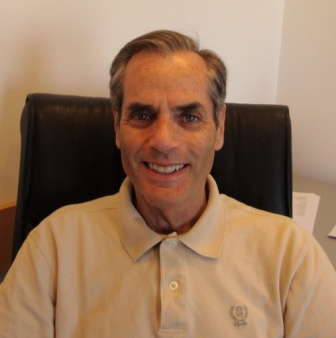 A few weeks ago, our Shabbat afternoon walk took my wife, Vickie and I past the protest tent for Gilad Shalit, the Israeli soldier kidnapped by Hamas on June 25, 2006 and not heard from since.
While there, we were introduced to Noam Shalit, Gilad's father, whose face and demeanor reflected the understandable pain of one who cannot know if his son is dead or alive and whose whereabouts have been unknown for more than five years.
As I shook his hand and expressed my sympathy for the anguish he endures every moment of every day, he answered sadly: "But nobody cares." I responded that the entire Jewish world cares and we all hold his son and his family very close to our hearts. He thanked me and added: "But nobody does anything!"
As we walked away, Vickie urged me to write a letter to the Red Cross. "They take effective action in every disaster and in other hostage situations around the world, but what have they done about Gilad Shalit? Nothing!"
The Red Cross recently responded to the Shalit family's plea that Hamas has rejected the Red Cross' request to inform them whether Gilad Shalit is dead or alive. But we cannot let them simply drop the matter. So I hope I was speaking for all Progressive Jews around the world when I wrote as follows:
President International Red Cross

August 21, 2011

Mr Jakob Kellenberger
President
International Committee of the Red Cross (ICRC)

Sunday, August 28, marks the 25th birthday of Gilad Shalit.
Gilad Shalit has spent five years in captivity after being kidnapped in Israel by Hamas forces. We urge you to use every possible means to determine whether Gilad Shalit is alive and whether he is being treated in accordance with Geneva Convention rules regarding war time captives. We hope you will actively and publicly work to secure Gilad Shalit's safe return home to his family.
The Red Cross intervenes effectively in so many crisis and hostage situations. As president of the World Union for Progressive Judaism representing more than 1.8 million Jews worldwide, I am baffled that the Red Cross, whose name engenders universal respect and admiration, cannot do more to ease the anguish of the Shalit family and those of us around the world angered by the injustice of Gilad Shalit's unlawful abduction.
It would be a most fitting birthday present for Gilad Shalit's family if the International Red Cross would publically and forcefully condemn Hamas' kidnapping of Gilad Shalit and urge Hamas to return him unharmed to his family.

Sincerely,

Rabbi Stephen Lewis Fuchs
President
World Union for Progressive Judaism

Back to In This Issue
NEWS IN BRIEFKibbutz Lotan releases new video on Eco-Living and Study-Abroad programs

Kibbutz Lotan
is an integrated, holistic community in the Arava desert not far from Eilat. Known as a "Green Kibbutz" with interesting, valuable and highly sought-after programs, Kibbutz Lotan hosts visitors, volunteers and new immigrants (
olim
) throughout the year. Recent MASA – Israel Journey graduates and interns helped the kibbutz put together a short video showing what the Eco-Living and Study abroad program is all about. Click
here
to see the video on
Living and Learning Practical Ecology
.
Kabbalat Shabbat with tent protesters


The social protests in Israel continue around the country, with tent communities in many major cities and various protests every week. The IMPJ and WUPJ continue to support the protests and members of the communities offer support and activities at the tent sites. As such, Kabbalat Shabbat services, educational lectures and other activities take place every week. One of the major centers of protest is in Jerusalem. Youth members from our Jerusalem Progressive congregations conducted a Kabbalat Shabbat service in support of the tent protesters. These photos were snapped by Rabbi Stephen Fuchs on
Erev Shabbat "Ekev"
in Independence Park in Jerusalem.
Claims Conference Worldbook 2010 launched

The
Conference on Jewish Material Claims Against Germany
(Claims Conference) has published its 2010
Worldbook
, which tracks how every dollar is spent in each of the 75 countries where the Claims Conference operates. The Claims Conference's core mission is that every Holocaust victim in every country deserves to live out his or her life with dignity and being cared for in their golden years.
The Claims Conference represents world Jewry in negotiating for compensation and restitution for victims of Nazi persecution and their heirs. It administers compensation funds, recovers unclaimed Jewish property, and allocates funds to institutions that provide social welfare services to Holocaust survivors and preserve the memory and lessons of the
Shoah
.
The
WUPJ
, as the global Jewish organization representing more than 1.8 million Reform, Progressive, Liberal and Reconstructionist Jews around the world, is a board member of the Claims Conference.
You can access the online version of the
Worldbook
by clicking
here
.
Back to In This Issue
UPCOMING EVENTS
September 19-22, 2011 - International Symposium: Changing Roles of Rabbis, Pastors, Priests, joint event between
Abraham Geiger College
at Potsdam University, Leipzig University and Regensburg, Regensburg, Germany
December 14-18, 2011 –
Union for Reform Judaism Biennial
, Washington D.C
January 25-29, 2012 -
Union of Jewish Congregations of Latin America and the Caribbean
(UJCL) Biennial Convention, Guadalajara, Mexico
March 13-15, 2012 – WUPJ Executive Board Meetings, Netherlands
March 15, 2012 – WUPJ International Assembly Meetings, Netherlands
March 15-18, 2012 – Biennial Conference of the
European Union for Progressive Judaism
, Amsterdam
June 1-2, 2012 – Biennial Conference of the
Israel Movement for Progressive Judaism
(IMPJ), Israel
June 8-10, 2012 – 80th Anniversary and Biennial conference of the
South African Union for Progressive Judaism
(SAUPJ), Johannesburg
Back to In This Issue