Special Issue #413
Special Issue #413 – 23 June 2011 / 21 Sivan 5771
IN THIS SPECIAL ISSUE:

WORLD UNION CELEBRATES THE HISTORIC DEDICATION OF THE SANDY BRESLAUER BEIT SIMCHA CENTRE FOR PROGRESSIVE JUDAISM IN MINSK, BELARUS

A JOURNEY FROM SORROW TO SIMCHA

WALKING DOWN "JEW STREET" – PROCESSION WITH THE TORAH SCROLLS

SHABBAT WEEKEND

DEDICATION CEREMONY IN BEIT SIMCHA

SANDY BRESLAUER (Z"L), A PASSIONATE, WARM AND GENEROUS PHILANTHROPIST

NETZER AND TAMAR

WHAT THE REFORM MOVEMENT HAS ACHIEVED IN THE FSU

CLOSING THE CIRCLE

GALA BANQUET AND FINAL JOURNEY

HOW IT ALL BEGAN



WORLD UNION CELEBRATES THE HISTORIC DEDICATION OF THE SANDY BRESLAUER BEIT SIMCHA CENTRE FOR PROGRESSIVE JUDAISM IN MINSK, BELARUS

Almost a year ago, after a six year search, the World Union for Progressive Judaism (WUPJ) purchased space in a building in Minsk for use by the Progressive Movement. Over the weekend of June 10, the WUPJ celebrated the dedication of this building – to be known as the Sandy Breslauer Beit Simcha Center for Progressive Judaism – with a number of meaningful and entertaining events.

The Beit Simcha Center is named for Sandy Breslauer (z"l), whose desire – with her husband, Steve - to help the Minsk community find a home was instrumental in achieving this goal.

"Sandy and Steve traveled here (to Minsk) and witnessed a remarkable congregation with special outreach to the hearing-impaired – Sheket Congregation," said Steve Bauman, past chair of the World Union. "This Progressive Jewish community needed a home, she thought, and her dreams are now being realized as a direct consequence of her passion and commitment.

"Steve, ever the gallant egalitarian, insisted that all plans for this wonderful center be completely in accordance with Sandy's vision and wishes. And so it is that Sandy and Steve Breslauer's legacy to Belarusian Progressive Jews now sits on the most prominent street in downtown Minsk serving as a beacon for egalitarian, democratic Jewish celebration and is being dedicated today."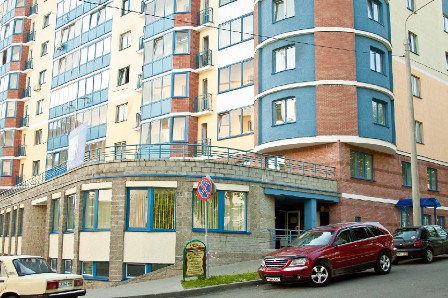 Beit Simcha Center, Minsk, is located on a street that was called "Jew Street" and was part of the old Jewish Ghetto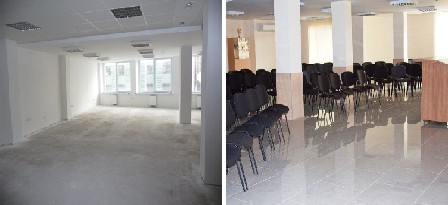 Beit Simcha before (left) and after (right)

Beit Simcha has a synagogue, a youth activity center, a community center for members of Sheket, the local congregation for the hearing-impaired, and facilities for Progressive Jewish clubs and cultural activities. It will also serve as the World Union's Belarus headquarters and as a special events venue for the city's three Progressive congregations.

Dedications festivities took place throughout the weekend and leading members of the world-wide Progressive community were invited to participate.


Back to In This Special Issue



A JOURNEY FROM SORROW TO SIMCHA

The first part of the dedication started on Friday morning with a memorial service for Holocaust victims murdered in the Minsk Ghetto between 1941 and 1943. This service took place at the former Jewish cemetery (a park today) where 100 matzevot (tombstones) remain along with a memorial of stones in memory of Jews from Germany and Austria, who were also murdered in the Minsk Ghetto.

Speeches were given by Leonid Levin, president of the Religious Union for Progressive Judaism in the Republic of Belarus; Rabbi Joel Oseran, World Union vice president; Ludmila Gutkova, a Holocaust survivor and member of the Simcha congregation, who shared her memories; Father Alexandr Shibalev from the Orthodox Church; and Father Andrei from the Catholic Church.

Rabbi Oseran spoke of the Nazi killing fields on which everyone was standing. "The ground upon which we are now standing is sacred, holy ground. Under our feet lay the choicest of God's creations – B'nai Adam – Human Beings, fashioned in the image of God – B'Tzelem Elohim Bara Otam.

"Men, women and children – Germans, Austrians, Belarusians, and others... For nearly 200 years, this place has been sacred ground, a cemetery for the Jewish community living in the area, which in World War II the Nazis turned into a Killing Field. Thousands upon thousands of our People murdered and buried under the ground upon which we stand – buried on top of the graves of others…," he said.

"The Nazis murdered our bodies, and the communists, who in 1951 closed this cemetery, tried to murder our spirit. But today is living testimony that neither physical nor political brutality can kill the image of God in each one of us. The dry bones we honor here today are being returned to life by the men, women and children of Congregation Simcha, who continue to carry forth the spirit of God and breathe new life into our Jewish heritage here in Minsk.

"In a few moments, we shall literally carry the written testimony of our People's faith in God – the Torah – to our new Home, just a few hundred meters from here," Oseran said. "Let this day serve to remind each of us – "not by might, and not by power, but by my spirit," says the Lord. Together, with good people of all religious faiths, we carry the memory of our fallen brothers and sisters with us. And we breathe new life into their memory as we bring the Spirit of our heritage to our Home – Beit Simcha."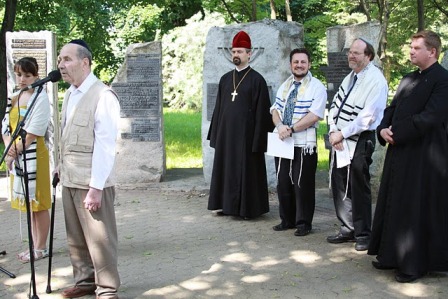 Addressing the audience (L-R), Leonid Levin, head of Jewish Organizations and Communities in the Republic of Belarus; Father Alexandr Shibalev from the Orthodox Church; Rabbi Grisha Abramovich, head rabbi of the Union for Progressive Judaism (UPJ) in Belarus; Rabbi Joel Oseran, World Union vice president: International Relations; Father Andrei from the Catholic Church



Holocaust survivor and member of the Simcha congregation, Ludmila Gutkova spoke of her experiences during the war

Six memorial candles were placed by Jim Breslauer, Michael Grabiner, Steve Bauman, Shai Pinto, Valery Sheinin and Rita Fruman near the memorial stones to commemorate the six million Jews who were murdered during the war. And three stones were placed by leaders from three Jewish organizations: Vladimir Malinkin, Yuri Dorn and Michael Kemerov (two Orthodox and one Reform).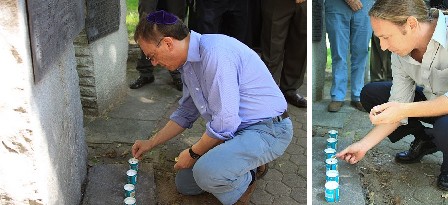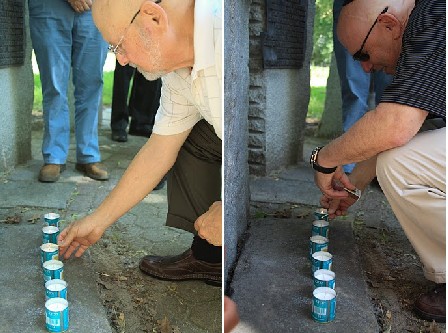 Lighting of the six memorial candles by Michael Grabiner, World Union chair (top left), Shai Pinto, World Union's Chief Operating Officer (top right), World Union's outgoing chair, Steven Bauman (bottom left) and Jim Breslauer (bottom right).


Back to In This Special Issue



WALKING DOWN "JEW STREET" – PROCESSION WITH THE TORAH SCROLLS

Immediately following the first part of the ceremony, all participants and many members of Reform congregations joined a procession with the Torah scrolls led by Rabbi Michael Kapustin and Rabbi Grisha Abramovich on Gebeleva Street, formerly a Jewish street in the capital city of Minsk. Rabbi Kapustin, Rita Fruman and Rabbi Leonid Bimbat began the Torah procession and half way, passed them to the chairs of the three Reform congregations, Simcha, Sheket and Tamar. Netzer youth followed all the Torah holders.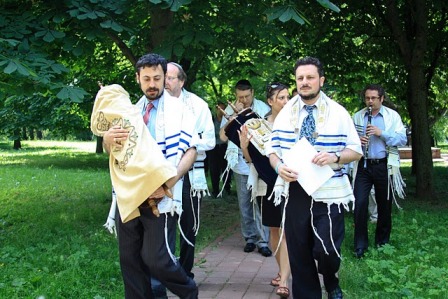 Starting the procession from the former Jewish cemetery…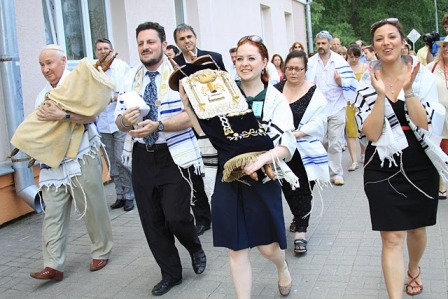 …through the streets of Minsk to their new home

The procession symbolized the journey from the Holocaust to the present Reform Jewish community in Belarus, with 11 Torah scrolls in 11 congregations (received over 13 years), to the new community with its own home and center, Beit Simcha, in the heart of Minsk. This was the first time that Torah scrolls have been marched down the streets of Minsk since before World War II!!

Once the procession of Torah scrolls reached the building, the door to the center was opened and all participants entered Beit Simcha with a Hakafa (loop) toward the Aron Hakodesh to the singing of Romemu. The Aron Hakodesh was then opened, two Torah scrolls were placed inside and the ceremony continued with prayers, readings from the prayer book and singing. Honored guest, Steve Breslauer, lit the Ner Tamid (memorial candle) and delivered a brief speech.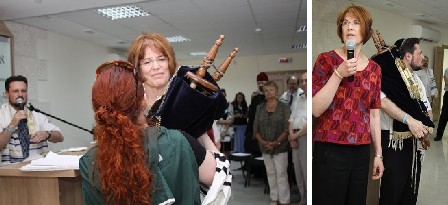 (Left) Torah scrolls passing through "chain of women". (Right) Anne Molloy, chair of the WUPJ FSU committee, addresses the crowd.


Back to In This Special Issue



SHABBAT WEEKEND

After the ceremony, guests were taken on a tour of Jewish, historic and modern Minsk with Rabbi Grisha Abramovich, the Minsk community spiritual leader, and then visited a Reform kindergarten. After a brief return to the hotel, everyone returned to Beit Simcha for a festive Kabbalat Shabbat service and dinner with members of the Simcha congregation.

The Kabbalat Shabbat service began with fixing the Mezuzah onto the door of the Prayer hall. Aleksandrina (Sandra), a student from the WUPJ Reform Jewish kindergarten, was honored with the first knock of the hammer to affix the Mezuzah. The service, which was also the 18th (Chai) anniversary of the Simcha congregation, was led by Rabbi Abramovich and Cantor Dima Karpenko.




Affixing the Mezuzah: Aleksandrina (right) assisting Rabbi Abramovich and Steve Breslauer (left)

Shabbat morning services, during which Rabbi Joel Oseran, World Union's VP for International Development, gave the D'var Torah (read the D'var Torah here), included the first baby naming ceremony in the new synagogue, as well as the first Bat Mitzvah celebration. Guests from within the Minsk community as well as from the international movement were given various honors, followed by a shared lunch and discussion with the Sheket congregation at Beit Simcha.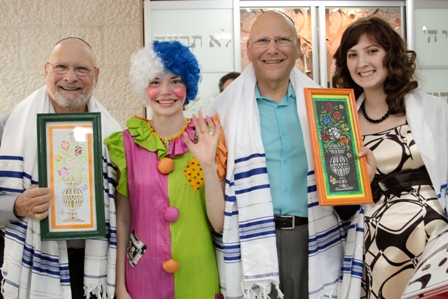 Jim (left) and Steve Breslauer with one of the entertainers and Bat Mitzvah girl, Maya Marshak (right), a member of the community, celebrating the first Bat Mitzvah in the new synagogue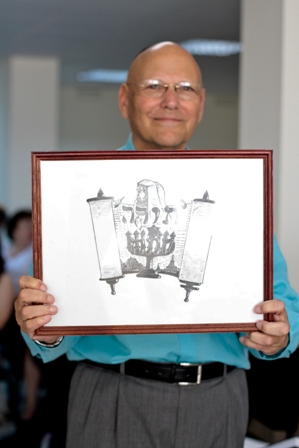 Steve Breslauer receives artwork by local artist, Arceny Aleinikov, painted specially for the occasion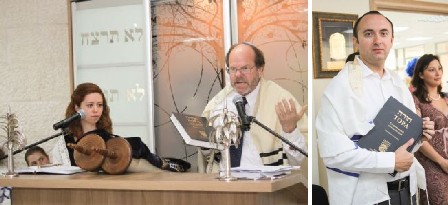 Rabbi Joel Oseran (left) giving the Shabbat drasha, and Alex Kagan (right), both holding the newly-printed Plaut Torah Commentaries in Russian


Back to In This Special Issue



DEDICATION CEREMONY IN BEIT SIMCHA

At the official dedication ceremony held at Beit Simcha during the afternoon, a special plaque was unveiled by Steve and Jim Breslauer, and executives from the various committees were invited to speak. Children from the Minsk Jewish preschool gave a musical presentation and the Shalom Ensemble provided the musical interlude between speeches.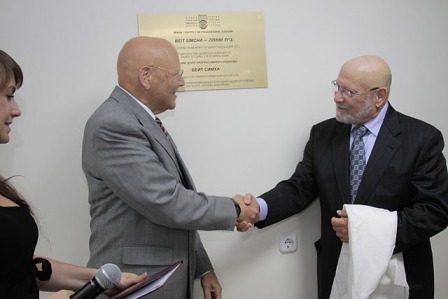 Jim and Steve Breslauer complete the unveiling of the Beit Simcha plaque

"Today is a truly historic event not only for Progressive and Reform Jews, but also for the Jewish community as a whole," said Michael Grabiner, chair of the WUPJ, as he welcomed VIPs from around the world. "As you know, our new Beit Simcha Centre is located on what was once a Jewish street prior to the Shoah and, at last, we have now returned with a renewal of Jewish life."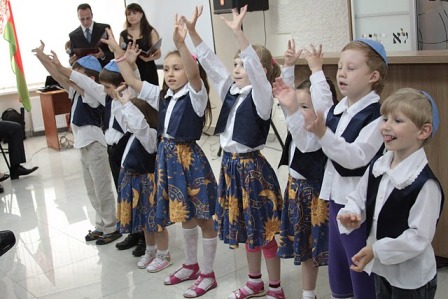 WUPJ Minsk Jewish preschoolers take part in the celebration

The Reform Movement now owns three buildings in the capital cities of the FORMER SOVIET UNION (FSU), including Moscow and St Petersburg. Plans are underway to ensure the next building is in Kiev.

"We are all particularly proud of our strong and active Reform Movement in Belarus in general, and in Minsk in particular," he said. "In Minsk alone, we have three congregations. Sheket, a unique congregation for the hearing impaired which, I know was very special to Sandy Breslauer; the Simcha community, which was at the forefront of Belarus Jewry and has now reached its 18th anniversary; and the Tamar community whose members are youth and students.

"They hold seminars, camps and other activities throughout the year and are absolutely vital to the future of Jewish life. There are an additional 11 congregations throughout Belarus that hold regular activities supported with limited resources. We hope very much that all these congregations will now be able to take advantage of this wonderful facility, which will be open not only to the Reform community, but to the entire Jewish community."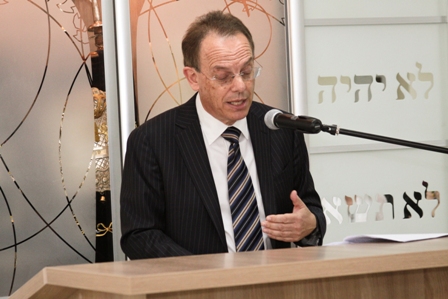 Mike Grabiner warmly thanking those who made this project possible

Grabiner thanked the donors and their families "without whom none of this would have been possible" and he toasted Sandy Breslauer, who "exuded simcha or happiness her entire life, and therefore," he said, "the new center has been named Beit Simcha in her memory", and her husband, Steve, a "dedicated leader of the international Reform Movement and honorary life member of the Executive Board of the World Union for Progressive Judaism. Sandy and Steve, throughout their lives, grew up in a giving culture and have always taken care of others less fortunate. This Centre is further testament to their philanthropic activities."


Back to In This Special Issue



SANDY BRESLAUER (Z"L), A PASSIONATE, WARM AND GENEROUS PHILANTHROPIST

A special film tribute to Sandy Breslauer (z"l), who had passed away after a long illness a year ago, was produced for the event and was screened during the ceremony.

Steve Bauman, past chair of the World Union and a friend of the Breslauers, spoke of a "mission inspired by the extraordinary love of a remarkable woman and her equally astonishing sweetheart and life-partner. To our deep regret and sorrow, Sandy Breslauer is not here to celebrate the realization of this dream of hers," he said.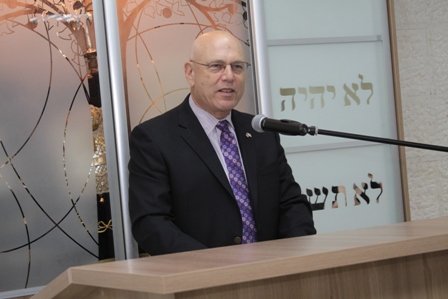 Steve Bauman speaks warmly of the Breslauers

Anne Molloy, chair of the World Union's FSU Committee, expressed the Movement's gratitude to the leaders of the Minsk community. "You are to be congratulated first and foremost for the work you have done creating and building a warm, welcoming and strong Progressive Jewish community in Minsk," she said. "That is really what this celebration is about. And what better way to celebrate than with the dedication of a building that is your own. You have grown to the point where you need a dedicated space to do the work that you do – to learn, to worship, to gather as a community, to welcome and help those in need.

"We were blessed to have the vision of Sandy Breslauer, and the commitment of Sandy and Steve which enabled this project to happen. We all miss Sandy, but she is certainly with us today in our hearts, and I am certain she would be delighted with the outcome of this project. And to Steve, Jim and all members of the Breslauer family, thank you so much for your support and guidance that have given physical roots to Simcha, Sheket and Tamar, and to all Progressive congregations in Belarus, who will also benefit from this project," said Molloy.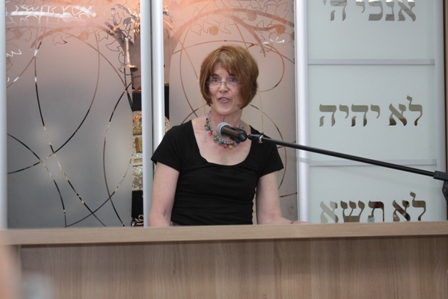 Ann Molloy expresses gratitude to the local community

"And what a perfect home this is! The location re-establishes Jewish life on Jew Street – another reason in and of itself for celebration. Beit Simcha is light and spacious and beautifully finished. It is exciting to think about the possibilities for the future enabled by this project."


Back to In This Special Issue



NETZER AND TAMAR

Youth are never far away during a community event and this was no option. Netzer and TaMaR in the FSU have grown dramatically over the past decade and Artur Rayskiy, an active member of Netzer youth movement, added that the Reform Jewish youth in Belarus had a very important and crucial role to make this home a family home, one that is warm, friendly and hospitable.

"By giving us this home, you have given us the opportunity to grow and develop, impart Jewish knowledge from generation to generation, and to welcome to our communities and youth clubs all those who identify with Progressive Judaism, a movement founded on the principles of pluralism and equality," he said.



Steve Breslauer accepts a symbolic key of Beit Simcha from Netzer representative, Artur Rayskiy

"We are a new generation of Netzer, and we will do everything possible to ensure that the younger Jewish generation know and practice the revered tradition of the Jewish people, study its history and create a written history of modern Jewish life!"


Back to In This Special Issue



WHAT THE REFORM MOVEMENT HAS ACHIEVED IN THE FSU

Alex Kagan, World Union's FSU director, remembered how things were in the past and compared them to the present. "Exactly 20 years ago, after a deep and prolonged information vacuum, a revival of Jewish life began in Belarus.

"For the longest time, we were taught the most important thing to do, the only thing that could give us an opportunity to survive and perhaps even succeed during those years, and under those conditions – to hide our Jewishness and try to be like the others. However, each of us knew where he or she was from, to what people we belonged to; each one knew and believed.

"That is why, when the Iron Curtain collapsed, we embraced with all our strength the next stage in our common Jewish history," he said. "We were a generation at a junction between the past and the future of the Jewish people in the FSU. We did not know exactly how and what to do; how to keep tradition and express the laws of Halacha. We did not have teachers, many books, or especially even rabbis, but we firmly believed that this most important mission of putting together and operating this most complex mechanism called "new Jewish life" was on our shoulders. Through enthusiasm, faith and optimism we did it!"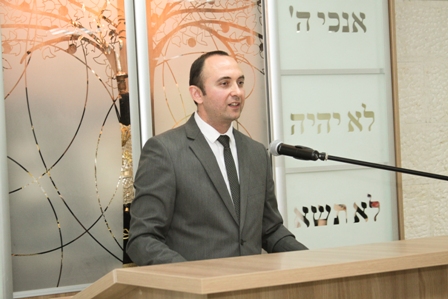 Alex Kagan remembering how things used to be

According to Kagan, the Jewish world of Belarus has undergone significant changes and the Reform movement has taken a very active part in this process since then. "Today, looking back, we cannot remain indifferent to the changes and achievements in our movement over the last 20 years. Established: Jewish communities, kindergartens and Sunday schools that offer extensive educational activities, the largest religious Zionist youth group (Netzer), which holds camps and seminars, important religious publications, which are the basis of Judaism: Siddur, Machzor, Haggadah, and more.

"However, without any doubt, the purchase of this beautiful center, located on a former Jewish street where yesterday we returned a Sefer Torah, is the embodiment of our biggest dreams and aspirations. Neither this building nor any of the achievements I have described above would have been possible without the help of our friends who are with us here today…"

"Today, we are not only opening our center, but also a new page in our history," Kagan said. "What will be written in it is in our hands. Building a house, erecting exterior walls, making repairs, we understand that this is only the beginning. After all, no matter how modern and attractive our center is, the real beauty, warmth and spirituality need to be here within these walls. I am sure that despite any challenges and obstacles in the country, the Belarusian Reform Movement will have a bright future, because it is in your hands.


Back to In This Special Issue



CLOSING THE CIRCLE

The World Union's Chief Operating Officer, Shai Pinto, spoke about how he felt "both professionally and personally" about being at the dedication to "close the circle".

"It has been a long and challenging journey, full of ups and downs, requiring faith, determination, creativity, collectivity and team work, all if which characterize us as a people," he said. "A journey much longer than the 500 meters we journeyed together from that symbolic gravestone, a journey from past to future.

"I look back at the many negotiation meetings with a sense of achievement and satisfaction. I remember the excitement of the signing ceremony, and the look on the faces of our team, a mixture of hope, relief, joy (simcha), and how proud I felt. And more than anything else, I remember the very first phone call we made after signing the deal – the call to Sandy z"l. The simcha in her voice that day – will live within me forever.

"I thought then, as I feel even more now, that among the many sounds we heard today - the speeches, the music, the prayers – one can actually hear what we call in Hebrew: משק כנפי ההיסטוריה, 'the beating of the wings of history'. There are very few moments in a person's life when he can say that..."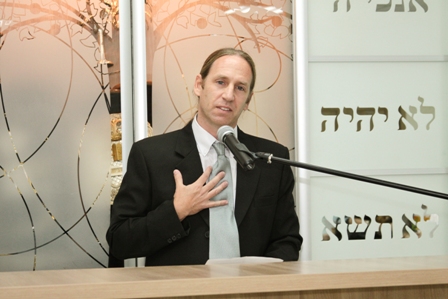 Shai Pinto closes the circle

"I stand here today representing 1.8 million Progressive Jews in 45 countries around the world, the largest organized Jewish family on the planet. Each and every one of them feels proud today, and walks a little taller, and on behalf of each and every one of them, I want to say thank you and בהצלחה, good luck."

"May simcha dwell in this home and in our hearts for generations to come."

מי שברך את אבותינו ואמותינו, הוא יברך את כל באי הבית הזה
ותשכון תפילה בליבם ושמחה בנפשם לעד, ונאמר אמן

Back to In This Special Issue



GALA BANQUET AND FINAL JOURNEY

After the closing of the official dedication ceremony, the gala banquet began with a heartwarming and meaningful Havdalah run by the Netzer youth.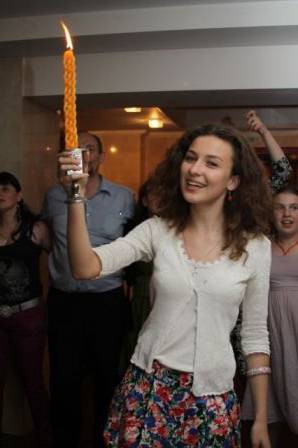 Netzer Youth celebrate the end of Shabbat with Havdalah

During the evening, a local folk group entertained the guests and the young adults group performed some Israeli dancing. This banquet formally concluded a weekend of remembrance, celebration and entertainment – a weekend never to be forgotten.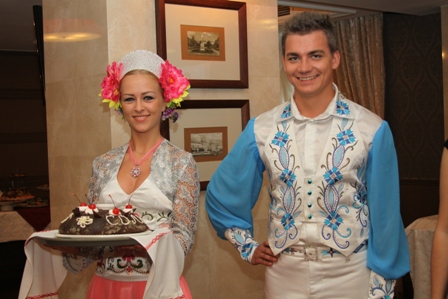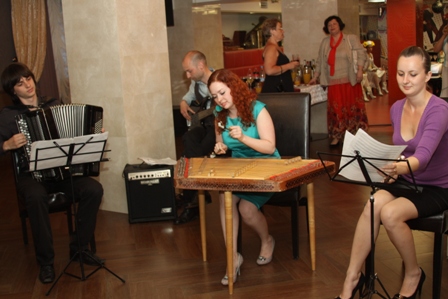 Music, dance and entertainment Minsk-style

On Sunday, many guests travelled back to their respective homes, but a few decided to stay on and join the excursion to Khatyn WWII Memorial Village, which preserves the memory of Belarusians (Jews and non-Jews alike) who were burned alive by the Nazis in Belarus during WWII. The site is located about 60 minutes by car from Minsk.

One of the architects who created the memorial site was Leonid Levin, who has served as the head of the Jewish community in Belarus for several decades and who participated in the Beit Simcha dedication festivities. The site was erected under the communist period and therefore does not give special mention to the Jews who were murdered by the Nazis, but rather treats the subject from a national Belarusian perspective. Steve Bauman, Jim and Steve Breslauer, Alex Kagan, Rabbi Joel Oseran and Rita Fruman participated in the excursion.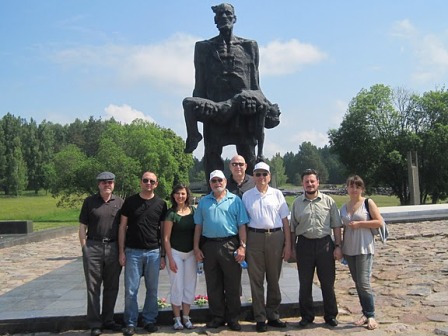 World Union staffers pose with Steve Bauman and Jim and Steve Breslauer in front of the Khatyn Memorial statue

That night, Rabbi Grisha Abramovich and his wife, Ira, hosted the group for a dinner in their new home, joined by WUPJ Belarus executive director, Michael Kemerov, and his wife, Irina.

"This was a special goodbye dinner, which capped off an incredible weekend of dedication activities and events," said Oseran. "Everyone offered up toasts of thanks and appreciation, and the evening was captured by a spirit of great love and warmth."


Back to In This Special Issue



HOW IT ALL BEGAN

In his speech to guests at the dedication of Beit Simcha, Steve Breslauer spoke of his various trips to Minsk with his wife, Sandy (z"l), and how her dream came about.

I still remember so vividly the first time Sandy and I visited Minsk. It was 1999 and we were part of a small World Union mission touring the Former Soviet Union (FSU) to learn about, and meet with, the young and growing Progressive Jewish communities. Minsk was our second stop.

We arrived on a Friday morning and that evening, we joined the three Progressive congregations in a joint Kabbalat Shabbat service. It was held in a large, open, second-floor room. One highlight of the service was the delivery and dedication of a Sefer Torah to the Minsk community. Another was the moving service, led by Nellie Shulman, your spiritual leader at that time. The service was enhanced by the beautiful voice and musical accompaniment of Leonid Gurvitch, a young and talented student at the local conservatory.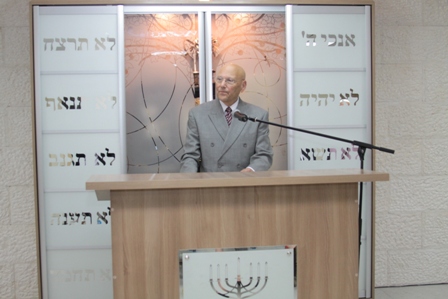 Steve Breslauer shares his memories of how the journey began

But what I remember most about that evening was the dinner after the service. Sandy and I sat with, and were captivated by, the Sheket congregation. You see, our first child is profoundly deaf, and we were thrilled to see that the hearing-impaired Jews in Minsk were so well served. That was the beginning of a relationship that blossomed over the years. Sandy loved the letters she received from her friends in that congregation and was always quick to answer them.

We returned to Minsk in 2002 as part of another World Union mission. We renewed friendships and became more aware of the limitations imposed on the community by the small size and location of its rented facilities. Through her correspondence with members of the Sheket community and our visits, Minsk had become a priority for Sandy.

Three years later, the World Union held its biennial convention in Moscow, and Sandy and I were there. Of course, we met with our friends from Minsk, and after the convention, Sandy told me she wanted to help purchase a permanent home for the Minsk community. The home had to have classrooms, meeting facilities and a synagogue. She told the World Union of her desire and asked them to look for a suitable facility.

Over the next several years, we were notified on several occasions that a suitable building had been identified. In each case, the opportunity disappeared. In one case, the seller changed his mind. In another case, the building title was encumbered. And so on…

Our frustration level was high, but we urged the World Union (and the Minsk community) to continue searching. Their persistence paid off, and the ideal space was found in a new building that was under construction.

During this time, Sandy became ill with lung cancer, and it became a race against time. Could we clear all the hurdles and purchase the space in time for her to learn that her dearest wish would become reality. The answer is YES! Sandy received a telephone call from Rabbi Grisha Abramovich and Alex Kagan a year ago, just two weeks before her death, that the new home of the Minsk Progressive community had been purchased.

Sandy breathed a sigh of pure joy, and the smile on her face was priceless! She was so happy to learn that the Minsk Jewish community would finally have a home of its own. A space where it could pray together, play together and study together; where her beloved Sheket congregation would continue to thrive.

Sandy did not like to call attention to herself; she preferred to stay in the background and to give others credit. She would praise the key roles that Alex Kagan, Rabbi Grisha Abramovich, Michael Kemerov, Valery Sheinin, Anne Molloy, Rabbi Joel Oseran, Shai Pinto and many others played in finding and finalizing the purchase of this new home. And yet, I know that without Sandy's dedication and conviction, we would not be here today. So I say: "Thank You" for your loving and thoughtful dedication of this Center of Progressive Judaism to her memory.

Sandy's only wish would be that Beit Simcha, which means "house of joy", this new home for the Progressive Jewish community, will be a center for learning, for worship, for service to all.

May you go from strength to strength, and may Beit Simcha be a blessing to the entire Minsk community and to Sandy's memory for many years to come.

Keyn yehi ratzon! May it be G-d's will!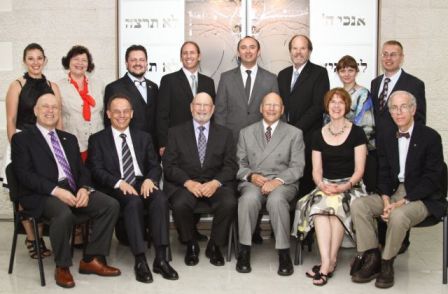 World Union lay leaders and staffers at Beit Simcha


This special report was written and compiled by Darryl Egnal.
Photographs by Tatiana Zuckerman.


Back to In This Special Issue