Issue #412
ISSUE #412 – 16 JUNE 2011 / 14 SIVAN 5771
:
SHAVUOT CELEBRATED IN STYLE – IN ISRAEL AND INTERNATIONALLY
TAMAR HOLDS YOUNG JEWISH CONNECTIONS SEMINAR IN BRAZIL
BETTY AND ARTHUR ROSWELL HONORED FOR THEIR DEDICATION TO THE MOVEMENT
REFORM JUDAISM IN ISRAEL MAKING PROGRESS! DANIEL CENTERS RECEIVE FUNDING FROM THE GOVERNMENT
WARDS OF STATE B'NEI MITZVAH PROGRAM
UPCOMING EVENTS

NOTE TO OUR READERS
SHAVUOT IN ISRAEL
A night of learning and discussion at Beit Shmuel

About 500 Israelis flooded the
Hebrew Union College
(HUC) campus in Jerusalem for Tikkun Layl Shavuot, which lasted all night. In a joint program with the World Union for Progressive Judaism (WUPJ) and the
Israel Religious Action Center
(IRAC) of the
Israel Movement for Progressive Judaism
(IMPJ), and with the support of the
New Israel Fund
(NIF), HUC opened the event in the Blaustein Hall at
Beit Shmuel
with a panel discussion.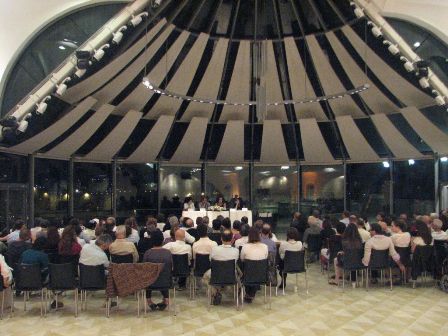 The panel, which reflected on "Families through the lens of the Book of Ruth", included Prof Chaim Omer, psychologist; Dr Orit Kamir, lawyer; and Meirav Michaeli, journalist; and was moderated by Dr Ruchama Weiss, director of the Balustein Center for Pastoral Counseling at HUC.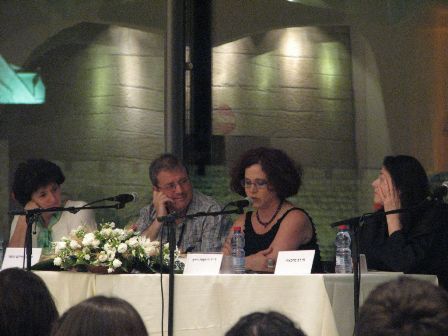 (L-R) Orit Kamir, Chaim Omer, Ruchama Weiss and Mayrav Michaeli

This successful opening of the evening was followed by workshops and text study led by HUC staff (Weiss, Rabbi Yoshi Zweiback and Rabbi Naamah Kelman) and guests. Workshops included topics such as: Issues of Fertility Treatment: Medical Advancements and Ethical Dilemmas with Prof Neri Lauffer from Hadassah Hospital; Art, Music and Family with Shannan Street, lead singer of Dag Nachash Hip Hop Group; Homophobia with Jonathan Ger of the Open House; Family Names and Games in Hebrew with Dr Tzvia Walden; and Separate Bus Lines in Jerusalem with Hanan Cidor of the IRAC staff.
Nourishing Shavuot soul with study

On Shavuot eve, after the cheesecake is polished off and the leftover lasagna is put away, Tel Avivians shift to nourishing their souls at the
Daniel Centers
for Progressive Judaism.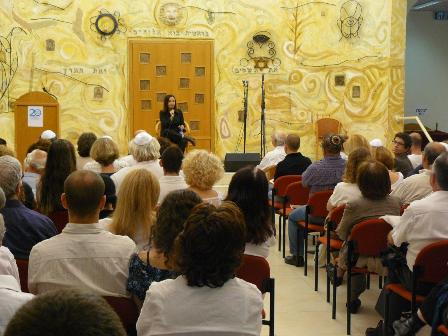 At the centers' three locations – Beit Daniel, Kehilat Halev and Mishkenot Ruth Daniel in Jaffa – the Shavuot tradition of all night study is alive and well, and takes on a modern twist. This year, more than 30 prominent Israelis, including author AB Yehoshua, MK Shelly Yachimovich and musicians Shem Tov Levi and the Big Tish joined the Daniel Center's rabbis and lectured into the early morning hours.
Committed students who were still awake and studying when the sun rose were rewarded for their efforts with an inspiring Shacharit service on the Yarkon river.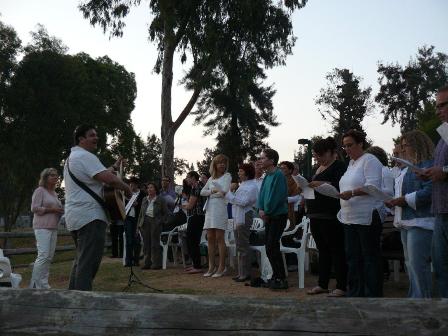 Celebrating nature's bounty at Ma'alot Tivon

Shavuot was observed with a fresh new twist at
Ma'alot Tivon
in the beautiful Jezreel Valley. The festivities took place outdoors on a main lawn in front of the Kiryat Tivon local council, where both children and adults were encouraged to fashion crowns of flowers and branches and wear them in a colorful, nature-inspired celebration. Community members, Leora Bedloach and Yael Shapira, were on hand to offer guidance.
A demonstration on gathering and planting seeds was followed by a cheesecake judging competition and a choral welcoming of the holiday. The crowd of nearly 100 sang several Shavuot songs and also learned the text of some holiday-related poems. The celebration ended with a traditional and festive Kiddush.
At Tzur Hadassah, Shavuot for every generation

Dozens of residents came together for the traditional all-night study, discussing the concept of freedom and observance until the early morning hours. Rabbis led the
congregation
in a multi-dimensional exploration of the Jewish people's relationship with Talmud and Israel, using videos and art as supplements.
The conversation also focused on Hebrew poetry, biblical stories and the ideas of loss and rebirth. The intense all-night learning was supplemented by song, food, and of course, plenty of coffee. For the children of the community, there was a beautiful morning prayer service in which regional first-graders read the Ten Commandments alongside their parents. Second-graders and veteran members of the community participated in a shared blessing, followed by a group reading of the Book of Ruth and, of course, a delicious festival meal.

A flutter of activity and light

Shavuot celebrations lasted a week at
Or Hadash
and made the community's name – New Light – into a literal experience. After several months of preparation, led by Shlomit Becker and a team of volunteers, Shavuot week opened with six children being called to the Torah. The following day, kindergarteners and their families learned about the agriculture roots of Shavuot and baked their own bread so they could truly taste the holiday.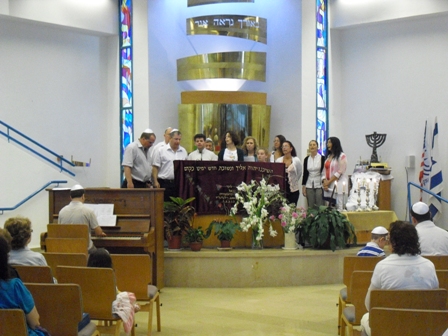 Shabbat brought a joint mission of Christians and Jews together with a Friday night Torah reading and a Saturday morning blessing of 20 women, ages 18-78, who together shared in the special mitzvah of reading from the Torah. The week continued with a Bat Mitzvah and a very special performance by American Jewish rocker Rick Recht.
L-R: Rick Recht, Rabbi Dr Edgar Nof and Rabbi Micah Greenstein
Shavuot at the top of Israel
In Nahariya, way in Israel's northern tip, 70 congregants from
Kehilat Emet V'Shalom
came together for the best parts of the Shavuot holiday – music, prayer, Torah and a meal. They learned and feasted from 7 pm until well past midnight. Watch the slideshow
here
.
Back to In This Issue

SHAVUOT EVENTS AROUND THE WORLD
Elmshorn celebrates new premises with Shavuot evening of learning
Juedische Gemeinde Elmshorn
, the Reform congregation in Elmshorn, Germany, celebrated Erev Shavuot for the first time in the new synagogue with a service led by Abraham Geiger rabbinical student, Adrian Schell. The Book of Ruth was read in Hebrew, German and Russian and, after services, a Kiddush of cheesecake, cheese Blinis and other dairy dishes was enjoyed.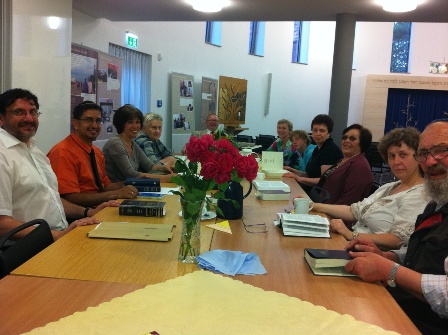 The Elmshorn congregation's tradition is to study from 8pm on Erev Shavuot until the early hours of the morning, and this year in the new premises was no different. The topic was Jacob's Testament and what parents pass on to their children. The lively discussion was enjoyed by all 15 members present.
After a long and interesting evening of study with delicious Shavuout treats and steaming hot vegetable soup, everyone headed home, tired, but content, and looking forward to Shavuot again next year as well as many more entertaining celebrations in the new premises.
Gloucestershire Liberal Jewish Synagogue celebrates Shavuot

The
Gloucestershire Liberal Jewish Synagogue
(GLJC) members spent Shavuot engaged in creative individual interpretation of Midrash during their Tikkun Leyl Shavuot. Participants were asked by Student Rabbi, Anna Gerrard, who led the event, to interpret Genesis 1:26-27 using colored paper and glue. They started their celebration with a Shabbat service followed by discussion of Midrash, a plentiful supply of tea and coffee and a cheese-cake competition, and went home in the early hours of the morning.
London communities join together in a night of study

Six North London Reform synagogues came together for a Tikkun Leyl Shavuot. Hundreds of their members joined to grapple with Maimonides' 13 Principles of Faith at the Sternberg Centre, headquarters of the Reform Movement in the UK. Erev Shavuot services were led by RSY-Netzer Movement workers, which were followed by 15 study sessions through the night led by 13 movement rabbis and other educators who covered subjects as varied as "The God of mathematics and the mathematics of God", "Does prophecy still exist" and "God is so unfair – I don't deserve this".
As always with a Jewish event, dinner was served with coffee and cake available throughout the night. The hardy ended their night of study with Sharcharit on Hampstead Heath at dawn. This is the second year that the event has taken place and it looks as though it will become a popular annual event in the London Jewish diary.
Back to In This Issue

TAMAR HOLDS YOUNG JEWISH CONNECTIONS SEMINAR IN BRAZIL
The first Young Jewish Connections in Brazil held by
TaMaR Olami
, the WUPJ's Young Adults group, and organized by Rabbi Guershon Kwasniewski of SIBRA-Porto Alegre, and Rabbi Pablo Berman from CIP-Curitiba, took place during the first weekend of June at the Plaza Itapema Resort in Santa Catarina. About 50 young adults aged 20 to 35 from Jewish communities in the south of Brazil participated in the event.
After the official opening of the TaMaR event on Friday night, a Kabbalat Shabbat was celebrated under the stars. On Saturday morning, all participants joined in services together and held discussions about the Parasha of the week.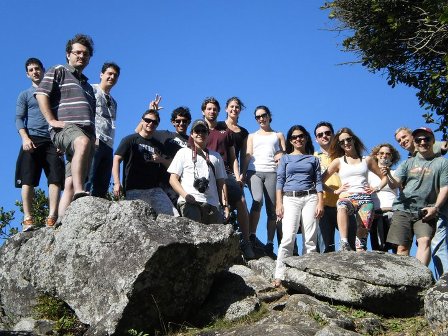 Talks and discussions over the weekend included: "Judaism and enterprise" by Arthur Grynbaum, owner of a large Brazilian cosmetics and perfume company, O Boticário; a presentation about the Hasbará project, "Israel na Web", by journalist and coordinator of the project, Renato Aizenman; an overview of TaMaR Olami by Eduardo Catap, WUPJ-LA representative from Sao Paulo; and a presentation of the various Israel study programs and other relevant projects by Gaby Glasman and Debby Grinberg from the Jewish Agency Cultural Interchange shlichot.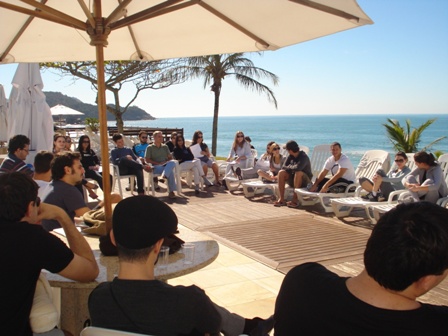 According to Maoz Haviv, executive director of Netzer Olami and TaMaR Olami, TaMaR has been involved with, connected to, and has participated in, local young adults' activities, celebrations and seminars in Brazil for 10 years.
"Over the past decade, we [TaMaR] have helped to develop and grow the local branch of TaMar in the country's Reform communities – ARI in Rio de Janeiro and CIP in São Paulo as well as the communities in Porto Allegra and the vicinity.
"Once we found out that Rabbi Kwasniewsky and Rabbi Berman were planning this seminar in Brazil, we became involved with no hesitations. We provided financial support and other assistance, but since neither Yuval (Nemirovsky, TaMar Olami coordinator) nor I could attend, we organized - together with Miriam Vasserman (WUPJ Latin America Region president) – for Eduardo Catap to represent TaMaR at the seminar and provide the participants with information about the organization. And from what we heard, the weekend was a huge success, with participants looking forward to more such events," he said.
Back to In This Issue

TEMPLE BETH-EL, HILLSBOROUGH HONORS BETTY AND ARTHUR ROSWELL FOR THEIR DEDICATION
.
Betty and Arthur Roswell of Bridgewater were honored by
Temple Beth-El
, Hillsborough, during Shabbat services in April, for their dedication to the
World Union for Progressive Judaism
(WUPJ). Rabbi Gary Bretton-Granatoor, vice president of the World Union, was guest speaker for both the Friday and Saturday services, and Rabbi Arnold Gluck of Temple Beth-El ran services.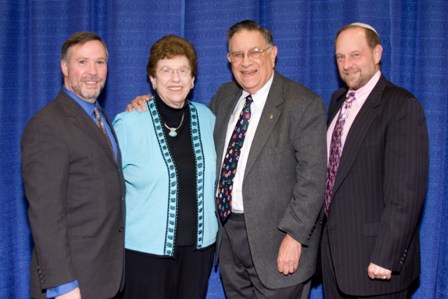 (L-R) Rabbi Gary Bretton-Granatoor, vice president of the World Union, Betty and Arthur Roswell, and Rabbi Arnold Gluck of Temple Beth-El

The World Union functions in 45 countries, promoting an inclusive, welcoming, egalitarian expression of Jewish life. The Roswells have been instrumental in promoting the work of the World Union in the former Soviet Union, Eastern Europe, and in Israel, traveling extensively in pursuit of this cause, and giving generously of their time, energy and resources.
A member of the Union for Reform Judaism, Temple Beth-El was founded in 1953 by 15 families. Today, the congregation numbers more than 450 households and offers a variety of cultural, educational, social and spiritual opportunities to its members and to the greater New Jersey Jewish community.
Back to In This Issue

REFORM JUDAISM IN ISRAEL MAKING PROGRESS!
THE DANIEL CENTERS FOR PROGRESSIVE JUDAISM RECEIVE FUNDING FROM THE GOVERNMENT
After 20 years of activity, the
Daniel Centers
in Tel Aviv-Jaffa have finally been recognized by Israel's Ministry of Education for their education work over the years, marking the first-ever government grant for a Reform organization involved in Jewish education
.
The Daniel Centers' Jewish education work in Tel Aviv's elementary schools has been recognized by the Education Ministry in the most concrete and tangible way – with a $30,000 renewable grant. This is a real advance for the Reform movement as a whole and comes hot on the heels of the Daniel Centers' 20th anniversary.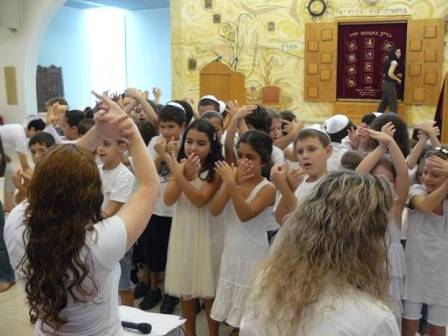 Grade Two students receiving the Torah in a school and shul program

In 1991, Beit Daniel, the first Reform synagogue in Tel Aviv, opened its doors. Twenty years later, in honor of this occasion, and to celebrate the 95th birthday of Gerry Daniel, the founder of Beit Daniel and a past president of the
World Union for Progressive Judaism
(WUPJ), the Daniel Centers are hosting a reception on July 1, 2011. Joining the celebration at Beit Daniel will be leading figures in Israeli society, congregation members and overseas supporters.
"I'm so proud of the Daniel Centers' achievements over the past 20 years," said Gerry Daniel. "They have grown from a small Reform temple that had no government support and, in some cases, active opposition, to a major force in Israeli society."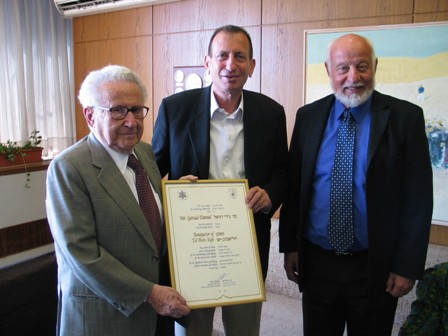 Gerry Daniel (left) receiving honorary citizenship of Tel Aviv from Mayor Ron Huldai (center), with Abraham Ben Shoshan, former director general of the Tel Aviv Foundation (right)

The Daniel Centers for Progressive Judaism include three Reform congregations in Tel Aviv — Beit Daniel, Mishkenot Ruth Daniel in Jaffa, and Tfilat Halev. With a wide variety of innovative education, cultural and spiritual programs, the Daniel Centers provide multiple opportunities for Israelis to engage in the Progressive Jewish experience.
In 2007, Beit Daniel embarked on a new initiative with the opening of Mishkenot Ruth Daniel — a community, learning center and guest house — in the heart of multi-ethnic and religious Jaffa. Among its innovations was to provide programming to the diverse Jaffa community building bridges as well as invigorating Jaffa's economy through its guest house and Tel Aviv-Jaffa tours. Through the Daniel Centers' presence in Jaffa, they became involved with a failing Arab-Jewish school — the Weitzman School — and in so doing, have helped to ensure its survival.
Back to In This Issue

WARDS OF STATE B'NEI MITZVAH PROGRAM
At the beginning of June,
Or Hadash
in Haifa celebrated the most significant rite of passage in a Jewish child's life – Bar/Bat Mitzvah – with Israel's Wards of the State, one of the community's most cherished projects. The Wards of the State B'nei Mitzvah program earned Or Hadash a Merit of Honor from the
Israel Movement for Progressive Judaism
(IMPJ) at the 2010 biennial convention
.
Wards of State are children who have been taken out of their homes for various reasons, such as abuse, neglect and safety. They are cared for by the state and provided with whatever they need on a daily basis.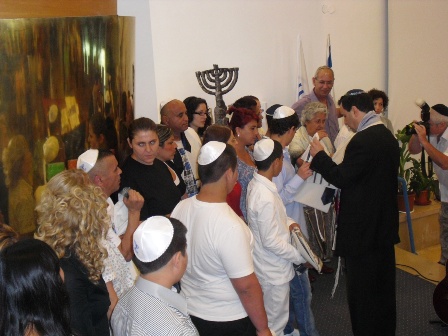 Wards of State B'nei Mitzvah and relatives on Or Hadash's Bimah during the ceremony

"When we come in to prepare, teach and engage them in something as significant as a Bar Mitzvah ceremony, they, for the most part, embrace their spiritual maturity," said Rabbi Edgar Nof. "Each child is made to feel a part of the Jewish people. Our goal is to provide Wards of State children with a dignified Bar or Bat Mitzvah ceremony and give them an experience that they will remember for the rest of their lives," he said.
During the boys' study time - praying Morning Prayer (Shacharit) out in nature

The process of granting Wards of State a Bar or Bat Mitzvah celebration begins with months of weekly studies with Rabbi Nof. The children are also provided with transportation, books and CDs to learn their individual portions. They are presented with talitot, tefillin, kippot and a set of new cloths for the event. On the day of the celebration there is a catered party and they all receive an individual cake with their name on it, as well as professional photographs and a DVD of the event. The children also receive a personal gift.
Many volunteers are involved in B'nei Mitzvah project each year. The project, which has been going for the past 11 years, is made possible thanks to generous donors and friends of Or Hadash from the United States.
Back to In This Issue

ATTENTION: WUPJ MEMBERS
Please send us your international news stories, photos and information on the chaggim to share with other WUPJ members in our fortnightly newsletter. Email wupjnews@yahoo.com.


DEDICATION OF NEW PROGRESSIVE JEWISH CENTER, MINSK - JUNE 10-12, 2011

Stay tuned for a special report on the Minsk dedication coming soon!



UPCOMING EVENTS

July 7-10, 2011 – Annual Conference, Union of Progressive Jews of Germany, Spandau/Berlin

September 19-22, 2011 - International Symposium: Changing Roles of Rabbis, Pastors, Priests, joint event between Abraham Geiger College at Potsdam University, Leipzig University and Regensburg, Regensburg, Germany

December 14-18, 2011 – Union for Reform Judaism Biennial, Washington D.C

January 25-29, 2012 - Union of Jewish Congregations of Latin America and the Caribbean (UJCL) Biennial Convention, Guadalajara, Mexico

March 15-18, 2012 – Biennial Conference of the European Union for Progressive Judaism, Amsterdam

June 1-2, 2012 – Biennial Conference of the Israel Movement for Progressive Judaism (IMPJ), Israel

June 8-10, 2012 – 80th Anniversary and Biennial conference of the South African Union for Progressive Judaism (SAUPJ), Johannesburg

August 8-12, 2012 – World Union for Progressive Judaism-Latin America (WUPJ-LA)'s 4th Conference of Jewish Communities, Buenos Aires






Back to In This Issue