Issue #408
Issue #408 – 7 April 2011 / 3 Nisan 5771
:
INCOMING WUPJ PRESIDENT, RABBI STEPHEN FUCHS, WELCOMED TO ISRAEL
RABBI RICHARD JACOBS TAPPED TO LEAD UNION FOR REFORM JUDAISM
HISTORIC EVENT FOR BELARUS AND THE FSU
PACKING PARCELS FOR PURIM AND PESACH
KIBBUTZ LOTAN TURNS 28
UPCOMING EVENTS
INCOMING WUPJ PRESIDENT, RABBI STEPHEN FUCHS, WELCOMED TO ISRAEL

Last month, the World Union for Progressive Judaism (WUPJ) named Rabbi Stephen Fuchs incoming president of the organization. While he officially takes on his new position as president in July, he will use the next three months to become more acquainted with the people with whom he will be working.
Rabbi Fuchs arrived in Israel at the beginning of April to meet WUPJ staff, re-acquaint himself with our center and the city in general, and discuss the preparation for his official start in three months. According to WUPJ chief operating officer, Shai Pinto, everyone at the WUPJ is looking forward to working with Stephen.
"We are delighted and excited that Rabbi Fuchs has been appointed as president, and we look forward to his term beginning this summer," he says. "Stephen has now been introduced to all the staff in Israel and we all feel we're entering a new phase for the World Union, one that will have a positive impact on the organization as a whole."
The following is Rabbi Stephen Fuchs' message to all WUPJ members.
Dear Friends

When I received the phone call inviting me to become the President of the World Union for Progressive Judaism, I was filled with an overwhelming sense of humility and gratitude.

To work for K'lal Yisrael, to advance Progressive Jewish life in Israel and around the world is the opportunity for which I have been preparing my entire life.

From my first Simchat Torah in Israel over 40 years ago to this day - through numerous sermons, public lectures, essays, letters to the press, debates, radio and TV appearances – the ongoing development of Progressive Judaism in Israel has been my recurring passion. I see my new role with the WUPJ as the capstone of all of those efforts, and I eagerly look forward to working together with the IMPJ, ARZA, and my rabbinical colleagues in MARAM to continue to place Israel at the center of Reform Jewish growth.

The breadth and scope of the work of the WUPJ is exciting and challenging, and from what I have learnt from the many Jews from the former Soviet Union in my congregation, I have been inspired to do all that I can to further the revitalization of Jewish life in the land of their birth.

My father grew up in Leipzig, Germany, was arrested on Kristallnacht and was fortunate enough to have relatives in the United States who secured his release and made it possible for him to come to this country. His experience fuels my desire to participate actively in the enthusiastic growth and development of Progressive Judaism across Europe and to help it grow ever stronger in Asia, South Africa, Australia and Latin America. I look forward to visiting and learning from each one of these communities.

Working together as a team, a dedicated staff and a deeply committed group of lay leaders and volunteers can and will make the World Union's wonderful work even more effective in the years ahead.

Rabbi Stephen Fuchs
Incoming WUPJ President

A special notice was sent out to all WUPJ members at the end of March announcing this appointment, which you can read
here
.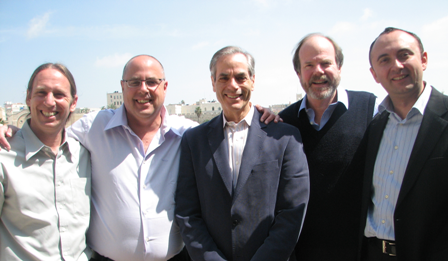 Rabbi Stephen Fuchs, incoming WUPJ President (center), poses at the Jerusalem headquarters with (left to right) Shai Pinto, VP and COO, Danny Jaffe, CFO, Rabbi Joel Oseran, VP, International Development, and Alex Kagan, Director FSU
.
Back to In This Issue

RABBI RICHARD JACOBS TAPPED TO LEAD UNION FOR REFORM JUDAISM

Rabbi Richard Jacobs, senior rabbi of Westchester Reform Temple (WRT) in Scarsdale, New York, has been chosen to succeed Rabbi Eric H. Yoffie as president of the
Union for Reform Judaism
(URJ). Yoffie will retire in 2012 after 16 years in the position. If formally selected at the organization's June 2011 meeting, Rabbi Jacobs will be only the fourth president of the URJ in the past 68 years.
"There is no one better prepared to assume the URJ presidency than Rabbi Richard Jacobs," says current URJ President Rabbi Eric Yoffie. "He is the spiritual leader of a dynamic, path-setting congregation. He is a teacher of Torah, a student of Torah, and a champion of serious Jewish education. He has a profound commitment to the Jewish people. And he is devoted to building the Reform Movement and expanding its horizons. He is a once-in-a-generation leader, and the entire URJ staff greets his selection with great excitement."
Deeply committed to the State of Israel and world Jewry, Rabbi Jacobs has worked closely with the World Union for Progressive Judaism (WUPJ) throughout his rabbinic career. In September 2000, he was honored by the World Union when he received its highest accolade, the International Humanitarian Award for his commitment to human rights and social and economic justice. Rabbi Jacobs has spent nearly 20 years in leadership positions with the New Israel Fund, working to promote a democratic and pluralistic Israeli society.
According to Rabbi Stephen Fuchs, incoming president of the WUPJ, Rabbi Richard Jacobs' dedication to the movement has been proven many times over the years. "Knowing he and I will be taking up our positions within a year of each other is very exciting," says Fuchs. "We have the opportunity to build on the great work that has been done before us and meet the new challenges head on together. Both organizations have the same goals - to strengthen the Jewish people, support existing and developing Jewish communities, fight for human rights and pluralism and support the State of Israel. I look forward to working with him to achieve these goals in the future."
Jacobs' tenure as senior rabbi of Westchester Reform Temple (WRT) in Scarsdale, New York, has been marked by ongoing transformation in worship, education and governance. He has implemented various successful programs within his congregation, but his impact has stretched far beyond Westchester. He is a nationally recognized leader on social justice issues, and has traveled extensively in his role as a board member of the American Jewish World Service (AJWS).
Jacobs says he is committed to the mission of strengthening congregations and the Reform Movement by creating a URJ that will be an incubator for new ideas and a place for a new generation of leaders who will act as change agents. Building on the URJ's strengths, and carefully assessing its challenges, Jacobs will work to create "a new, visionary culture of excellence."

A biography and list of writings can be found by clicking here.

Source: URJ website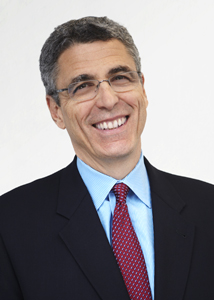 Rabbi Richard Jacobs


Back to In This Issue



HISTORIC EVENT FOR BELARUS AND THE FSU

The Reform movement in Belarus will dedicate the Sandy Breslauer Beit Simcha Center for Progressive Judaism in Minsk during Shabbat over the weekend of June 10 to 11, immediately following Shavuoth. This historic occasion, a landmark achievement of a critical milestone for the future development and prosperity of Reform Judaism in Belarus, will also enable the three local communities, Simcha, Tamar and Sheket, to show how far they've come since the Simcha congregation, the first Reform community, opened its doors in the city in 1993.

This special dedication was made possible through the generous support of Sandy Breslauer (z"l), for whom the center is named, and her husband, Stephen.

The festivities will start on Friday June 10 with a symbolic procession carrying a Torah down the street once called "Jews Street", from the heart of the former Jewish ghetto to where the congregation's permanent home is located today. Thereafter, a festive Kabbalat Shabbat service will celebrate "Chai", the 18th anniversary of the Simcha Congregation.

During the Shabbat morning service, the Sheket Congregation will celebrate its "Bat Mitzvah", after which there will be a special Dedication Ceremony with congregation members and distinguished guests. Havdallah with Tamar youth will follow.

Sunday June 12 has been set aside for optional visits to Vitebsk, the birthplace of the famous artist Marc Chagall, and/or Khatyn Memorial for victims of the Holocaust (in a suburb of Minsk).

For information on the costs of the weekend celebrations and accommodation, please click here to see the flyer.

If you would like to join the "Mission to Minsk" from June 9 to 13 this year, please contact debbie@wupj.org.il. And please remember, visas to Minsk take a while to arrange so book your trip early.


Back to In This Issue



PACKING PARCELS FOR PURIM AND PESACH

With Purim just past and Pesach almost upon us, Keren B'Kavod has, once again, been extremely busy with its Tikkun Olam. The organization's Tikkun Olam project is a hands-on project that provides visitors and volunteers with the opportunity to get a more in-depth understanding of some of the challenges facing Israeli society.

Purim care packages travel all over Israel

"… and the month which was turned unto them from sorrow to joy, and from mourning into a good day: that they should make them days of feasting and joy, and of sending portions one to another, and gifts to the poor." (Esther 9:21-22).

Purim is supposed to be a holiday of great joy, but many families around Israel can't afford to create a joyful holiday for their families. Traditionally, Keren B'Kavod distributes food and care packages to poor, disadvantaged, and immigrant families around Israel, especially within the Ethiopian Jewish community in Mevasseret.

This year, care packages were distributed to families that had been evacuated from their houses during the fire in the Carmel, to elderly (Holocaust survivors), and to families of Ethiopian Jews.

Another project handled by Keren B'Kavod this year was a joint project with Or Shalom, an organization that takes care of children and youth removed from their homes after suffering from abuse or neglect. During this project, 7000 Mishloach Manot (food and care packages) were packed and distributed. The Mishloachim were packed with the help of Keren B'Kavod volunteers, congregations, schools and more.

Keren B'Kavod would like to thank all volunteers who donated their time to pack food stuffs and other much-needed and wanted provisions. As a result of your generous contribution, disadvantaged children and families across the country celebrated the holiday of Purim with a smile.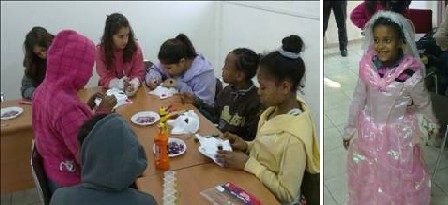 Joint Purim fun with immigrant children and pupils from a Progressive school

Kimcha D'Pischa, a Pesach treat

"Kimcha D'Pischa" is the Aramaic name for the special flour used to make matza. The phrase was traditionally used as a metaphor for acts of loving kindness – like "Gemilut Chasadim".

In springtime, Keren B'Kavod leads a massive food drive, called Kimcha D'Pischa, in honor of the holidays for the major religions in Israel: Pesach, Easter, and the celebration of the Prophet Shu'ayb. Holidays are generally times of happiness and togetherness, but for many disadvantaged people, the holidays are difficult times. Keren B'Kavod focuses on helping individuals and families during these times, bringing joy and celebration to hundreds of families who otherwise would go without.

Thanks to your generosity, we are able to pack hundreds of food and care packages every year for Kimcha D'Pischa together with volunteers from the Reform Movement in Israel. We support people of all faiths and cultures in Israel through this annual drive. Click here for the flyer (pdf).

Your support for Kimcha D'Pischa is greatly appreciated. All donations to IRAC in the month of April will go towards this effort. We encourage you to donate online (click here) to help hundreds of families in Israel enjoy the spring holidays this year.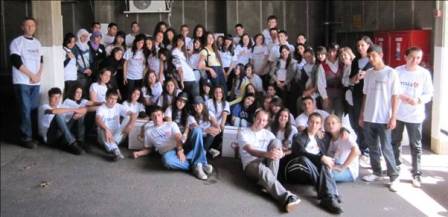 Keren B'Kavod volunteers after packing food and care packages


About Keren B'Kavod (Dignity Fund)

Keren B'Kavod is the humanitarian aid program of the Israel Religious Action Center (IRAC) and is the Reform Movement's response to the growing difficulty of many Israelis to provide themselves with basic life necessities. Keren B'Kavod, which means, literally, the "Dignity Fund", works with Reform congregations throughout Israel to help those who suffer from poverty to live with dignity.

Poverty is a complex phenomenon, one that includes a need to be sustained both with food and with cultural and social opportunities. As it is written: "A person does not live on bread alone," Deut. 8:3.

Because of this, the organization feels that it is necessary to address the problem of poverty from a number of different aspects. The following four elements make up the basis of Keren B'Kavod: holiday food drives, ongoing charity work, humanitarian aid to refugees and advocacy efforts to combat hunger.

The program provides food to people of all faiths and works within the Arab communities of unrecognized Bedouin villages, East Jerusalem, Ramla and villages across northern Israel. Food is distributed around the time of religious holidays, including Christmas, Easter, Eid El' Fitr and the Muslim Feast of the Sacrifice Eid El Adha. During the Second Lebanon War, for example, Keren B'Kavod provided food and toys to Israeli Arab families and youth centers under rocket fire.

Keren B'Kavod is always happy to welcome volunteers who wish to help by putting together Mishloach Manot, food and care baskets, which are traditionally given as gifts for the holidays and festivals.

Source: Israel Religious Action Center (IRAC)


Back to In This Issue



KIBBUTZ LOTAN TURNS 28

Twenty-eight years ago this week, 60 young Israelis loaded all their personal belongings onto tractor-pulled wagons, made their "exodus" from their temporary houses at Kibbutz Yotvata, and walked through the southern Arava desert wilderness to make their home on Kibbutz Lotan, the second Reform Kibbutz to be founded in Israel.

The Reform Kibbutzim were established by the Union for Reform Judaism (URJ) Youth division in a concerted effort to establish the IMPJ – IMPJ Israel Movement for Progressive Judaism through development of Reform communities throughout Israel and the Youth Movement TELEM. Nearly three decades years later, Kibbutz Lotan is home to 200 people and has influenced thousands of people around the world.

Kibbutz Lotan is recognized as a global leader in Jewish environmental education, nature conservation, green technology development and sustainable community development.The Kibbutz has partnered with the Global Ecovillage Network and its education programs are an official contribution to the United Nations Decade of Education for Sustainable Development (UNDESD).

Lotan is an integrated, holistic community – a business, an education center, a community of individuals, a worship community, a community of action, and more. The community's vision statement reads: "We strive to express our way in our home, and our home in our way. And so, we express our commitment to our home and community through cooperative action, discussion and education of ourselves in work, education, health and day-to-day life together, as well as in community outreach projects."

Hear about one of these projects here: Israeli, Jordanian, and Palestinian Youths Become "Eco-builders" at Kibbutz Lotan. By BBC Radio's 'Three Counties Melting Pot with Ian Pearce' report by Judi Herman, in conjunction with Friends of the Earth - Middle East [YouTube]
The kibbutz is affiliated with the IMPJ, the Collective Stream of the Kibbutz Movement and to the "Green Kibbutz" group.

According to Muki Tsur, a member of Kibbutz Ein Gev, the kibbutz is not an ideal society, but it is a society built on ideals. And Kibbutz Lotan is certainly building on its ideals.

Happy birthday, Lotan!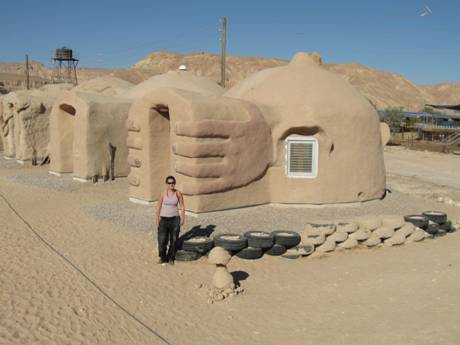 "Dome'atories" on the Ecocampus: Energy-efficient earth-plastered straw bale domes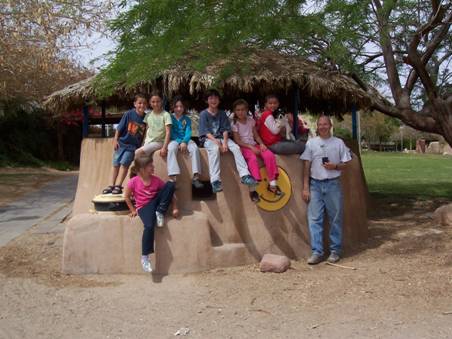 Bus shelter built with bus tires, filled with bottles and cans, covered in earth plasters and built by the kibbutz children


Back to In This Issue



UPCOMING EVENTS

June 10-12, 2011 – Dedication of new Progressive Jewish Center, Minsk

July 7-10, 2011 – Annual Conference, Union of Progressive Jews of Germany, Spandau/Berlin

December 14-18, 2011 – Union for Reform Judaism Biennial, Washington D.C

March 15-18, 2012 – Biennial Conference of the European Union for Progressive Judaism, Amsterdam

June 8-10, 2012 – 80th Anniversary and Biennial conference of the South African Union for Progressive Judaism (SAUPJ), Johannesburg


Back to In This Issue