Issue #391
Issue #391 – 26 August 2010 / 16 Elul 5770
IN THIS ISSUE:

WORLD UNION SENDS LETTERS OF CONCERN TO CHILEAN LEADERS OVER GROWING ANTISEMITISM

IMPJ'S CAMP HAVAYA OFFERS JEWISH PERSPECTIVES ON GOING GREEN

BUDAPEST CONGREGATION DEDICATES NEW BUILDING

UPCOMING EVENTS




WORLD UNION SENDS LETTERS OF CONCERN TO CHILEAN LEADERS OVER GROWING ANTISEMITISM

The World Union has weighed in on the issue of growing anti-Semitism in Chile, where, over the course of recent weeks, several synagogues, Jewish schools and Jewish cemeteries in the cities of Santiago, Concepcion and Temuco have been vandalized and desecrated. In the latest incident, which took place earlier this month, unknown individuals daubed a swastika and the message "Juden raus" (Jews Out) on the wall of a kindergarten. It had a rune-style "s" similar to that of Hitler's dreaded SS.

A letter has gone out to the President of Chile, Sebastian Piñera, over the signatures of our chairman, Steve Bauman; our vice president for international development, Rabbi Joel Oseran; the chair of our Latin America region, Miriam Vasserman; and the chair of the Yad B'Yad Task Force, Jerry Tanenbaum.

The letter said, in part: "History teaches us that when Jews are the first to be attacked, then other minority and political groups will be victims soon after…. We urge you to support and adopt the proposed legislation to combat racist and extremist groups, and punish harshly those individuals and groups guilty of fomenting hatred and prejudice. A version of this law has been under consideration by your Congress for the past five years – we ask you to ensure its immediate passage and implementation…. Should these evil organizations be allowed to grow and prosper, then the very fabric of a fair and just society also becomes threatened."

Identical letters were also sent to the president of the Chilean Senate, Jorge Pizarro Soto, and the president of the Chamber of Deputies, Alejandra Sepúlveda Orbenes.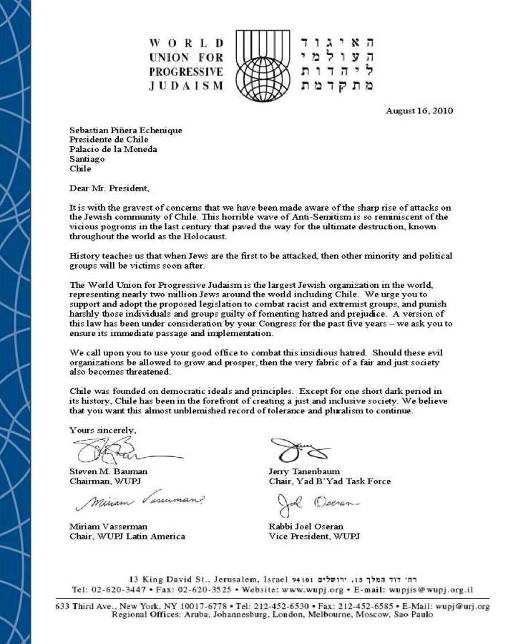 Back to In This Issue



IMPJ'S CAMP HAVAYA OFFERS JEWISH PERSPECTIVES ON GOING GREEN

Over 600 youngsters in grades 3 through 12 have been taking part in the Israel Movement for Progressive Judaism's annual Rechler Camp Havaya, being held this summer at the Hadassah Ne'urim Youth Village at Beit Yanai, near Netanya.

In addition to traditional summer camp activities like sports, swimming and arts and crafts, the kids are investigating environmental justice and Jewish heritage in a creative program that integrates informal learning into the recreational fun. Some of these activities include planting a community garden and cleaning up a local beach, both being linked with a day-long workshop on preserving the environment being conducted in cooperation with the Society for the Protection of Nature. The daily prayers and study sessions are also being infused with environmental themes drawn from traditional Jewish texts and contemporary Israeli literature.

This year, 45% of the participants are first-timers, with many of them having no prior connection to the Progressive movement. The guiding principle, explains 24-year-old Yair (Ya-Ya) Tobias, who heads Camp Havaya's Jewish education staff, is to inspire them to discover their Jewish heritage, as well as its meaning in their twenty-first century lives. The camp, he explains, offers them an important opportunity to think about, and experiment with, Jewish concepts and rituals, and opens the door to further Progressive youth activities, greater family participation in local congregations and, eventually, young leadership roles in the movement, as well as in Israeli society and the Jewish world beyond.

Over the years, The Rechler Camp Havaya has earned a loyal following among thousands of Israelis from diverse walks of life and is a thriving and beloved institution that has become a model for informal pluralistic Jewish education in Israel.

To follow the Havaya camp blog (in Hebrew), click here.





Summer fun at the 2010 Rechler Camp Havaya.


Back to In This Issue



BUDAPEST CONGREGATION DEDICATES NEW BUILDING

Szim Shalom, Hungary's first Progressive congregation, recently dedicated its new synagogue and community center in the heart of Budapest. According to Rabbi Joel Oseran, World Union vice president for international development, the new facility at Radag 9 is in "the heart of Budapest's spirited entertainment center."

"For more than 20 years, the congregation has moved from one temporary facility to another, always searching for that 'right' combination of location, functional space and affordable price," Oseran said. "It appears that this new rental facility might just be what they have been looking for all these years. The facility (about 150 sq. meters) is situated on the first floor of a large apartment building. Several of the neighbors in the building are Jewish themselves and have come to Szim Shalom to say hello and learn more about the congregation."

About 100 members and guests turned up for the May 26 dedication, which included words from congregational president Gabor Radvanski and spiritual leader Rabbi Kati Keleman, and from Israel's ambassador to Hungary, Aliza Bin Nun. Aside from Oseran, who represented the World Union, the guests included the president of Mashihitz (Federation of Neolog Jewish Congregations, the umbrella body for most of Hungary's organized Jewish community), and Jeffrey and Joyce Rose from London, who represented the European Union for Progressive Judaism. (Jeffrey Rose was instrumental on behalf of the EUPJ in establishing Szim Shalom in the late 1980s, and today is the congregation's honorary life president.)

"Of special note was the presence of Dr. Péter Feldmeyer, the president of the all-powerful Mashihitz, which is funded by the government and by local Jewish-directed tax support, and operates a myriad of Jewish communal and religious programs," Oseran said. "It has never fully accepted the legitimacy of Progressive Judaism and over the years has refused to support our congregations. Therefore, Szim Shalom leaders were indeed pleased that Feldmeyer agreed to attend the dedication. The Mashihitz Web site wrote up the 'story' the next day, saying its president had been an honored guest of congregation Szim Shalom."

While in Hungary, Oseran also spent time at a conference of Tamar Olami, the World Union's young adult division. It was the first Tamar gathering to be held in the country, and it attracted some 20 participants. The conference took place at Lake Balaton, some two hours south of Budapest, and was led by a staff from a variety of Jewish institutions in Budapest. It was coordinated by Jorg Ahrens a former rabbinical student at Abraham Geiger College in Potsdam, Germany. Also on hand as scholar-in-residence was Prof. Paul Liptz of the Anita Saltz International Education Center in Jerusalem, whose presence was made possible by the World Union.

"With nearly 100,000 Jews in Hungary – and a large number of them young adults – the World Union and Tamar are keen to develop a number of programs that will be attractive to this key future leadership target population," Oseran related. "Many of those present were young Jewish professionals – lawyers, economists, graduate students, etc. – with a genuine curiosity and desire to learn more about Jewish issues and their own personal Jewish identity. They expressed a hope that through such programs, they would come to better understand their own relationship to Judaism, acknowledging that our liberal, open-minded approach was an important incentive."




At the Szim Shalom building dedication. In the first photo, Jeffrey and Joyce Rose are seated at the right. Behind them, from right to left, are Gabor Radvanski, Rabbi Joel Oseran, Israeli Ambassador Aliza Bin Nun, Rabbi Kati Keleman, Dr. Péter Feldmeyer and congregational leaders. In the second photo, Rabbi Keleman performs the motzei prayer over bread.


Back to In This Issue



UPCOMING EVENTS

October 3, 2010 – World Union's International Humanitarian Awards brunch, New York City

October 27-29, 2010 – FSU rabbinic kallah, Moscow

October 29-31, 2010 – FSU regional conference, Moscow

November 25-28, 2010 – Biennial conference of the Union for Progressive Judaism in Australia, Asia and New Zealand, Canberra

November 24-25, 2010 – Progressive rabbinic kallah, Sao Paulo

November 26-28, 2010 – Leadership meetings of the World Union's Latin American region, Sao Paulo

February 7-13, 2011 – Connections 2011, San Francisco



Back to In This Issue