Issue #389
Issue #389 – 29 July 2010 / 18 Av 5770
IN THIS ISSUE:

SALTZ CENTER CALENDAR BURSTS WITH ACTIVIES IN ISRAEL AND BEYOND

APPEAL FROM ISRAELI PROGRESSIVE CONGREGATION

SAUPJ HOLDS WEEKEND BIENNIAL IN DURBAN

BRITISH REFORM MOVEMENT HOLDS BIENNIAL IN MANCHESTER

UPCOMING EVENTS



SALTZ CENTER CALENDAR BURSTS WITH ACTIVIES IN ISRAEL AND BEYOND

The World Union's Anita Saltz International Education Center has been quite busy over the past several months, providing almost non-stop educational programs both at its headquarters in Mercaz Shimshon-Beit Shmuel in Jerusalem, and in communities around the world.

"Our mission is to connect Progressive Jews from around the world with each other and with Israel," says Rabbi Rich Kirschen, director of the Saltz Center. "We do this through the study of Am Yisrael (the people of Israel), Eretz Yisrael (the Land of Israel) and Torat Yisrael (the Torah of Israel). The synergy between studying Judaism in Israel and studying around the world is what the World Union is all about."

Recent programs have included long- and short-term seminars in Israel for such groups as the Union for Reform Judaism (annual URJ Israel Study Kallah), students from the various US campuses of Hebrew Union College-Jewish Institute of Religion (preparatory programs for their year in Israel), and individual missions from Progressive, Reform and Liberal congregations from around the world. There have also been "identity seminars" for Netzer Olami, the World Union's international Zionist youth movement; shabbaton programs for students at Hebrew University; a holiday study program for the URJ's E.I.E. year-in-Israel high school program; and ongoing activities in conjunction with Birthright Israel.

This past February it conducted numerous programs in Paris at the biennial conference of the European Union for Progressive Judaism, while in May it provided seminar and workshop activities at the biennial conference of the South African Union for Progressive Judaism. In March, Saltz center staff members travelled to North Western Reform (Alyth Gardens) Synagogue in London for a leadership weekend, while in May it was invited to Jackson, Mississippi, to run a board retreat for the URJ Henry S. Jacobs Camp. Also in May, staff members were in Stockholm teaching a liturgical workshop for lay leaders in Stockholm, moving on to Budapest to work with young Jewish leadership.

In June, the center expanded its range by running its first interfaith seminar with the Australian Council for Christians and Jews. The seminar was not only a success, but something that the council would like to repeat next year.

"We should be very proud of the work Rich and Saltz Center educator Paul Liptz provide," writes Dr. Philip Bliss, a World Union vice chairman from Australia who led the group. "It was a wonderful experience for everyone, especially those who had never been to Israel before.
We were all much wiser and much more aware of Middle East politics, religions, and the interplay between all three faiths."

Over the past year, the Saltz Center has gotten active on the Internet. It has been sending out regular cyber commentaries on the Torah portion of the week called Torah from Around the World, with guest commentators from around the world sharing their insight. It is now moving ahead with webinars that allow interactive study with its educational staff and with alumni and friends from around the world (see WUPJnews #386). In addition, the center now has podcasts that can be downloaded from its Web site.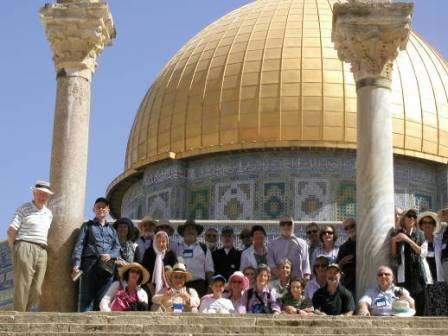 The Australian interfaith group learns about the Temple Mount during an on-site visit led by the Saltz Center in June.


Back to In This Issue



APPEAL FROM ISRAELI PROGRESSIVE CONGREGATION

Darchei Noam, the Progressive community in Ramat Hasharon, north of Tel Aviv, is facing the loss of its building, now under construction, due to a shortage of funds.

"After a 20-year struggle to obtain land and raise funds in order to build a home for our congregation, there is a very real risk that City Hall will take possession of our beautiful building – which is 75 percent completed," said Rabbi Stacey Blank and congregational chairperson Ilana Dothan in a joint appeal. "In order to complete the last phase of the project and receive an occupancy permit – so that we won't be evicted – we must raise at least $500,000 in the next few months. If we can raise $1 million, we can ensure opening our doors in the next six months."

Blank and Dothan pointed out that as a non-profit organization, Darchei Noam cannot take out a loan. They added that "there is a huge latent demand for the services our congregation provides" and that a majority of residents in Ramat Hasharon and nearby Herzliya "would welcome a Reform congregation such as Darchei Noam once we have our own respectable facilities. After 20 years of court battles and a victory in the Israeli Supreme Court for the right to build our synagogue, it would be a great blow to the Reform movement if we lose the building now."

For information on how you can help, go to the congregation's Web site by clicking here. Contributions are tax deductible and can be made on-line at http://wupj.org.il/Contribute/Giving.asp or http://kbyonline.org/darchei_noam/index.html.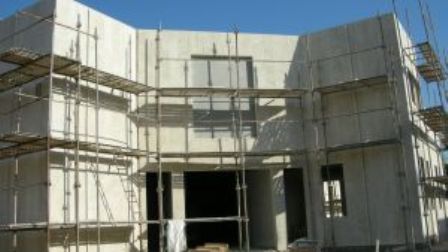 Darchi Noam's building is in danger of being repossessed.


Back to In This Issue



SAUPJ HOLDS WEEKEND BIENNIAL IN DURBAN

The South African Union for Progressive Judaism, the World Union's regional structure on the African continent, held its 2010 biennial conference on the weekend of May 14-16 in Durban, where it was hosted by the Durban Progressive Jewish Community (DPJC).

In attendance were representatives and congregational rabbis from Durban, as well as from Johannesburg, Pretoria, Cape Town, East London and Port Elizabeth. Special guests included Rabbi Rich Kirschen, director of the World Union's Anita Saltz Education Center in Jerusalem, and Dalya Levy, the Jerusalem-based executive director of ARZENU, the International Federation of Reform and Progressive Religious Zionists.

Shabbat morning services were led by SAUPJ rabbis, including Rabbi Anne Folb (Bet Menorah, Pretoria), Rabbi Robert Jacobs (Bet David, Morningside, Johannesburg), Rabbi Greg Alexander (Temple Israel, West Coast, Cape Town) Rabbi Malcolm Matitiani (Temple Israel, Green Point, Cape Town), Rabbi Richard Newman (Temple Israel, Wynberg, Cape Town) and Rabbi Hillel Avidan (Temple David, Durban). The Saltz Center's Kirschen led the Torah study sessions.

Later in the day, a seudah shlishit featured an interfaith discussion – Challenges Facing the Abrahamic Faiths in the 21st Century – by Avidan, Cardinal Wilfred Napier and Sheikh Rafeek Hassan. It was moderated by Rabbi Robert Ash. After Havdalla services there was a gala dinner, where Judge Mervyn King, an internationally recognized expert on corporate governance and sustainability and formerly the South African judge at the ICC International Court of Arbitration in Paris, delivered the keynote address. Laura Siegel, representing the Jewish National Fund, delivered a talk on the greening of synagogues.

Sunday was set aside for regional business. Reports and presentations were delivered on several matters, including activities for young people under the auspices of Netzer Olami and TaMaR, the World Union's youth and young adult movements. There was also an overview of the World Union's annual Beutel Leadership Seminar, which the SAUPJ may emulate on a regional basis.

At the business session, Steve Lurie was voted in for another two-year term as national chairman. He will be joined on the regional executive by N'tanya Gordon Davis (Western Cape regional chair), Prof. Antony Arkin (East Coast), and Lynton Travis (PR and marketing). Rabbi Robert Jacobs was elected chairman of the South African Association of Progressive Rabbis. Paddy Meskin and Ruth Avidan were elected as co-chairs of the South African Union of Temple Sisterhoods, with Giddy Lief the Gauteng vice chair.

At the end of the conference it was announced that the 2012 SAUPJ biennial would be held in Gauteng.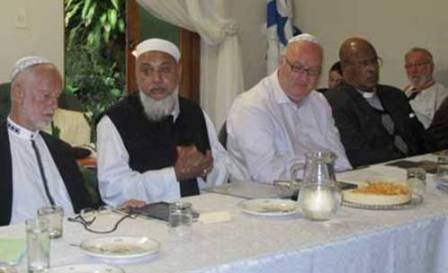 The interfaith panel discussion on Shabbat afternoon. Left to right: Rabbi Hillel Avidan, Sheikh Rafeek Hassan, Rabbi Robert Ash and Cardinal Wilfred Napier.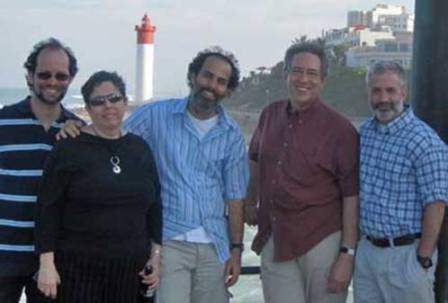 Some free time on the Durban beach. From left, Rabbi Malcolm Matitiani, Rabbi Anne Folb, Rabbi Greg Alexander, Rabbi Robert Jacobs and Rabbi Rich Kirschen.


Back to In This Issue



BRITISH REFORM MOVEMENT HOLDS BIENNIAL IN MANCHESTER

Some 300 people representing 24 affiliates from around the country attended the latest biennial conference of Britain's Movement for Reform Judaism, held May 14-16 at the Manchester Reform, Menorah and Sha'arei Shalom synagogues in that north-western English city.

The conference focused on the Israel-Diaspora relationship, Jewish ethics and ways of strengthening the community, with workshops and panel discussions. To mark the 200th anniversary of the establishment of Reform Judaism, there was an overview of its history and evolution.

Sessions were interspersed with "innovative, inspiring, spiritual and music-filled services" led by movement rabbis from the UK as well as by guests, who included Rabbi Danny Rich, chief executive of Britain's Liberal Judaism movement, and Rabbi Gilad Kariv, who was visiting the UK for the first time in his capacity as executive director of the Israel Movement for Progressive Judaism. Perhaps the highpoint of the biennial was a gala dinner at Menorah Synagogue on Saturday evening, at which guests were entertained by the Menorah Choir.

It was also the last biennial in his current role for Reform Movement head Rabbi Dr. Tony Bayfield, who previously announced his retirement, scheduled for June 2011. It is proposed that he become the movement's president, and its current executive director, Rabbi Shoshana Boyd Gelfand, the chief executive.

"I felt a powerful sense of belonging and connection that left me wanting so much more," said one biennial participant. Another called the program "restorative." Yet another described the weekend as being "very relaxed, with wonderful opportunities to renew old friendships and meet new members of our rabbinate. It felt 'wholly a Shabbat' from start to finish."



The 21 movement rabbis present at the recent Reform biennial pose outside Manchester's Menorah Synagogue. In the foreground are movement head Rabbi Dr. Tony Bayfield, executive director Rabbi Shoshana Boyd Gelfand, and Rabbi Brian Fox, spiritual leader of the host congregation.


Back to In This Issue



UPCOMING EVENTS

November 25-28, 2010 – Biennial conference of the Union for Progressive Judaism in Australia, Asia and New Zealand, Canberra

November 24-25, 2010 – Progressive rabbinic kallah, Sao Paulo

November 26-28, 2010 – Leadership meetings of the World Union's Latin American region, Sao Paulo

February 7-13, 2011 – Connections 2011, San Francisco