Issue #382
Issue #382 – 6 May 2010 / 22 Iyar 5770
IN THIS ISSUE:

WORLD UNION MOURNS THE PASSING OF RABBI DAVID FORMAN

WORLD UNION'S FSU AFFILIATES REACH OUT TO THOUSANDS DURING PESACH

LBEC STUDENTS WIN TOP SCIENCE COMPETITION, ADDRESS KNESSET

MEMBER OF BRITISH REFORM MOVEMENT NAMED ENVOY TO ISRAEL

UPCOMING EVENTS


WORLD UNION MOURNS THE PASSING OF RABBI DAVID FORMAN

We at the World Union mourn the loss of our dear friend and colleague, Rabbi David Forman z"l, who passed away May 3 in Dallas, Texas, while awaiting a liver transplant. He would have turned 66 next week.
Rabbi Forman made aliya in 1972 and served on the staff of Hebrew Union College-Jewish Institute of Religion in Jerusalem, and later led the Israel office of the Union of American Hebrew Congregations, today the Union for Reform Judaism. He was the founder of Rabbis for Human Rights and was always a strong voice for religious pluralism.
His funeral was today in Israel.
Our loving prayers go out to his wife, Judy, daughters Tamar, Liat, Shira and Orly, and all his family. David was the consummate activist whose commitment to the principles of Progressive Judaism, Zionism and human rights for all God's children will continue to inspire each and every one of us. May his memory be for a blessing.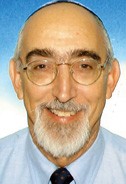 Rabbi David Forman z"l.


Back to In This Issue



WORLD UNION'S FSU AFFILIATES REACH OUT TO THOUSANDS DURING PESACH

The Progressive Jewish movements in the former Soviet Union brought over 5,000 people to seder tables at over 25 locations in Russia, Ukraine and Belarus during the recent Pesach holiday.

The seders, as well as services and other holiday activities, were led by the World Union's FSU-based rabbis, as well as by other local professionals and lay leaders. Joining them were 14 rabbinic, cantorial and education students from the Jerusalem campus of Hebrew Union College-Jewish Institute of Religion, who were taking part in the eighth annual Pesach Project. A joint World Union/HUC-JIR program, the Pesach Project is designed to reinforce the FSU's resident Progressive rabbis at holiday time, as well as to provide the students with hands-on experience. This year it was led by Molly Plotnik and Allison Tick.

In Russia, the seders took place at several locations in Moscow – including, for the first time, at the new Moscow Center for Progressive Judaism – as well as in Chelyabinsk, Khabarovsk, Krasnodar, Lipetsk, Murmansk, St. Petersburg, Tula, Tver and Tyumen. In Ukraine they were held in Kiev, Cherkassy, Feodosia, Lutsk, Lviv, Odessa, Simferopil and Yevpatoria, while the movement in Belarus held seders in Minsk, as well as in Baranovichi, Brest, Gomel, Grodno, Lida, Mogilev, Polotsk and Vitebsk.

"Despite all the economic difficulties, the Progressive movements in the FSU continue to serve the greater Jewish public and bring them closer to their traditions and roots," says Alex Kagan, the World Union's director for the FSU. "The rabbis, HUC-JIR students, community workers and volunteers created an unforgettable experience for this public during one of the most important holidays on the Jewish calendar."

Kagan also points out that the cost of the seders was borne by the FSU communities themselves, which indicates "a maturation and a significant step for our congregations in their goal to achieve self sufficiency."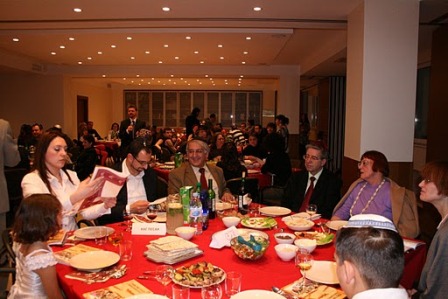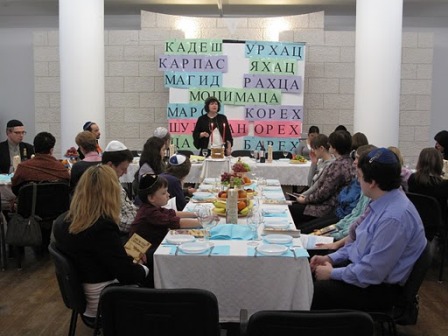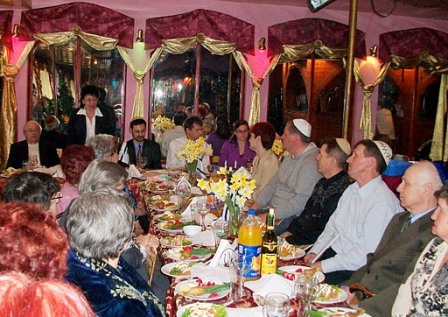 Top to bottom: Seders in Moscow, St. Petersburg, Kiev and Feodosia.


Back to In This Issue



LBEC STUDENTS WIN TOP SCIENCE COMPETITION, ADDRESS KNESSET

Adi Friedman, a high school senior at the Leo Baeck Education Center in Haifa, recently won the top prize at the annual Intel-Israel Young Scientists Competition in recognition of her technique for injecting a hydro gel polymer to replace eroded spinal discs. As a result, she will represent Israel next week in San Jose, California at the 2010 Intel International Science and Engineering Fair, which bills itself as the "world's largest pre-college science fair competition."

One of 60 high school-aged scientists taking part in the Israeli competition, which featured 40 different projects, Friedman won a full university scholarship that was presented to her by President Shimon Peres during a ceremony at the presidential residence. She will be vying for a $50,000 college scholarship in San Jose.

Friedman said her inspiration to find a non-surgical technique for overcoming back pain was her father, who suffers from an eroded spinal disc. She thanked Prof. Aaron Ciechanover, a Nobel chemistry laureate from the Technion, and Tammy Porat, a Technion graduate, for their guidance and support, as well as LBEC headmaster Dani Fesler, a leader in gender-equality in education who urges his students to reach for the sky.

Meanwhile, 16-year-old Million Haile, another high school student at LBEC, addressed the Knesset in early February during a special session marking 61 years since the legislative body's establishment. An Ethiopian-Israeli, Haile was one of 22 LBEC debate club members who came together with representatives from schools around the country to help the Knesset mark the occasion.

The students took part in meetings of three Knesset committees: Foreign Affairs and Defense, Education and Finance. Accompanied by a Knesset member, each one briefly addressed the plenum in the presence of President Peres and Prime Minister Binyamin Netanyahu. Haile – whose father arrived in Israel in the winter of 1984-85 along with some 8,000 other Ethiopian Jews in the covert Operation Moses, graduated from LBEC and today works in hi-tech – elicited what Carol Brauner, LBEC's director of international development, called "rousing applause with her passionate speech" about state pressure placed on Ethiopian new immigrants to study in Orthodox schools.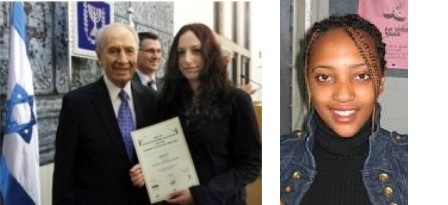 Left: Friedman with Peres and (rear) Education Minister Gideon Saar. Right: Haile.


Back to In This Issue



MEMBER OF BRITISH REFORM MOVEMENT NAMED ENVOY TO ISRAEL

Matthew Gould, who as a boy attended Middlesex New Synagogue, an affiliate of Britain's Movement for Reform Judaism, has been appointed the UK's next ambassador to Israel – the first Jew to hold the post, which he'll take up in October. He and his wife, Celia, now attend services at the movement's West London Synagogue.

"He is outstandingly able, a real high-flyer and still only 38," says Rabbi Dr. Tony Bayfield, head of the Reform movement, who first met Gould just over three years ago when he was the top aide to Foreign Minister David Miliband. "We can be sure that Matthew Gould will not be wandering in the wilderness. One hopes he will play a significant part in helping Israel towards the promised land of peace with the Palestinians."

Gould will be the guest speaker at the movement's annual dinner on September 28.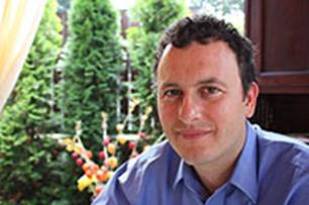 Gould – from the Reform movement to Britain's embassy in Tel Aviv.


Back to In This Issue



UPCOMING EVENTS

May 14-16, 2010 – Biennial of the South African Union for Progressive Judaism, Durban

May 14-16, 2010 – Movement for Reform Judaism Biennial Conference, Manchester, UK

May 28-29, 2010 – Israel Movement for Progressive Judaism Biennial, Israel

July 8-11, 2010 – Annual conference of the Union of Progressive Jews in Germany, Spandau-Berlin

November 25-28, 2010 – Biennial conference of the Union for Progressive Judaism in Australia, Asia and New Zealand, Canberra, Australia

February 7-13, 2011 – Connections 2011, San Francisco


Back to In This Issue