Registration Now Open for 2013 Beutel Leadership Seminar
Over the past ten years some 200 people from across the globe have participated in the Beutel Seminar for Progressive Jewish Leadership. Looking at Reform Jewish communities throughout the World Union for Progressive Judaism we see Beutel alumni giving back in meaningful ways.
The Beutel Seminar is a unique combination of the spiritual, intellectual and experiential enhanced by the tremendous diversity of the participants. The program includes prayer workshops, text study, site visits, and lectures. These are supplemented by
mifgash
encounters with scholars, activists, and leaders from a variety of organizations including the extended family of the Israel Movement for Progressive Judaism as well as others who share our values.
Certainly the caliber of presenters is a key to the tremendous impact and success of the Beutel Seminar. One of the highlights this past year was the multi-session morning prayer workshop overlooking the Old City of Jerusalem with Rabbi Levi Weiman-Kelman. This was supplemented by other prayer and spirituality experiences led by Rabbis Steve Burnstein, Benjie Gruber and David Wilfond. One participant comments "the spiritual and liturgical part of the seminar has been excellent… somehow touches our souls."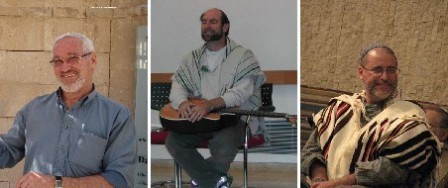 Beutel staff (L-R): Professor Paul Liptz, Rabbi Levi Weiman-Kelman, Rabbi Steve Burnstein


Professor Paul Lipz, Saltz Center Director of Education, was the scholar in residence with the group. He and Saltz Director, Rabbi Steve Burnstein, worked to pull the various components of the program together and appreciate the connection between what happens in Israel, the World Union, and their own communities. The Beutel Seminar is designed to empower participants and strengthen them as individuals as well as their communities and the WUPJ.
This year's Beutel Seminar will be held February 7–17, 2013 in Israel. The application form and sample schedule are on the Saltz Center
website
.