Another sizzling summer for the Netzer summer camps in the FSU
A record number of over 1000 campers were able to participate this summer in13 camps, including an integration camp for children with special needs who are mainstreamed with other campers, family camps, student, children, interfaith and day camps, in Russia, Ukraine, Latvia, and Belarus. These camps were "based on learning more about Israel, Jewish values, and principles of Reform Judaism – Zionism, tikun olam, equality, tzdaka and tolerance," according to FSU Netzer Coordinator Rita Fruman. She goes on to say that "our aim was to instill these values in the campers through avariety of planned activities, and by personal example. We believe that through interaction, study with Rabbis, madrichim and each other, together with the personal knowledge gained from the overall camp experience, participants leave determined to lead a fuller Jewish life"
My Israel–Here and There


This is the fourth year for our special needs family camp near Moscow, Russia. This is an innovative camp, led by camp director Evgenia Rozental, that integrates families of children with special needs with other families and is organized by several organizations, including WUPJ,
Le Dor Va Dor
Reform Community, MEOD (Moscow Jewish Community Center), Jewish Agency and the JDC with financial contributions from the Genesis Foundation, Jewish Agency, JDC, UJA – Federation of New York (see full report in
WUPJnews #440
).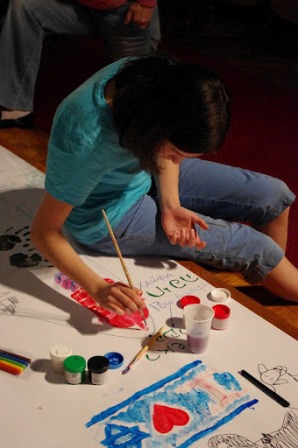 The families left with renewed energy and in high spirits. As one of the parents said, "this special project, which is another step towards a more open society for children with special needs and their families, is very important to the Jewish community of Moscow".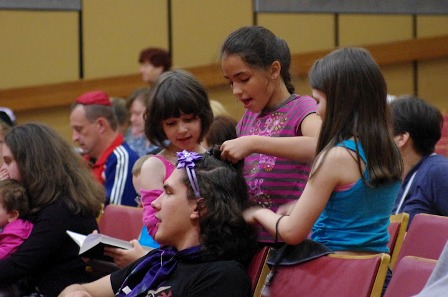 Click
here
to see additional photos from the camp.
A Whirlwind World Tour at the Interfaith Family Camp


120 participants came together for the fourth interfaith camp, planned and organized jointly by the Progressive Jewish community of Lipetsk and the Azerbaijani and Armenian communities, and held outside of Lipetsk. The highlight of the camp was a fascinating "World Tour" that was based on their national cultural heritages. Learning about the different cultures helped to teach the campers that even though we come from different backgrounds we all have so much in common.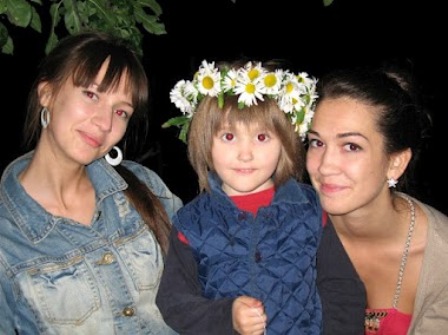 The participants also learned about "Secrets of Jewish education", celebrated a World Union Shabbat together, with songs, candle lighting, bible study and singing. And of course, no camp experience would be complete without some friendly sporting events. As Olga Zamyatina, Chairwoman of the Progressive Jewish Community of Lipetsk, said "… the main thing – we were able to get to know each other better, to find common ground, to become closer to each other. Before leaving, everyone said we must definitely meet again and continue to strengthen inter-ethnic relations, by expanding our program and the number of ethnic communities next year."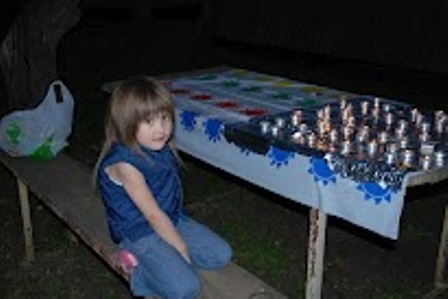 Click
here
to see additional photos from the camp.
AMEN – Netzer United Secret Service


This camp, held in Moscow, provided 75 teenagers with an exciting opportunity to explore issues relating to Jewish identity, culture and customs. Based on the eternal struggles between good and evil characters such as Star Wars' Darth Vader, the "Amen" agents were instructed to combine their powers and fight evil forces, and thus repair the world – Tikkun Olam. To do so, they had to cooperate with one another, practicing the universal Jewish values of mutual respect and understanding. This also helped to develop leadership skills and provide the teens with important problem-solving tools. Additional discussions focused on Judaism, monotheism, the history of the State of Israel and its relevance to today's world. The teens also had lessons on Israeli music and literature as well as the Hebrew language.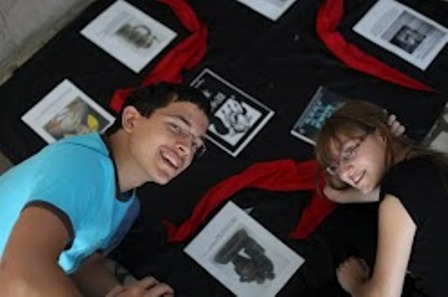 Kabbalat Shabbat services were enhanced by the Israel component, with Israeli posters, a video of the Kotel, and Israeli music accompanying the service and adding to the special atmosphere.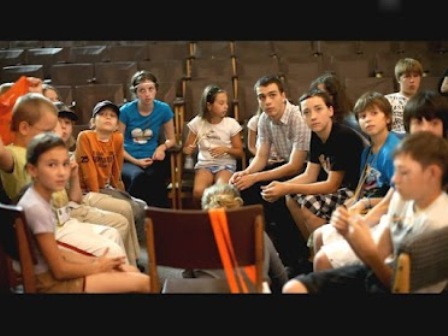 Ksenia Serebrenaiv, Netzer Coordinator, Russia, said, "it was important for us to devise an activity which would stimulate and interest this young generation of future leaders. The superhero game was a good vehicle to transmit Jewish values and the continuation of preserving the culture of the Jewish people, as well as the building of strong ties with Israel. In addition, the game enabled us to incorporate a number of other topics, such as the Jewish community, Jewish tradition, and the history of the Holocaust and Israel today."
Click
here
to see additional photos from the camp.
Campers go live online at the Netzer Student camp


The Student Camp is one of our most exciting education projects. All of the 81 participants this year are Netzer graduates from Russia, Ukraine and Belarus and most are madrichim and members of communities and Netzer clubs.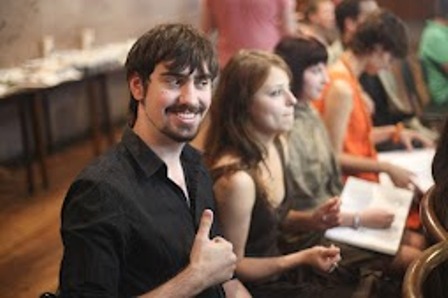 This year the camp was dedicated to creating an educational platform for a live
website
to cover all events and activities taking place in real time. This helped to engage the young leaders and served as an online medium to continue the dialogue throughout the day.
The activities helped develop and strengthen the students' sense of belonging to the Reform movement, their community, and the Jewish people, while deepening their knowledge of Judaism, Zionism and Israel, together with creating a cohesive group whose slogan is 'Netzer is mine'.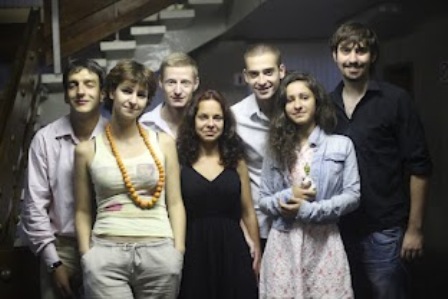 Netzer Belarus Coordinator, Daria Subbotko, pointed out that "the use of innovative methodologies, such as conducting individual and group research, together with leadership training sessions, made the camp experience more interesting. The creation of an online community which will continue developing, allowed all participants to be involved in sharing ideas, views and opinions."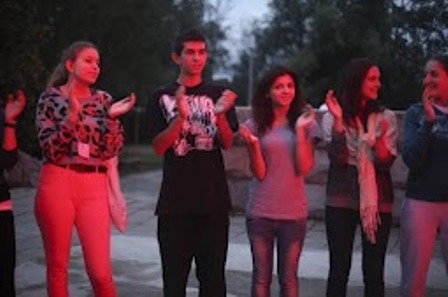 Click
here
to see additional photos from the camp.
Exciting sporting events at Maccabiada Netzer 2012 in Mogilev, Belarus


Maccabiada Netzer
2012 gave 100 teens a glimpse into the principles and ideology of the Netzer movement and Reform Judaism, teaching them to be Jews, proud of their heritage and part of the Jewish nation, and helping to strengthen their Jewish identity, understand the place of Zionism in their lives, and build a strong connection with Israel (see full report in
WUPJnews #442
).
Click
here
to see additional photos from the camp.
Secrets of the Land of Netzer


83 youngsters enjoyed a special fairy tale summer experience at the Belarus youth camp. Through a game based on the Secrets of the Land of Netzer, the children became citizens of that land and were known as the Netzernikim, while the madrichim were transformed into the 'good fairies' who helped the Rabbi defend the 'magic' and sacred book,
Sefer Sfarim
(the Torah). The goal of the Netzernikim was to find and restore the power to the book, which had been tragically stolen by a witch. This analogy was used to explain and understand why the Torah is so important to the Jewish people, as the keeper of our values, laws, and traditions and providing balance between good and evil.
Educational and fun activities rounded out the program, helping to strengthen Jewish identity, introduce the principles and ideology of the Netzer movement and the values of Progressive Judaism, and developing a new generation of leaders. Ecology, Tzedaka, and olerance – all strong Netzer values – were taught, discussed, and even put into practice by providing recycling bins and reinforcing the messages of social responsibility and social change.
Click
here
to see additional photos from the camp.
Ukraine camp focuses on Youth, Zionsim and Reform Judaism


68 children were "Country Club" guests in this week-long camp, focusing on Youth, Zionism and Reform Judaism. The participants learned all about Netzer: its history, current scope, where the headquarters are and who are the people supporting its activities. They created a Facebook-type page (called Vkontakte), and updating its contents with photos, video clips, and other forms of information. They then learned about Zionism – climbing a mountain which symbolized the climb (Aliyah), reflecting the difficulty in achieving such a great height, and comparing this with the difficulties of Zionism, its importance to the Jewish Nation and why we must never give up.
Jewish heroes, like Benjamin Herzl, Zeev Jabotinsky, and David Ben Gurion were discussed, along with the the 3 strands of Zionism: political, ideological and practical Zionism. Through various activities, they learned about Reform Judaism – gender equality in religion, Bar/Bat mitzvah, Huppa, and social responsibility.
A special Press Conference was held, with four important guests: Anatoly Gendin, Head of the Simferopol Reform Congregation, Rabbi of Jewish Progressive Communities of Simferopol and Ukraine, Michael Kapustin, Rita Fruman, Netzer Program Coordinator in FSU and Denis Burmistrov, Netzer Ukraine Coordinator. The young 'journalists' interviewed these guests and published a newspaper on Reform Judaism.
Click
here
to see additional photos from the camp.
Young movie producers at the Netzerwood Studios


Participants at this summer camp in Crimea, learned about Reform Judaism and universal Jewish values through video production, theater work, sound and photography classes, and animation techniques. Jewish values such as Tolerance, Tzedaka, Tikkun Olam, Equality and the love for the Land of Israel, were discussed and illustrated.
Shabbat was a special day and allowed the participants to experience a warm and spiritual Shabbat that focused on the human senses (hearing, sight, smell, touch, taste, and a sixth sense - intuition). For example, they learned Shabbat songs (sound), made spice boxes used for Havdala (smell), and listened to a Shabbat story using guided imagery (sight).
Additional activities focused on "Israel – This is My Country", based on one of the works of the late Ephraim Kishon (who was an Israeli author, screenwriter, and film director). Campers learned about Aliyah, went on a virtual journey in Israel, discussed the concept of Zionism, and Kibbutzim.
Click
here
to see additional photos from the camp.
Jews Yearning for Eretz Israel at a family summer seminar in Riga


Family summer seminars play an important role in enhancing and reinforcing Jewish identity, with parents connecting with each other, and children playing, having fun and learning about Judaism with their peers. The program included lectures, games and sports with 62 participants – young children and their parents.
The connection between Jews and the Land of Israel was taught – from Biblical times, following the destructions of the First and Second Temples and in more recent times, where many have made aliyah. Other lectures dealt with different approaches to Judaism, the Destruction of the Temples, and the meaning of fasting in Jewish culture.
Bringing young people and their families together in the framework of these seminars is a wonderful way to create friendships and bonds, and motivate the participants to continue their commitment to the Jewish way of life.
Anna Guberman, coordinator of activities in Riga, said: "
I enjoyed the summer program very much. In addition to the seminars, I led Kabbalat Shabbat, and could feel that everyone there is interested and keen to maintain a connection with the Reform community in Riga, and I very much hope that we will continue to work together
."
Other summer projects


The Family Expedition and Day Camp in Lutsk for some 27 community members. The camp was dedicated to the memory of the approximately 4,500 Jews of the area who were murdered by the Nazi's in 1940–42. Participants, from age 5–70, helped to clean and restore the graves located in the forest outside Lutsk. The second project was a two week day camp for 15 children.
Kerch Youth Summer Seminar, for 32 participants, focused on Israel. With a virtual tour of Israel, the activities focused geography, education, Progressive Judaism, culture and art of Israel. Lectures, interactive games, creative workshops in which participants produced hand made Jewish symbols: menorah, mezzuza, magen david, hamsa. In the music and dance classes everyone learned songs and folk dances popular in Israel. All these activities were an integrative part of their 'journey' through Israel.
The underlying message we get from our campers is "we want to go back to camp!"
Click
here
to see additional photos from the camp.