Another Bergman Seminar for Jewish Educators comes to a successful end
What a gift to be able to spend 10 days with a group of exceptional Jewish educators from Israel, Australia, France and the United States. These amazing professionals traveled throughout Israel grappling with critical issues facing Israel and the Jewish People with the Bergman seminar for Jewish Educators run by the Anita Saltz International Education Center. Developed by Saltz Educational Director Paul Liptz and Director Rabbi Steve Burnstein, this extraordinary seminar uses the sites of Israel to delve into issues vital to Jewish education, incorporating Jewish texts to include the voice of our tradition. Throughout, the program included encounters with some of the top leaders in Jewish education.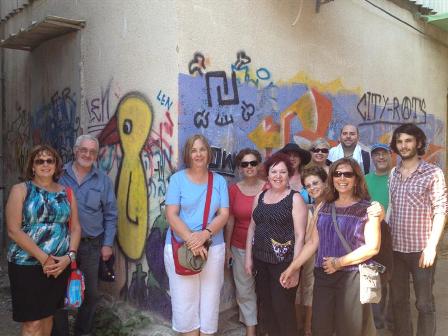 Exploring the art of graffiti in Tel Aviv


The program opened with a creative
tfila
on the Haas Promenade with Rabbi Burnstein. This was followed with sessions by master educator Alexandra Benjamin who discussed exile and Diaspora. We later visited the Zippori (Sepphoris) archaeological site with Rabbi Marc Rosenstein, Dean of
HUC-Israel Rabbinic School
, who addressed the evolution of Judaism and its dialogue with other cultures.
From the bustling market of Machane Yehuda, as they felt Shabbat approaching, they joined Rabbi Miri Gold at
Kehilat Birkat Shalom
, Kibbutz Gezer, learning about her 7-year battle to win recognition from the State of Israel. Joined by members of the local
IMPJ
congregation, as well as Rabbi Judith Schindler and members of
Temple Beth El
from Charlotte NC, they had a lively service followed by dinner and singing. On Shabbat afternoon educator Mark Lazar demonstrated the use of drama and games providing participants with meaningful pedagogic techniques.
Exploring Israel's museums with social historian and Saltz Education Director, Paul Liptz, provided unique insight. Participants visited Beit Hatfutsot (Museum of the Jewish People), Yad Vashem and the Israel Museum, gaining an understanding of the relevance of the exhibits to their own communities and teaching.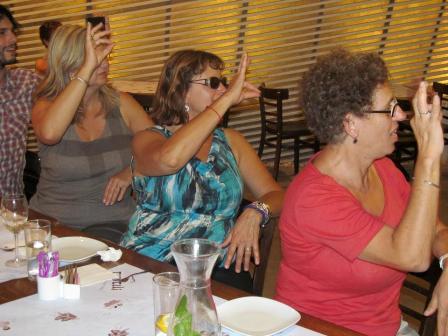 Signing at the Na Lagaat Center


"All participants were extremely enthusiastic about being in Israel and saw the program as having direct importance in their various school environments," said Paul Liptz. "Their teaching roles cover a wide range of ages from pre-school teachers to those involved in high schools and adult education. As they came from many different countries, they constantly compared their own pedagogic challenges and discussed how they could learn from each other."
With Guy Sharett (recently written up in the
New York Times
) the group explored the graffiti of the Florentine neighborhood of Tel Aviv, gaining insight into some of the current social issues in Israel while learning an unusual technique for reinforcing the teaching of Hebrew language. They had a lesson in sign language at the Na Lagaat Center over dinner served by deaf waiters, and experienced a powerful theatre production by the deaf and blind acting ensemble.
Educator Robbie Gringras introduced participants to the MAKOM Matrix as a tool to assist educators to engage with Israel in an effective and nuanced manner, and provided insight into using Israeli film in education.
Sally Klein-Katz welcomed the Bergman group to her home for an interactive session on Israel engagement through the lens of ethical and ethnic dilemmas and introduced the group to the work of some of the leading thinkers in the field of Israel education today.
Synagogue tour in Safed


At the Kibbutz Ein Shemer Greenhouse participants encountered an innovative and inspiring educational project which successfully engages the diverse population of Israeli society: secular, religious, Arab, Jewish, children, adults, people with special needs, The Jewish-Arab Youth Circus, a project of the Galilee Foundation for Value Education, one of the highlights of the seminar, taught participants that "In a world – and a region – where fear and distrust between peoples lead to insecurity and violence daily, it just might be that a circus can make a difference!" They explored the evolution of the 16th century Safed community with senior educator Steve Israel, and discussed the continuing changes with the
chalutzim
(pioneers) of the early 20th century.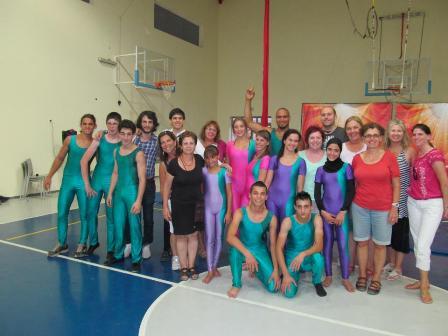 Jewish-Arab circus in Biene


World Union
President Rabbi Steven Fuchs, and Vice President – International Development Rabbi Joel Oseran focused on our movement and discussed some of the challenges facing the regions of the WUPJ. The group also participated in a "Freedom Ride" with
IRAC
and met with Dalya Levi, executive director of
ARZENU
.
The Bergman Seminar was also a gastronomic adventure allowing participants to partake of a variety of local delights from Old Jaffe's Dr. Shakshuka to the Tishbi Winery in Zichron Yaakov.
Being a Freedom Rider with IRAC


Rabbi Burnstein remarked: "One of the most memorable aspects of the seminar is that it empowered the participants to deal with Jewish and Israeli topics in a much more serious manner… It enabled them to appreciate just how important their role is in enabling their communities to understand the significance and centrality of Israel in Jewish life. I'm inspired to know that these people are involved with securing the Jewish future."
Our participants commented that "it was a thoughtful and insightful program. It aimed to make meaningful connections and it did – with Israel Progressive Judaism and I now have colleagues around the world to keep connecting with". And "Our Seminar schedule was superbly crafted… encourages me to seek to create novel ways to bring these lessons to my students… rewarding to share this experience with my international colleagues... I will surely spread the message of the World Union of Progressive Judaism…I am still feeling the buzz and energy from my trip and know it was an experience I will always carry with me."
The Bergman Seminar for Progressive Jewish Educators is sponsored by the Bergman brothers, Stanley, a long time supporter of Progressive Jewish causes, and Leslie, President of the European Union for Progressive Judaism (
EUPJ
).
Please visit our
Facebook page
for more information and photos.