IRAC and IMPJ lead campaign to eliminate gender discrimination in public sphere
IRAC (Israel Religious Action Committee), IMPJ's political action committee, has taken a leading role in combating the gender segregation and other forms of discrimination against women which extreme ultra-orthodox elements have been trying to impose on the Israeli public sphere.
Over the past several years the ultra-orthodox community, under increased pressure from its most extremist Jewish fundamentalist elements, has demanded the government allow it to impose these extremist values on the Israeli public sphere, by legalizing gender segregation on public transport which forces women to sit in the back of buses. IRAC, realizing the government and the public transport operators (Egged and Dan) were unwilling to stand up to the ultra-orthodox, petitioned the Supreme Court to order the government to prevent any attempts to segregate public transport.
Last year (January 2011), after a legal battle lasting over 4 years, the Supreme Court, acting as the High Court of Justice finally ruled on the petition, declaring any gender discrimination of public transport to be illegal, and ordering the government to take whatever steps necessary to prevent such segregation. The Court ruled that any segregation could only take place on a voluntary basis, and that signs be put up on buses stating clearly that no woman is obliged to sit in the back, and that any attempt to coerce a woman into moving to the back is a criminal offence.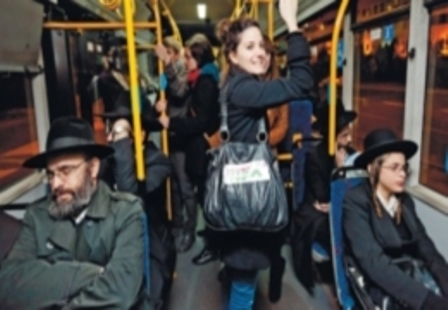 Freedom riders (shot with hidden camera)
Despite the ruling, women passengers on buses that go through ultra-orthodox neighborhoods are often subject to verbal and physical abuse if they refuse to sit in the back of the bus. The former includes being spat on, and called a"shiksa" and "pritze" (a Yiddish curse meaning slut or prostitute). Often the abuse is not limited to curses, and women have been physically assaulted.
As a result, IRAC has initiated a Freedom Rider program. Volunteers regularly ride buses on routes which have been subject to illegal segregation, to ensure that the ruling banning enforced segregation is being honored by the bus companies. According to IRAC Executive-Director, Anat Hoffman, over 1,000 volunteers will participate in the program. Many of them will have hidden cameras, so they can document cases on non-compliance, and release footage of assaults on women to the media.
IRAC has also been combating gender discrimination in the country's cemeteries. In recent years many cemeteries have adopted discriminatory policies, forcing women, even first degree relatives of the deceased such as siblings, children and parents to stand apart from the men during the funeral ceremony. Such actions prevent mourners from reading eulogies, saying
Kaddish
or otherwise participating in the funeral ceremony in any way.
IRAC has provided victims of such practices with PR and legal resources. Recently IRAC's PR and lobbying team successfully lobbied the Knesset to hold committee meetings on this matter, to which several victims were invited to appear and give evidence. In addition, IRAC's legal team provides legal assistance to victims wishing to sue the rabbis who, acting illegally caused them such heartbreak during their time of grief. One of the victims was recently interviewed by Keren Noybach, one of Israel's most popular radio hosts, who has a daily 2 hour morning program dedicated to social justice related issues. Millions of Israelis got to hear the voice the rabbi had silenced at the graveside, and share the eulogy to her father she had been prevented from reading at the funeral.
IRAC also helped organize a demonstration in Beit Shemesh, a Jerusalem suburb, in which non ultra-orthodox women and young girls have been verbally and physically assaulted by ultra-orthodox hooligans for not dressing modestly enough.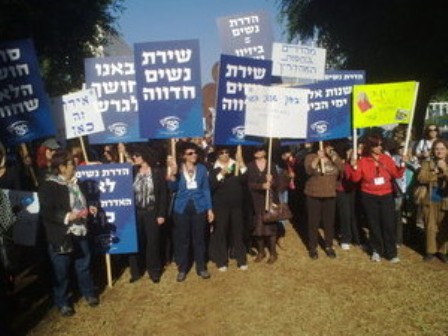 Demo against gender segregation